Southern States Toyotalift's Top 10 Forklift Blogs of 2021
by Jason Johnson, on Dec 27, 2021 11:30:00 AM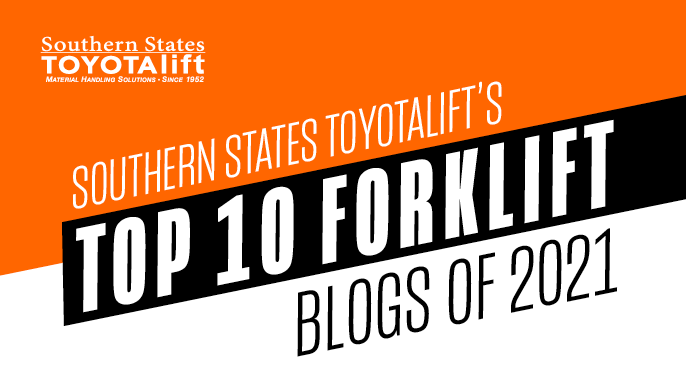 As 2021 comes to a close, the team at Southern States Toyotalift is thankful for our community of dedicated material handling pros. We saw challenges this year as the world contended with the ongoing pandemic, supply chain challenges, and more. We're proud to serve professionals dedicated to continuing success.
Our top topics for discussion this year included OSHA violations, forklift safety products, safety inspections, tax deductions, and more. Here are our top posts for 2021:

Top 10 OSHA Violations of 2020
OSHA violations continued to be a key focus for SST blog readers in 2021. Tracking the most common mistakes that can lead to trouble with OSHA is essential reading for material handling companies heading into 2022.
Forklift Safety Lights - What Does OSHA Require?
Forklift safety is a consistent area of concern for warehouse safety managers. OSHA's guidelines on safety light requirements can be confusing, but they don't have to be - here's what you need to know about forklift safety lights and what is or isn't required for your business.
Using the Section 179 Tax Deduction for New Forklift Purchases in 2021
Tax-advantaged equipment purchases are always a hot topic for forklift businesses. The section 179 tax deduction is a consistently popular option for companies looking to add to their fleets, especially before the end of their fiscal year. Here's how your business can benefit before 2021 ends.
How To Inspect Forklift Hydraulic Hoses
Pre-shift safety inspections are the number one way to keep your equipment, your operators, and your business safer. Hydraulic hoses are a key component that should be inspected and maintained regularly. Here's how to inspect forklift hydraulic hoses.
Now Hiring Mechanics in Georgia and Florida
Forklift mechanics are in higher demand now than ever before - SST is a great place to transition your career to forklift technician work. Read on to learn about the qualifications and why you should become a forklift mechanic in Georgia and Florida.
7 Must-Have Forklift Safety Accessories
Forklift safety is a constant area of concern for businesses using heavy machinery. This popular post highlights seven different safety add-ons that can keep your forklift fleet and operators safer, depending on your needs.
What to Expect During an OSHA Inspection
Listen - nobody wants to be on the receiving end of an OSHA inspection. But it's important to know what process OSHA follows so you can prepare properly. Here's what most businesses can expect during an OSHA inspection.
Wet Disc Brakes Now Standard on Select Toyota Forklifts
Toyota updated three of its most popular IC forklifts to include wet disc brakes as a standard feature. This upgrade delivers more reliable performance and lowers maintenance costs. Read up on Toyota's wet disc forklift brakes here.
Electric vs. LP Forklifts: Which Should You Buy?
The choice between electric and LP forklifts can be intimidating to make - but it doesn't have to be. For the right organization, either forklift can be the productivity enhancement you need to increase profits. Here's how to decide if your business needs an electric or lp forklift.
3 Common Misconceptions About Electric Forklifts
Electric forklift technology has developed rapidly over the last five years. Unfortunately, many misconceptions about the technology are still common. Here are three common myths about electric forklifts that are not true.
The talented team of material handling professionals at Southern States Toyotalift is here to help your company with your equipment, maintenance, and other forklift needs. You can contact us online or by phone at (866) 529-6953. You can also visit our team of forklift experts at one of our nine locations.
FLORIDA
Jacksonville
Ocala
Orlando
Tampa
Winter Haven
Lakeland
GEORGIA
Albany
Macon
Columbus
Valdosta
Further Reading:
Need More Warehouse Space? Don't Move, Do This First
7 Must-Have Forklift Safety Accessories
3 Reasons Moving to Electric Will Re-Energize Your Business