Now Hiring Mechanics in Georgia and Florida
by Southern States Toyotalift, on Sep 1, 2021 12:41:00 PM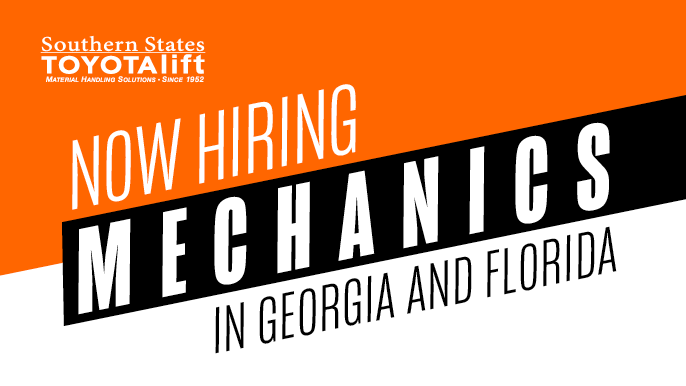 Many kids dream of being a superhero when they grow up, to step in and save the day when someone really needs help. Unfortunately, time passes, superpowers never materialize, and these hopeful kids end up with a boring, thankless job.
But it doesn't have to be that way…
If you like helping people, and have experience as a car mechanic, you could become a forklift technician. Use your mechanical skills to save the day for businesses large and small, plus earn more money and never get bored.
Stop Looking at Boring Auto Mechanic Jobs, Become a Forklift Technician
Forklift mechanics (we call them technicians) are well-paid and respected for the important work they do. When a lift truck goes down, business grinds to a halt. The operation can lose hundreds, even thousands of dollars per hour.
Enter the forklift technician. Equipped with mechanical superpowers (and aided by computer diagnostics) s/he completes the repair and saves the day. Forklift techs also do preventative maintenance to keep big problems from happening in the first place. Some techs are so good, customers don't want anyone else working on their lifts.
Becoming a forklift mechanic is easier than you may think. Forklifts have engines, transmissions and brakes similar to cars, and you'll receive extensive hands-on and online training from Toyota and Southern States Toyotalift (SST). You'll learn about hydraulics, electric forklifts, and work with master mechanics to troubleshoot and fix issues.
We're currently hiring mechanics and automotive technicians in Georgia and Florida who want to become well-paid forklift technicians. Mechanics with previous forklift repair experience are preferred, but not required. Customer service relations and fleet management skills are helpful.
Read our forklift technician job posting and let us know if you have any questions. If you're unsure about making the switch, here are four great reasons to become a forklift technician: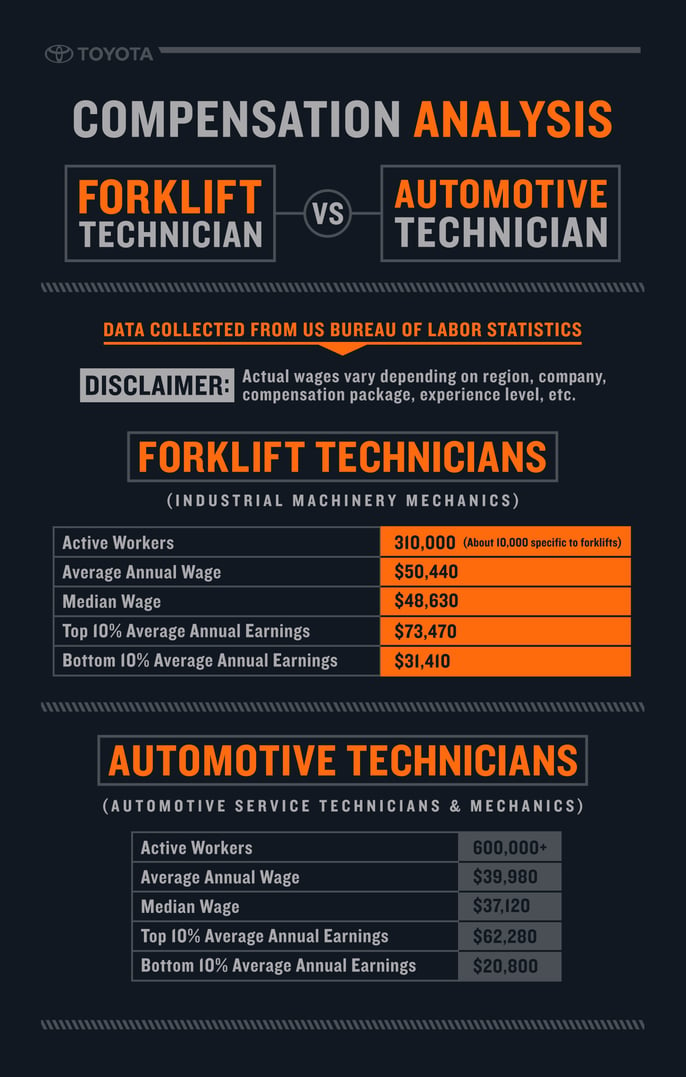 1. Make more money and work for a family-friendly company
Our forklift techs not only support their families, they take their kids on vacation and have fun hobbies. We also offer paid time off, a 401(k) retirement plan, medical, dental and vision insurance in addition to other great benefits.
2. Work with great people and never get bored
Every day is different when you're a forklift tech. One day you'll work on hydraulics, the next differentials. One week you'll start on an engine rebuild, and the next week you might rewire an electric forklift.
Working on material handling equipment is challenging, but also rewarding. The work you do truly helps people, and there's a real camaraderie among our staff. Co-workers are happy to help you out and share their expertise because we all have the same goal - helping our customers stay productive and profitable.
3. Establish yourself in a stable career
As people buy more and more products online, the number of forklifts continues to grow. All those forklifts eventually need maintenance and repair, which means big-time job security for trained forklift mechanics.
At SST, we offer more than a stable job; we offer a career with professional growth. You'll have ongoing opportunities to learn new things and level-up from apprentice to field tech or even master technician.

4. Enjoy greater independence
Most new forklift mechanics start as shop techs working alongside experienced technicians. As they gain experience, they can work independently doing on-site maintenance or mobile forklift repair. Watch the video above to learn more about the differences between working as a shop vs. field technician.
As a field tech, there's no one looking over your shoulder. It's up to you to manage your workload and represent our company in the field. You'll visit remote areas and call on businesses no one (besides their employees) ever get to see. It's a big responsibility, but the perfect job for mechanics who like to ride in on a white horse (or service van) and save the day.
Use the skills you already have to earn more money in a stable career where you'll never get bored. Apply to be a forklift technician in Florida or Georgia.
Watch the video below to learn more about working at SST and our commitment to our associates.
Questions? Contact us online or by phone at (800) 226-2345. Or, visit us in person at one of our nine locations. We can show you around the shop and introduce you to some of our forklift techs.

FLORIDA
Jacksonville
Ocala
Orlando
Tampa
Winter Park



GEORGIA
Albany
Macon
Midland
Valdosta

Further Reading
Forklift Technicians Compete for Quality Cup
Now Hiring Mechanics for Forklift Technician Job Opening
Forklift Service and Repair in Georgia and Florida