7 Must-Have Forklift Safety Accessories
by Dave Tullis, on Jun 18, 2021 2:17:00 PM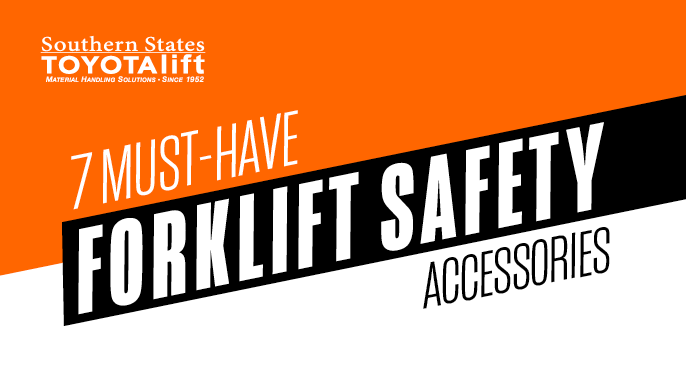 For warehouse safety managers, reducing risk is the top priority. When it comes to busy warehouses that have experienced consistent growth in demand and throughput, the right forklift attachment can help offset risks. If you're looking for ways to keep your people, equipment, and products safer, these 7 forklift safety accessories should be on your radar.
1. Forklift Backup Handle with Horn
When it comes to simple usability, consider a forklift backup handle. This simple add-on makes reversing more manageable and comfortable for operators. By reducing the burden from twisting and keeping hands inside the forklift cabin, risks of strains, scrapes, and crush injuries are greatly reduced. Both OEM and aftermarket options can include an integrated horn button to make signaling even easier for operators. Altogether, this option increases visibility, reduces injury risks, and makes operating forklifts even more comfortable.
2. Blue Spotlights
Mounted on the top of the overhead guard, this light projects a bright blue spotlight 10 to 20 feet behind and/or in front of the forklift. These increase visibility for pedestrians and help warn off approaching forklifts. This essential accessory is ideal for dimly lit warehouses and workspaces with poor visibility and blind corners.
3. Red Forklift Warning Lights
Similar to the blue spotlights, red forklift warning lights project bright red lines onto the ground around the forklift in a square pattern. This red zone serves as a visual warning sign for pedestrians that getting inside the area would put them too close to the forklift. People in that space are at risk of a possible collision due to rear-end swing.
4. Integrated Cameras
Sometimes operators need additional support for spatial awareness. Integrated camera systems provide the visibility operators need and the footage for audits safety directors want. Integrated camera systems are essential for both large equipment models and workplaces with visibility and safety concerns. Certain systems provide additional warnings driven by AI software that highlight pedestrians and other potential hazards in the forklift operators' cameras.
5. Fork Guidance Lasers
Broken or damaged pallets pose a threat to your forklifts, products, and employees. For warehouse and very narrow aisle settings, forklift guidance lasers can help reduce risks of misaligned forks for operators. These simple attachments project a red laser light aligned with the fork in front of them to help operators pick pallets at heights. These are ideal solutions for QFV mast forklifts, reach trucks and other specialized models for warehouses.
6. Back-Up Alarm
Not all safety accessories are complex. Back-up alarms are some of the most widely used across regions and industries for good reasons. These accessories are a great addition to visual add ons that help warn pedestrians and other forklift operators. While OSHA does not require back-up alarms on all forklifts, it does require that they not be removed if included when manufactured. Especially noisy warehouses might not benefit from a back-up alarm.
7. Weather Cap
A weather cap can help protect operators and forklifts from rain and inclement weather for operations with indoor and outdoor use. The benefits go beyond operator comfort - a dry forklift cabin means less risk of slipping on pedals when entering and exiting the forklift.
If you're interested in building a safer workplace, we'd love to help. Contact us online, by phone at (800) 226-2345, or in person at one of our nine locations. We're happy to be your forklift safety resource when it comes to new forklift configurations, safety accessories, and more.
FLORIDA
Jacksonville
Ocala
Orlando
Tampa
Winter Park
GEORGIA
Albany
Macon
Midland
|Valdosta
Further Reading:
Top 8 Forklift Safety Products
Forklift Safety Checklist
Why Are Forklift Pre-Shift Inspections Important?