Top Tips for National Forklift Safety Month
by David Tullis, on Jun 1, 2020 11:00:00 AM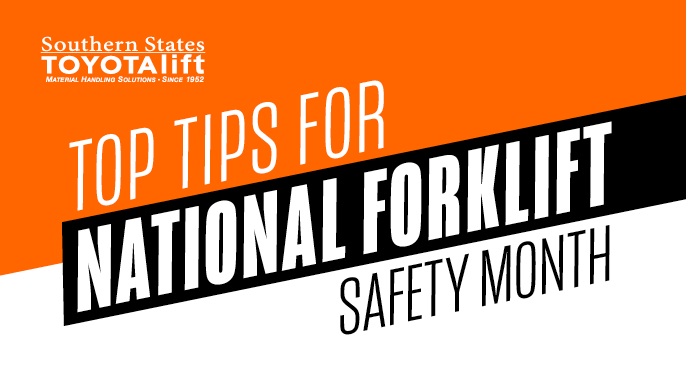 National Forklift Safety Month is here again! In 2021 it's not enough to only comply with OSHA standards - warehouse operations managers must now meet guidelines from their State Government and the CDC to protect their people. To help keep your operation working smoothly and safely, check out this roundup of the top safety tips from the Southern States Toyotalift Blog.
Clean and Sanitize Your Floors
In order to keep your workers healthy and safe, you need to keep your workspace sanitized to help reduce the risk of transmitting viruses. Using a floor cleaning machine with the correct process and cleaning solution can keep your workers healthier, and even reduce the risk of injuries due to slips, trips, and falls.
Maintain Clear Forklift Data Plates
Forklift data plates are required on all equipment by both OSHA and ANSI. To keep your operators safe, it's not enough to make sure that they know how to read a forklift data plate - the plates themselves need to be properly maintained to remain readable and accurate for all parts of the forklift specs.
Forklift Operator Training
Implementing a thorough forklift safety training program is a cornerstone of safe, productive businesses. It presents an opportunity to minimize risks, qualify your employees, and reinforce the importance of safety for your company. Go beyond a basic training program to implement knowledge that is key for your location and business to keep your operators safer and more productive.
Maintain High-Use Forklift Components
Regular maintenance is essential for safe operation of your forklifts. In particular, high use items such as chains, forks, and tires require more attention and maintenance than other components. Incorporating a strong daily walk-around inspection to your training standards is key for catching any issues before they become big problems for you.
Add Forklift Safety Attachments
The right aftermarket forklift attachment can help drastically improve performance and safety. While common items like side shifters empower greater productivity, options such as alarms, wire guidance systems, and back up blue lights can increase awareness and decrease risks of collisions or injuries in your warehouse.
Update Your Aerial Lift Standards
ANSI updated its regulatory standards for aerial lifts at the end of 2019. In fact, they're not even called "aerial lifts" anymore. The new standards for Mobile Elevating Work Platforms include specific provisions for maintenance and operation to increase safety in the workplace. Make sure your company is compliant to keep operators safe.
Build a Culture of Safety
Building a culture of safety in your workplace is no easy task. However, businesses that embrace these needs are often more productive, profitable, and tend to avoid OSHA fines. Every aspect of your company's operation from training, management, and daily work should reinforce the high value of safety for all of your employees.
Top OSHA Violations of 2020
Learning from the past is one of the best ways to prepare for the future. For National Forklift Safety Month, take a look back at the top OSHA violations of 2020. Chances are many of these will make the same list for 2020. Learn from other's mistakes (such as missing pre-operation equipment inspections) to keep your workplace safer into the future.
Need assistance improving your workplace safety? Whether you need help with a robust training and certification plan, or a workplace safety audit, we're here to help. Contact our team today online or by phone at (800) 226-2345.
Further Reading:
Top 8 Forklift Safety Products
Forklift Safety Checklist
Why Are Forklift Pre-Shift Inspections Important?