Electric vs. LP Forklifts: Which Should You Buy?
by Rob Webb, on Mar 19, 2021 5:07:00 PM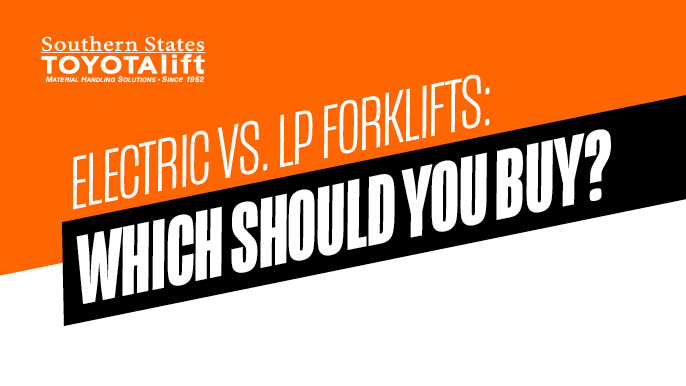 For companies seeking clean and quiet forklift options, liquified petroleum gas (LP) forklifts and electrics are the best options. Gas and diesel forklifts typically create more noise and exhaust. But the choice between electric vs LP forklifts can be tough to make.
While some industries are required to use electric equipment, propane forklifts can also be used indoors. Read on to learn more about the options and how to make your decision.
Electric Forklifts Overview
Electric forklifts have grown in popularity and use in recent years. Their flexible use, reliable performance, and ability to meet narrow aisle needs are key benefits.
Electric Forklift Advantages
Electric forklifts have much lower amounts of noise than LP forklifts due to the needed purchase of a battery and charger. They also produce no exhaust, making them extremely safe for indoor operations and sensitive applications such as food or medicine production. They also require less maintenance thanks to the simplicity of AC motor designs. Electric forklifts can also reduce risks by removing the potential hazard of fuel storage on your site.
Electric Forklift Disadvantages
Electric forklifts have higher up-front costs than their LP counterparts. They are also mostly limited to indoor applications, although some pneumatic tire options are becoming more widely available. As battery technologies have advanced, electric forklifts have become better options for multi shift operations. Thanks to opportunity and high-frequency charging and low-maintenance batteries, multiple batteries are not required for two-shift operations, or even many three-shift operations.
Common Electric Forklift Applications
Electric forklifts are frequently used in food processing, medical production, warehouses, and other indoor applications with sensitivities to fumes.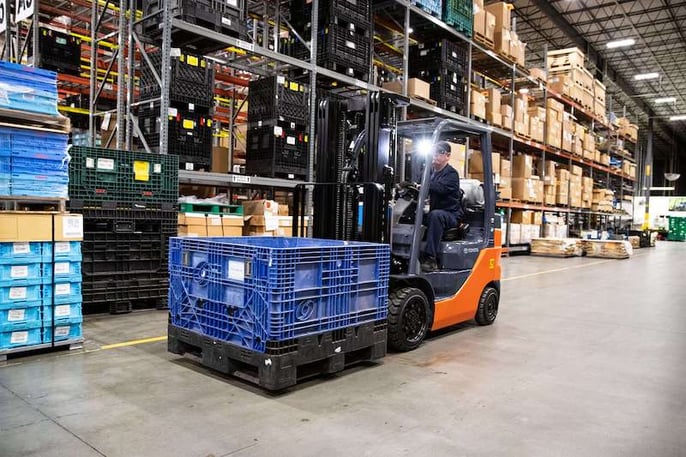 Liquid Petroleum Gas (LP) Forklifts Overview
LP forklifts are very reliable machines. Since their initial introduction, engineering has created more effective and efficient equipment. They are widely used and very affordable to acquire and maintain.
LP Forklift Advantages
LP forklifts are incredibly flexible machines for indoor and outdoor use. With the right pneumatic tire, they can be driven on dirt, gravel, or even in rain and snow. LP fuel delivers reliable performance and is incredibly easy to replace if a tank runs out during a shift. Their wide use and adoption means you have many options when it comes to parts supply and maintenance as well.
LP Forklift Disadvantages
Fossil fuel prices can fluctuate, making LP budgets sometimes difficult to track. Those fuel prices also contribute to a higher total operating costs for LP forklifts when compared to electric forklifts - electrics typically pay for themselves after the first two years. LP forklifts also output more exhaust and noise than their electric counterparts, limiting their applications due to safety standards.
Common LP Forklift Applications
LP forklifts are used pretty much everywhere: manufacturing, lumberyards, warehouses, and numerous other operations rely on LP forklifts to get the job done.
Choosing your new equipment doesn't have to be difficult - Southern States Toyotalift is here to help. To learn about your options and schedule a free equipment demo, contact a material handling expert online, by phone (800-226-2345), or in person at one of our nine locations.
FLORIDA
Jacksonville
Ocala
Orlando
Tampa
Winter Park
GEORGIA
Albany
Macon
Columbus
Valdosta