3 Reasons Moving to Electric Will Re-Energize Your Business
by Rob Webb, on Aug 4, 2021 5:15:00 PM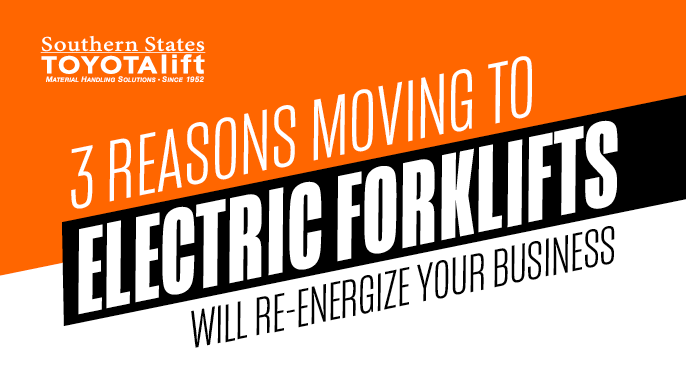 All throughout the mid-South, transportation operations are making the transition from internal combustion (IC) over to electric. Electric forklifts are improving their technology every day, and innovations are happening at a much faster rate in electric forklifts than in IC machines.
Electric forklifts are designed with both indoor and outdoor applications in mind. The battery power that runs electric forklifts serves as the power source but also as the counterweight to stabilize the equipment while in use. They are made to increase efficiency and help you get the job done faster with lower costs.
Why join others in making the switch to electric forklifts? Here are three factors that can help you make an informed decision.
1. It's Easy To Convert
Transitioning from an IC fleet to an electric one can be an intimidating task. It's unfamiliar, there are new things to learn, and changes are scary. Fortunately, you're not alone in the transition. To encourage the sustainability of an electric fleet, companies like Georgia Power and Duke Energy offer incentives to make the switch.
When making the switch from IC to electric, there are programs that you can apply for that can help with the conversion.
For Georgia Power Customers:
Georgia Power customers can apply for the Make Ready Electric Transportation Program. This program can help with the funding and installation of the infrastructure required to support electric charging facilities.
For Duke Energy Customers:
Through Duke Energy, there is the opportunity to apply for annual reimbursements to help with the conversion from IC to electric. Depending on your application, you may be eligible for reimbursement of electric costs of up to $8k per vehicle.
Not only do these programs make it easy to convert from IC, but electric fleets have a host of advantages over IC units. These benefits cover the entire range of uses, but they start with operation and maintenance.
2. It's Easy To Maintain And Operate Electric Forklifts
Electric forklifts are straightforward to operate, just like an IC forklift would be. Not only that, they have zero emissions during operation and produce no noise outside of the important backup alarm. This makes them a great choice for indoor applications when noise or fumes are a factor.
Electric forklifts are made with fewer moving parts than a traditional IC forklift. There is no oil, no spark plugs, and no transmission fluid to change. With fewer moving parts, fewer things can go wrong. This makes them less likely to experience wear and tear and is easier to maintain.
In addition, many electric models are designed with AC-power, which both decreases required maintenance and increases runtime in one fell swoop. Electric forklifts with automatic braking also have a longer brake life. Automatic braking also reduces stress on the operator, making operator fatigue less of an issue.
These benefits make maintenance and upkeep more affordable, which are just the tip of the cost savings iceberg that comes along with electric forklifts.
3. It's more cost-effective
Electric forklifts require charging stations rather than fuel. These stations are set up during conversion and make fuel unnecessary. The cost of electricity is not only lower than fuel, but it is also much more stable.
These savings reduce costs every time the vehicle is run versus an IC model. Not only that, but the stability of prices makes budgets easier to prepare further in advance with more confidence and better accuracy.
In an industry with razor-thin margins, even the slightest savings can make a difference. With lower maintenance costs and savings on fuel and operating costs, electric vehicles can be a very cost-effective solution for your fleet.
Transitioning your fleet from IC to electric is no small task, but these factors can help you in making an informed decision if it's right for you.
To get a full estimate of your savings in the conversion to electric, check out our "convert to electric" savings estimate to see exactly how much you could save.
If you're looking for a partner to keep your forklifts up and running, Southern States Toyotalift is here to help. Contact us online, by phone at (866) 529-6953, or in person at one of our nine locations. We're happy to help you decide if an easy switch to electric is a good fit for your business.
FLORIDA
Jacksonville
Ocala
Orlando
Tampa
Winter Haven
GEORGIA
Albany
Macon
Columbus
Valdosta
FURTHER READING:
Toyota Rebates on Electric Forklift Trade-Ins
Are Lithium-Ion Forklift Batteries Right For Your Business?
Top 5 Material Handling Topics in 2020