Are Lithium-Ion Forklift Batteries Right For Your Business?
by Gary Raketich, on Mar 5, 2021 2:47:00 PM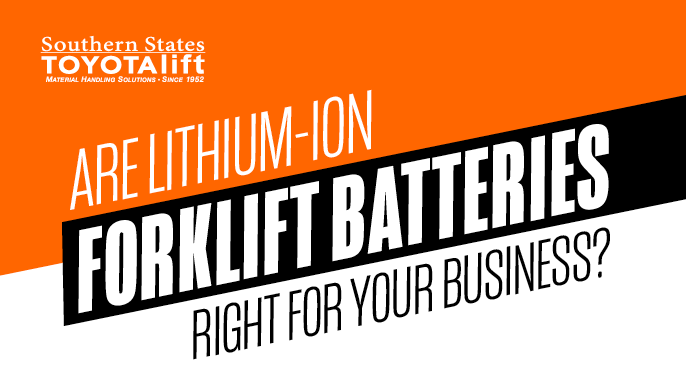 If your business uses forklifts and runs high hours, you need to consider lithium-ion forklift batteries. These innovative components can have big impacts on your operations and profitability, and are ideally suited for cold storage, multi-shift, and other demanding operations. Read on to see if lithium ion batteries are right for your business.
Lithium-Ion Forklift Batteries Are Energy Efficient
While lithium-ion forklift batteries are expensive, they deliver great energy efficiency and performance. The lifespan is four times longer than lead acid batteries. Lithium-ion batteries also need less time to charge, waste less electricity, and perform best when opportunity charged throughout a shift.
Lithium-Ion Forklift Batteries Are Low Maintenance
You don't have to water lithium-ion forklift batteries. This streamlines your battery care process and reduces potential problems for workers. Lead acid batteries need regular watering and mid-shift swaps. Along with the potential for opportunity charging during breaks, most lithium-ion batteries have a battery management system onboard to track the battery's cell temperatures. This drastically reduces risks of overheating and potential harm to the battery and your operators.
Switching to Lithium-Ion Batteries Reduces Risk For Workers
Swapping out lead acid batteries can create risk for your workers. Moving a 4,000 pound battery with a forklift always has some inherent risks of potential tip overs or spills of corrosive chemicals. Lithium-ion batteries can be charged while on a forklift, eliminating one potential hazard for your operators. Also while creating immense labor savings for your operation. Switching to lithium-ion batteries also eliminates risks of overheating batteries as well as overflows or splashes that can come from battery maintenance tasks.
Lithium-Ion Forklift Batteries Last Longer Than Lead Acid Batteries
Lithium-ion forklift batteries deliver longer run times and lifespans than lead acid batteries. Combined with opportunity charging, lithium-ion batteries can run all day in multi-shift operations. This is especially true for cold storage operations, where traditional batteries can see their charge reduced by up to 35 percent. Lithium-ion batteries also last four times longer than a standard lead acid battery, creating long-term impacts for your budget.
If your business is considering switching to lithium-ion batteries, Southern States Toyotalift is here to help. Our team of dedicated material handling professionals can help identify the right solution for your electric fleet. You can contact us online, call us by phone at (800) 226-2345, or visit our material handling experts at one of our nine locations:
FLORIDA
Jacksonville
Ocala
Orlando
Tampa
Winter Park
GEORGIA
Albany
Macon
Midland
Valdosta