Need More Warehouse Space? Don't Move, Do This First
by Brian Reaves, on Feb 10, 2020 12:23:00 PM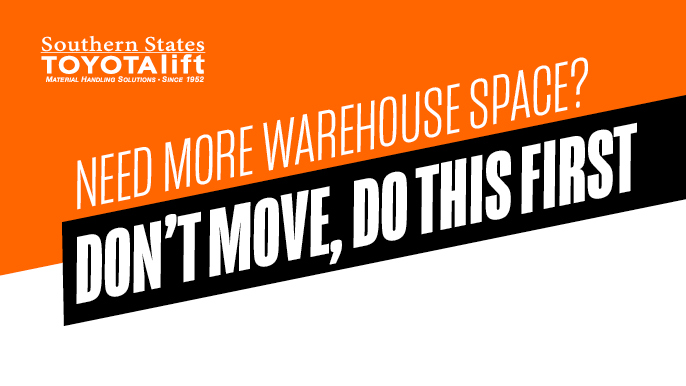 Moving to a new space is expensive and can be a big gamble. If the economy takes a downturn or business needs change, you could end up paying for a lot of space you don't need. Unintended consequences, such as replacing staff members who don't want to commute to the new location, further increase the financial consequences of moving.



You've probably thought a lot about your current warehouse space utilization and whether it's a good idea to move. Before you roll the dice, read about some of the most popular warehouse optimization techniques and contact Southern States TOYOTAlift (SST) for a free facility audit. We've helped hundreds of businesses find under-utilized space.
Warehouse Space Optimization Techniques
One of the easiest ways to do more with your current space is to unlock unused "airspace." Converting to narrow (or very narrow) aisles and/or adding a mezzanine are two popular solutions.


Install a mezzanine

A mezzanine is an elevated platform between the floor and the ceiling, usually constructed from structural steel. The space beneath it can be used for storage while the mezzanine itself can be used for inventory overflow, slow-moving SKUs, a modular office, etc.
Mezzanines are one of the most cost-effective and convenient ways to increase storage space in your facility. Besides doing more with the space you already have, you avoid costly downtime associated with moving or an extensive remodel.
Convert to narrow aisle or very narrow aisles
If you need more than a mezzanine, converting to narrow or very narrow aisles is a good alternative to moving. By bringing aisles closer together, you can increase storage space and avoid the risk of buying or leasing a bigger space.




If your fleet currently consists of only sit-down forklifts, you may need to add narrow aisle equipment. Bendi Drexel, Combilift and Toyota all have excellent options for narrow and very narrow aisles. We can help you calculate the costs associated with converting your existing space and equipment so you can make an informed decision.

Further reading: The Best Forklift for Handling Wide Loads: Combilift Straddle Carrier, Omnidirectional Forklift, or Slip Sheet Truck Loader

Bendi Narrow Aisle Warehouse Equipment

CombiLift Very Narrow Aisle Warehouse Equipment

Reconfigure inventory or pallet rack
As companies experience growth and change, inefficiencies can develop. For example, distribution centers sometimes co-mingle slow-moving and popular SKUs. This causes pickers and forklift operators to waste considerable time trekking from one end of the building to another. By identifying and consolidating slow-moving SKUs to remote areas, you can save time, space, and money.
Converting to a different pallet racking system can also improve capacity and efficiency. Selective pallet rack is the most common pallet racking system, but it's not the most efficient. Switching to double-deep or drive in/drive through racking can increase storage space by 40 - 75 percent.
Simplify your search for a cost-effective alternative to moving, schedule a free consultation with a warehouse storage and pallet racking expert. We'll make it easy to find the right warehouse space utilization solution for your operational needs.
Improve the capacity and efficiency of your facility with a custom warehouse storage solution tailored to your available space and budget. Schedule a free facility audit to learn about your options.
Warehouse Racking & Shelving in Georgia and Florida
We believe in doing more than selling customers a forklift or pallet rack. We want to help businesses increase their productivity and profits.



Whether you're looking to upgrade your existing warehouse racking layout, or convert your facility to narrow aisles, we have the inventory and experience to improve efficiency and solve your storage problems. We believe in doing a job right the first time and our experts will ensure no detail is overlooked, so you can stay focused on your business.

DOWNLOAD our T.I.P.s (Toyota Information Partners)
for Warehouse Optimization Technique

Let us be your partner in productivity. Contact us online, by phone at (800) 226-2345, or in person at one of our nine locations.

FLORIDA
Jacksonville
Ocala
Orlando
Tampa
Winter Park



GEORGIA
Albany
Macon
Midland
Valdosta

Further Reading:
Download Your Free Guide to Warehouse Optimization
Warehouse Storage Solutions from Southern States TOYOTAlift
Customer Testimonials and Case Study