Optimize your warehouse to improve business performance
Your warehouse is the heart of your business and means everything to your bottom line. Your layout optimization and throughput can make or break your team's productivity and the overall cost-effectiveness of your business. This guide, compiled by the material handling experts at Toyota Material Handling will help you improve your warehouse health from top to bottom.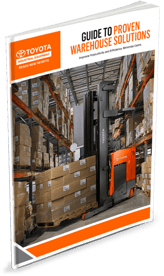 Download the guide to learn:
How to plan your warehouse space for optimal operations
What to consider when selecting material handling equipment for your fleet
How to build a culture of safety in your workspace
Why your racking design can make or break your efficiency
Our free guide will take you through the process of planning and designing your warehouse for the most effective operations. Whether building a new space or updating your existing one, our Warehouse Optimization Guide will help you make your operators and business more effective.