Top 5 Material Handling News Stories from 2022
by Southern States Toyotalift, on Dec 5, 2022 1:13:06 PM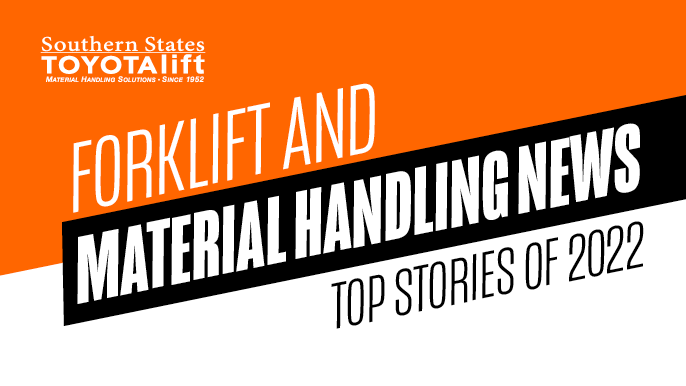 Throughout the year, our team of material handling experts share news and helpful tips on our blog. At the end of the year, it's interesting to see which stories were the most popular. This year, for the first time, there was a strong theme.
Forklift Safety Top-of-Mind in Georgia and Florida
In 2022, material handling operations in Georgia and Florida were especially interested in safety. Three of the five most-read articles were about forklift safety accessories and add-ons.
Below are the five most popular blog posts of 2022. We'll start with the fifth most-read article and work our way down to number one.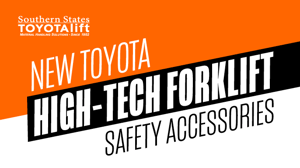 Toyota's new SEnS technology is one of the most advanced collision avoidance systems available. High-tech sensors detect objects up to 32 feet away and alert the operator with buzzers and lights. SEnS can be installed on new or existing Toyota forklifts. Watch the video below to learn more.
---

Looking for turnkey ways to keep your people, equipment, and products safer? These add-ons should be on your radar. Many are extremely affordable.
---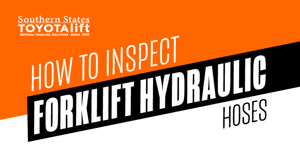 Hydraulic hoses are sometimes overlooked during routine inspections. Cracks, kinks and leaks decrease performance and can eventually lead to mast failure.
Download our free T.I.P. Sheet for Inspecting and Replacing Forklift Hoses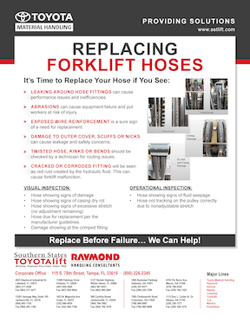 ---
Section 179 allows businesses to write off up to $1,080,000 in new or used equipment purchases and significantly reduce their tax liability for the tax year.
---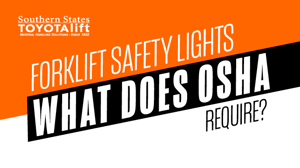 OSHA's guidelines on safety light requirements can be confusing, so we wrote a straightforward guide that covers what you need to know about forklift safety lights.
---
For more information on any of the articles above, or to suggest a topic for 2023, contact us online or by phone at (800) 226-2345. You can also visit us in person at one of our eleven locations.

FLORIDA: Jacksonville South, Jacksonville North, Ocala, Orlando, Lakeland, Tampa, Winter Haven


GEORGIA: Albany, Macon, Midland, Valdosta

To all of our customers: it is an honor to be your business partner. We look forward to serving you in the new year.