Toyota Lean Management vs. Six Sigma - Which is Better?
by Frank Stuart, on Dec 16, 2022 1:24:15 PM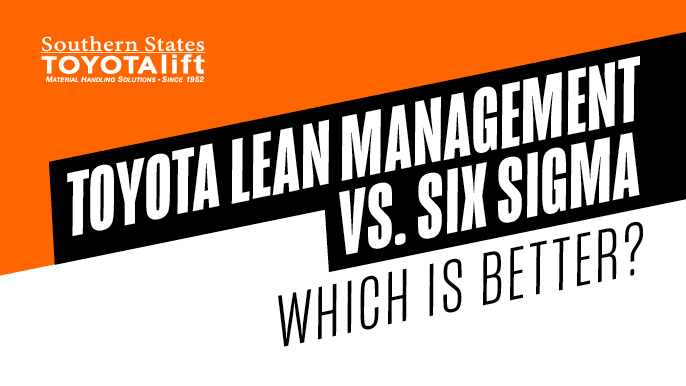 Running a lean warehouse, manufacturing plant, hospital or other operation can lead to higher profits and customer satisfaction. Toyota's Lean Management system and Six Sigma are two proven systems that help companies get lean, but they each use a different approach.
Read on to learn which program:
Is easier to implement
Leverages people vs. data
Requires 2-3 months of training
What's the Difference Between Toyota Lean Management and Six Sigma?
Here's the short answer:
Toyota Lean Management (TLM) empowers people to identify and fix problems large and small. The system is easy to deploy and improvements can be made in as little as one week.
Six Sigma focuses on using data and statistical tools to identify and fix problems. Basic Six Sigma training takes two to three months. Once training is complete, improvement projects require a minimum of three months but can last up to one year.
Learn more about how Toyota Lean Management works, or read on for a more detailed comparison of TLM and Six Sigma.
TLM Takes a "People First" Approach
The Toyota Lean Management process establishes a culture where all associates are empowered to:
Think Proactively
Identify Problems
Create Solutions
Eliminate Waste
Work Cooperatively
Optimize Their Workflow
While Six Sigma also relies on people to implement change, roles are more strictly defined. For example, if someone identifies an inefficiency in the warehouse, the problem is passed up the chain of command to be evaluated by other departments. Once the root cause is identified, a fix is made. For complicated or systemic problems, this makes sense. But for most issues, it creates unnecessary delays and bureaucracy.
TLM Delivers Fast Results
Toyota Lean Management projects can be as short as one week or last a few months. Six Sigma projects require an investment of three months to a year – after team members complete a minimum three months of training.
Both Six Sigma and TLM deliver positive outcomes, but TLM works faster because, well, it's leaner. With TLM, you can optimize a single workspace or an entire warehouse. Simple changes such as moving a popular item closer to the loading dock or reducing the number of times an item is handled add up to big gains.
TLM is More Nimble and Adaptable
Toyota principles are easy to understand and apply. As a result, everyone in your organization can quickly learn to identify and fix problems – not only during the initial engagement but indefinitely.
One of the core goals of TLM is to identify and eliminate waste. We explain more about what is meant by "waste" on the Toyota Lean Management page, but basically it means finding areas where the company is spending too much time or money on something. Reducing waste can be as simple as noticing two reports are quite similar and combining them or eliminating roadblocks that cause workers to wait around instead of doing something productive.
In other words, TLM can help companies make broad improvements in addition to rooting out inefficiencies in all the nooks and crannies of the operation. Deploy projects quickly and see results fast.
Six Sigma projects, on the other hand, require a considerable amount of data and proprietary modeling tools to define the solution and identify what needs to change. As a result, projects take longer, require more resources and are too complex for a single person or SMB to handle in addition to their regular job duties.
Six Sigma is a well-known, proven system and it has a great track record. But in our view, the process is needlessly time-consuming and expensive (especially considering Toyota basically invented lean management in the 1950s).
The Toyota System Makes it Easy to Get Lean
Toyota Lean Management offers the same benefits as Six Sigma, but it delivers faster results at a lower cost. TLM is proven to dramatically increase profitability for companies large and small. Amazon.com, McDonald's, Virginia Mason Medical Center and dozens of leading manufacturers use TLM to:
Fix Inefficiencies
Prevent Defects
Eliminate Waste
Boost Profitability
The infographic below explains a bit more about the TLM process.

Let's work together. Visit our Toyota Lean Management info page to learn more or request a free consultation.
Questions? Contact us online , by phone (800) 226-2345 or visit one of our locations throughout Georgia and Florida.
FLORIDA: Jacksonville South, Jacksonville North, Ocala, Orlando, Lakeland, Tampa, Winter Haven
GEORGIA: Albany, Macon, Midland, Valdosta
Related Reading:
Demystifying Lean Management: Addressing Common Misunderstandings
Is Your Forklift Fleet Robbing You Blind?
Optimize Your Forklift Fleet and Maximize Profitability