Different Types of Forklifts - OSHA Classifications Explained
by Rob Webb, on Jun 19, 2020 11:00:00 AM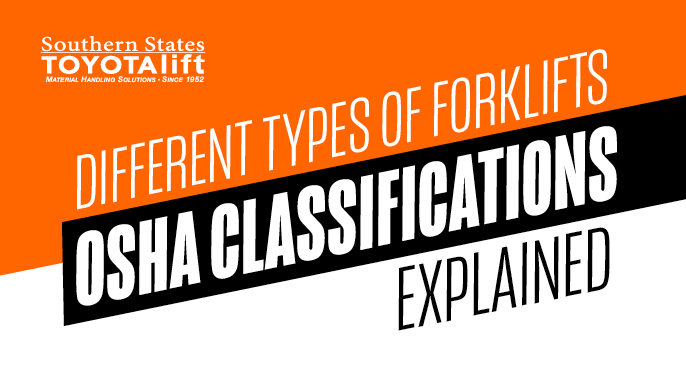 If you're shopping around for a forklift, you may have encountered terms like "Class IV" or "Class I" and wondered what they mean. OSHA sorts forklifts into different classifications, but they don't always match up with how most people differentiate one forklift from another.



Learn about different types of forklifts and their OSHA classifications by reading our guide below. You can also contact a forklift expert in Florida or Georgia at Southern States Toyotalift (SST) who will be happy to answer any questions you may have about buying or renting a forklift.
Common Forklift Types Vs. OSHA Forklift Classifications
There are many different types of forklifts: stand-up, sit-down, narrow aisle, and so on. When most people imagine a forklift cruising around a warehouse, they're probably thinking of a Class I forklift like the Toyota Core Electric forklift shown below.




That said, it might also be a Class IV: Internal Combustion Engine (ICE) Lift Truck with Cushion Tires. Confused? Totally understandable.

If you visit a forklift dealer or forklift manufacturer's website, they usually break things out like this:
Electric Forklifts
Internal Combustion (IC) Forklifts
Narrow Aisle Forklifts (order pickers, reach trucks, etc.)
Rough Terrain Forklifts
OSHA classifies forklifts by engine and tire type. Their categories also include tow tractors and pallet jacks in addition to forklifts. Below is an explanation of each OSHA Class with examples for each one.
Class I: Electric Motor Rider Trucks
Electric, counterbalance forklifts are the most popular type of lift truck. They have zero emissions and are great for moving pallets around a warehouse or other location with a smooth driving surface. Class I forklifts:

- Emit no fumes
- Are quieter than IC forklifts
- May have cushion or pneumatic tires
- Can be stand-up or sit-down
- Are ideal for loading and unloading trailers
As you can see, the Class I category includes a lot of options. Toyota offers six versatile models in this Class, including the Core Electric shown above and two stand-up options (shown below). Toyota's Class I lift trucks come in capacities from 3,000 up to 40,000 lbs. View electric Toyota forklifts for sale in Georgia and Florida.

Class II: Electric Motor Narrow Aisle Trucks
Narrow aisles are a smart solution for facility managers who don't want to deal with the expense and hassle of moving to a larger facility. If you're interested in narrow aisle warehouse optimization, you'll need lift trucks designed to operate in tighter spaces. We sell three types of Class II lift trucks including, Toyota's Reach Truck, Walkie Reach Truck and the recently-updated Toyota Order Picker.

Class III: Electric Motor Hand Trucks or Hand/Rider Trucks
You may be surprised to know pallet jacks are considered a lift truck. Class III lift trucks include electric pallet jacks, stackers and tow tractors.
Unlike forklifts, which specialize in moving equipment up and down, Class III trucks are designed for horizontal transportation. Powered pallet jacks, such as this large "walkie" model, reduce operator fatigue and improve productivity.
Southern States TOYOTAlift sells 10 varieties of Class III equipment, including stackers that are ideal for the food and beverage industry (in addition to other applications) and three electric tow tractor options. The smallest Toyota tow tractor has a 10,000 lb capacity, and the mid-size can tug up to 13,000 lbs. Toyota's large tow tractor can move more than 55,000 lbs and is considered a Class VI powered industrial truck.
Class IV: IC Trucks with Cushion Tires
This forklift Class has an internal combustion engine (typically a LPG, sometimes diesel) and smooth, cushion tires. These lift trucks are designed for use on loading docks, storage areas, or any smooth surface. Because Class IV forklifts have an internal combustion engine, they are not appropriate for food, underground or pharmaceutical applications.
Most indoor applications use electric forklifts, but if your operation doesn't have space for a charging room, or limited time to recharge, a Class IV forklift may be a good option. Toyota has seven Class IV models, ranging in capacity from 6,500 up to 22,000 pounds.

Class V: Internal Combustion Engine Trucks with Pneumatic Tires
Most outdoor applications use Class V forklifts. With rugged pneumatic tires and lifting capacities up to 125,000 lbs, a Class V forklift can handle just about any job. We sell new and used Toyota forklifts with pneumatic tires and IC engines. Just tell us what you're looking for, and we'll find the right truck for your material handling needs.
Class VI: Electric and Internal Combustion Engine Tractors
You've most likely seen a Class VI industrial truck (aka tow tractor) while looking out the window at an airport. These machines can pull more than 55,000 lbs and may have an electric or an IC engine. In addition to towing carts full of luggage, you'll also find Class VI trucks hard at work on assembly lines.
Class VII: Rough Terrain Forklift Trucks
Construction sites and other job sites with uneven terrain require rugged forklifts with tractor-style tires and a beefed-up suspension. Class VII forklifts may also have a telescoping mast or other application-specific modifications.
Rent or Buy a Toyota Forklift in Georgia or Florida
Choosing the right forklift is essential to getting the job done safely and efficiently. Whether you're looking to buy or rent a forklift, we can help you choose the best type of forklift for your material handling operation.

We won't sell you a forklift you don't need. Our goal is to become a long-term business partner you can count on. Please contact us with any questions you may have. You can reach us online, by phone at (800) 226-2345, or in person at one of our nine locations.

FLORIDA
Jacksonville
Ocala
Orlando
Tampa
Winter Park



GEORGIA
Albany
Macon
Midland
Valdosta

Further Reading
How to Choose the Right Forklift
Toyota Forklifts - Proudly Made in the USA
Where to Buy the Best Used Forklift