Where to Buy the Best Used Forklift
by Adam Gavrun, on Oct 18, 2019 9:30:00 AM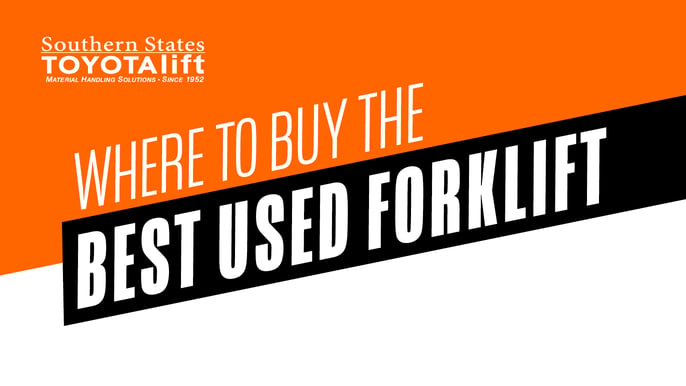 When shopping for a used forklift, purchasing from an authorized dealer is often the best choice. They simplify your assessment of the equipment by offering reconditioned vehicles that meet the highest brand standards of quality and maintenance. The reliable quality of used forklifts from authorized dealerships makes your buying decision simpler than other third-party options.
Things to Keep In Mind When Buying a Used Forklift
If you're adding a used forklift to your fleet, the number one thing to consider is its economic life - that time span when the machine is both effective and it costs less to maintain its performance than to purchase a replacement.
Evaluating how long you will be able to effectively use a forklift without costing your operation money is essential to your decision making. A well-maintained Toyota Forklift can average up to 20,000 hours of economic life, double that of other brands. Consider your average shift length and how many shifts per day forklift are operated to determine how many hours are required of equipment annually - this number will help to determine how many years of use you may get out of a used forklift.
Forklift OEM Parts and Warranties
For used forklifts, parts supplied by the original equipment manufacturer (OEM) offer the highest performance and value. While will-fit parts are available, they are simply not engineered to the standards required by the machines. Used forklifts purchased from authorized dealers like Southern States Toyotalift have been reconditioned with new parts the forklifts were designed to use. What's more, authorized dealers are able to offer OEM warranties on both new and used equipment to help offer you peace of mind. When coupled with our planned maintenance offerings, the value of purchasing used forklifts from your local authorized dealer is clear.
Forklift OEM Certified Technicians
Another reason to purchase a used forklift from an authorized dealer is our technicians. A forklift technician certified by the OEM provides higher quality maintenance due to their specialized training. Thanks to the high standards and continuing education required by forklift brands, a certified technician can deliver maintenance to maximize your forklift's efficiency, performance, and economic lifespan.
Forklift dealership certification
OEM forklift dealerships are certified similarly to technicians - our staff and business processes must meet strict standards of performance and value to maintain our certification. When you see that Southern States Toyotalift is an authorized Toyota Forklift dealer you can trust that we take quality seriously and meet the highest industry standards. Whether you're purchasing a used forklift or new equipment, authorized dealers offer the highest quality and value.
Forklift Quality Inspections
Finally, our used forklifts are put through a stringent quality inspection not once, but twice. Our 54-point inspections review all the key points of your used forklift to ensure chains, brakes, engine, and more are safe, do not require replacement, and are delivering high-performance. The attention to detail provided by this inspection process ensures that any used forklift being sold by one of our dealerships will deliver the high quality and performance you've come to expect from Southern States Toyotalift.
If you're in the market for a used forklift, purchasing from an authorized dealer will deliver the highest quality equipment. The high standards required for OEM certification translate into direct benefits for you and your business. Contact your local Southern State Toyotalift dealership with your used equipment request - we keep an active stock of high-quality used equipment to meet most needs.
Further Reading:
Tips for Buying a Used Forklift
Best Used Forklifts
How to Choose the Right Type of Forklift