Tips for Buying a Used Forklift
by Adam Gavrun, on Sep 27, 2019 8:26:26 PM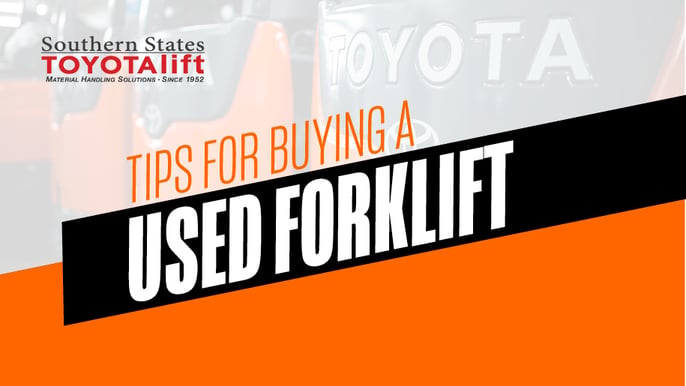 When purchasing pre-owned equipment, there are many factors to consider, not the least of which is buying from a reputable partner you can trust. Learn the most important questions to ask when buying a used forklift to ensure you avoid common pitfalls that will cause you to lose time and money.
What to Look for in a Pre-Owned Forklift
Here are a few questions to ask to ensure you get a reliable machine.



Does this machine meet the needs of your application?
Confirm the rated capacity, mast height and fuel options. If buying an electric forklift, ask whether it comes with a charger.

Can I see the service history?
Ask about the forklift's working history. A lift truck used in an application near salt water, in extreme cold, or in a humid environment is more susceptible to corrosion. This doesn't mean the forklift is unacceptable, but it does mean you (or a technician) should thoroughly inspect the forklift and verify it has been extensively reconditioned.

Also, compare the stated hours to the lift truck's service history. If they don't match, the hour meter may have been tampered with.

Does the forklift come with a warranty?
Never buy used equipment without a warranty. This is a huge red flag.

Any pre-owned equipment you buy from SST comes with our standard power train warranty. When you partner with our expert technicians, we extend that warranty up to 4 years/4,000 hours at NO ADDITIONAL COST. We'll come to you to perform any recommended services (versus you having to bring the truck to one of our dealerships).

Has a certified forklift technician inspected this forklift?
A test drive where you run the mast, check the forks and tires, and lift things is only a superficial evaluation. Some of the most expensive problems can only be detected by an experienced forklift technician. Gain peace of mind by getting a documented pre-sale inspection.
Why Buy Your Next Used Forklift from SST




All used forklifts aren't created equal. When you buy a used forklift from Southern States Toyotalift (SST), we guarantee you'll get the best possible machine for your money. All our used forklifts undergo a rigorous 74-point inspection in addition to extensive reconditioning.

Our reconditioning process is overseen by a Platinum-certified technician to ensure the highest standards of quality, safety and productivity. The equipment is then doubled-checked by another trained technician before being approved for sale. This attention to detail and quality control ensures that our used forklifts will stand up to the most demanding applications.


We use Toyota Genuine parts - backed by a 2-year warranty on parts and labor
We also use 4,000 lb PSI steel braided hoses on all of our used units for increased usage, lower hydraulic operating temperatures that lead to a higher performing unit. That's twice as much as the competition!
More than 90 percent of our certified pre-owned equipment has been maintained by a Toyota-certified technician from its first day of operation.
Finance your used forklift
You can finance any of our used units, which some of our competitors do not allow. We offer competitive financing through Toyota Commercial Finance making us a one-stop-shop.

We offer an unmatched guarantee
Our used equipment warranties match or beat some of our competitors' new warranties. We also offer an unmatched guarantee: sign up for a service plan with SST and we'll extend your warranty up to 4 years/ 4,000 hours at no additional cost. That's how much we believe in the power of combining Toyota equipment with Toyota service.

SST's used forklift inventory includes electric, LP, gas, diesel, outdoor and indoor forklifts. With more than 600 units in-stock, you'll get the equipment you need - fast.

Toyota forklifts are known for being durable and reliable - which makes pre-owned Toyota forklifts an excellent value. The durability and reliability of Toyota forklifts, #1 for the past 16 years, makes them the best used forklifts as well. Preview our current inventory of used Toyota forklifts.



Our goal is to be a trusted partner you can depend on. If you're ready to buy a forklift from a company that is honest, dependable, reliable, please contact us online, reach us by phone at (800) 226-2345, or stop by one of our nine locations.

FLORIDA
Jacksonville
Ocala
Orlando
Tampa
Winter Park

GEORGIA
Albany
Macon
Midland
Valdosta