Hydraulic vs. Electric Scissor Lifts: Which One Is Right For You?
by Adam Henry, on Jul 29, 2022 2:03:19 PM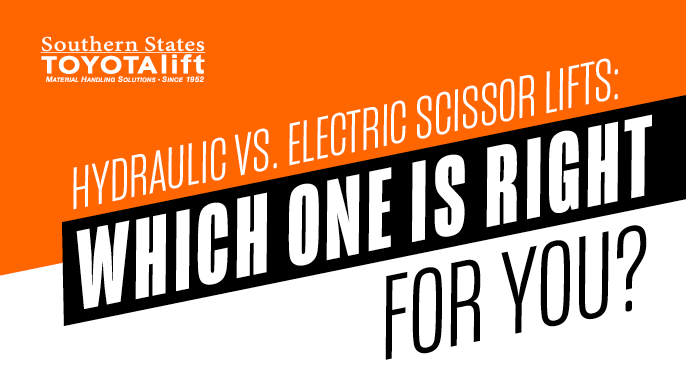 Scissor lifts can help with hard-to-reach tasks, including construction, repair, or maintenance of elevated work areas. With the electric market snowballing, we see competitive pricing and performance on new lines of electric scissor lifts. In addition, innovation is changing the game regarding all kinds of work trucks, including aerial lifts. We can help you find the scissor lift that works best for you.
What is the Difference Between Hydraulic and Electric Scissor Lifts?
Electric Scissor Lifts
Electric scissor lifts are the best choice for anyone who needs an extended work day or needs to get their job done quickly and efficiently. The electric drive system and faster travel speeds mean you can maximize your uptimes, while improved gradeability means handling tasks with more confidence.

Electric scissor lifts are ideal for indoor environments with delicate floorings, such as hospitals and schools. They are also great for cold storage areas, where their electric drive can handle cooler temperatures better than their hydraulic counterparts.

Additional Highlights Include:
Easy to service
Energy efficient
Highly productive
Maximize uptime
Rechargeable, long-lasting battery
No exhaust fumes (important for indoor applications)
No fluids = less maintenance
Can work in cold conditions with ease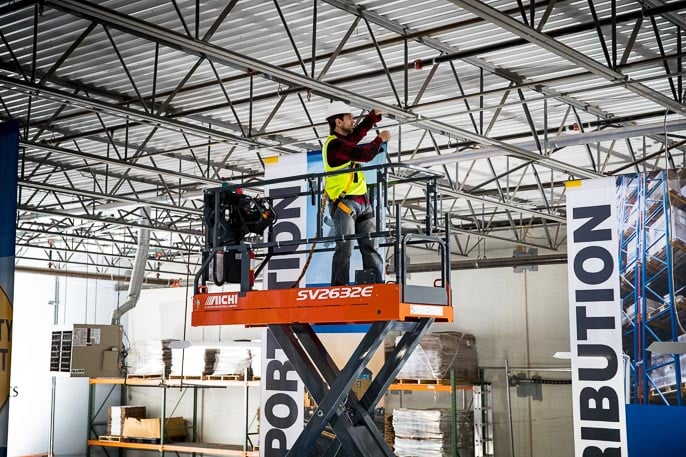 Hydraulic Scissor Lifts
The most cost-effective scissor lifts are hydraulic drive models. This durable aerial platform has practical features that make it more powerful and keep your crew on the job, regardless of how rugged or remote. Choose from our wide variety of models that can tackle general construction tasks or access overhead work during HVAC maintenance, painting jobs, and electrical service calls.

Hydraulic drive lifts offer power and performance in general construction or mechanical work applications, especially those requiring long operation hours each day. These lifts are also great for specialized trade, like drywalling (and more!).

Additional Highlights Include:
Most affordable option
Most durable option
Easy to service
Designed to work in rugged conditions
Great for outdoor applications
Powerful all day long
Industry-standard for decades
Consider the Overall Financial Investment
Hydraulic Scissor lifts offer the best affordability, and the lowest entry price point.
Electric scissor lifts offer the best bang for your buck over the life of the truck. Electric models can reduce your overall financial footprint due to low maintenance costs and long working life.
Watch this video for more on JLG scissor lifts.

Watch this video for more on Aichi scissor lifts.

Hydraulic and Electric Scissor Lifts Work Differently
Hydraulic systems are typically less efficient than electric ones as they rely on hoses and valves that need regular servicing. They also have more connector points, which means increased oil leak risks or costly repairs depending on wear and tear. Fuel costs are an issue with these models too.

Electric lifts use motors for both drive and steer scissor lift functions, which reduces the number of potential hydraulic leak points, eliminates emissions, and enables smoother operation when combined with proportional controls. With jerky movements eliminated, workers can make small movements and creep at height, making them more productive over extended periods.
Which Type of Scissor Lift is Better For You?
The right scissor lift for your needs depends on what you need to accomplish. Electric-drive units are more suited to longer runs and cleaner environments, while hydraulic drives offer simplicity and durability.
Having the right scissor lift for your job site is essential. Consider your industry, and the work environment of your crew. These factors, plus cost and maintenance expectations, will all affect your final purchasing decision.

Still need help deciding? We can help you sort out the best model for your operation. Contact our solutions team today to talk through your options.
Aerial And Fall Protection Training
We're here to help you keep your employees safe. Whether it's training on how best to use a particular aerial work platform or just some general advice that's needed, we have your back! We offer comprehensive training for every major aerial work platform, including:
Scissor lift training
Self-Propelled Boom lift training
The ANSI/OSHA-compliant training courses we offer can be conducted at your facility or brought to one of our nine locations throughout Georgia and Central Florida. We provide your crew with in-person evaluations that give students the chance to ask questions as well. Our online options make it convenient for you while ensuring compliance with federal safety standards.

Florida
Jacksonville
Lakeland
Ocala
Orlando
Tampa
Winter Haven
Georgia
Albany
Macon
Columbus
Valdosta

Further Reading
Low-Level Access Lifts vs. Ladders
3 Ways To Avoid Increased OSHA Fines
5 Simple Ways to Improve Warehouse Safety