5 Simple Steps to Improve Warehouse Safety
by Dave Tullis, on Jun 3, 2022 1:27:00 PM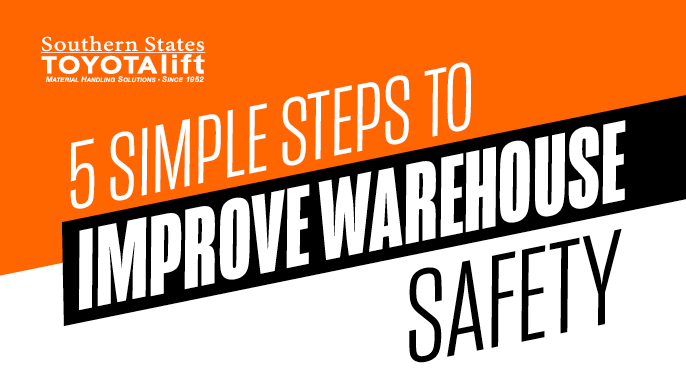 June is safety month, and it's time to think about warehouse safety. These safety tips are easy to implement without breaking the bank. Following warehouse safety, best practices can keep your crew from getting injured on the job while saving your business money too.
Your hard-working crew is outstanding at getting the job done day in and day out. They deserve to work in the safest warehouse you can provide. As someone who cares about your crew, you are constantly looking for new warehouse safety tips to improve your workplace safety record while reducing injuries and increasing your bottom line.
According to OSHA and the CDC, around 2.4 million workers are injured on the job in the United States every year. These injuries cost American companies billions of dollars in lost productivity and injury-related expenses. To avoid on-the-job injuries, check your warehouse safety practices. Here are a few simple safety tips to keep your workers safe, increase productivity and bolster your bottom line.
5 Simple Steps To Improve Warehouse Safety
1. Clearly Mark and Enforce Forklift Speed Limits
Clearly mark and enforce forklift speed limits to increase worker safety. Forklifts in your warehouse should never go over 8 mph. Where pedestrians are present, reduce this to 3mph. Creating and maintaining these speed limits is easy to implement without being expensive. Doing this is one of the most critical warehouse safety steps you can take today to avoid workplace injuries.
2. Create and Maintain Traffic Lanes
Creating designated traffic lanes to keep forklifts and workers on foot separate is an easy fix to a potentially dangerous situation. Creating traffic lanes can be as simple as marking out designated routes on the floor using colored tape or as complex as installing metal guardrails to keep your machine operators separate from the floor crew. Either way, installing and maintaining designated traffic lanes for both forklifts and pedestrians is a cost-effective and straightforward way to reduce worker injuries for your entire warehouse crew.
3. Install Mirrors on Narrow Corners
Mirrors are a simple and cost-effective solution that will keep your crew safe in the warehouse. By installing traffic mirrors at all narrow warehouse corners, you can boost your forklift operator visibility, while ensuring the safety of your team. Adding curved mirrors at narrow corners with highly restricted visibility is an even better solution. It will help your forklift operators feel confident in their ability to do their work effectively and safely while keeping pedestrians safe.
4. Maintain Level Floors
You run a busy warehouse where forklifts and other machines constantly operate on your floors. Over time, this heavy machinery can wreak havoc on your warehouse floors. They can cause dips and uneven spots, which threaten the safety of everyone working on the warehouse floor. Uneven floors create tripping hazards for those on foot, and they make challenging terrain for forklifts to operate on, which can cause these machines to react unexpectedly, potentially causing damage to your forklifts or accidents. Creating a quarterly maintenance schedule for warehouse safety traffic is the solution. When you prioritize repairing uneven spots, it protects your equipment while keeping everyone safe on the warehouse floor.
5. Keep Warehouse Signage Up to Date
OSHA expects safety signage on display at all times in your warehouse. This keeps your floor crew informed and working safely. Keeping signage up to date helps remind your team every day how to keep themselves and each other safe on the job. You can set a quarterly reminder on your calendar to look into any updated safety signage and then get those signs up in the appropriate places for your crew. Doing this ensures OSHA warehouse safety compliance while showing your team you care about helping them avoid injuries.
Warehouse Safety Doesn't Have To Be Expensive
Warehouse safety is one of the most critical jobs for warehouse managers. However, keeping your crew safe and injury-free doesn't have to be expensive or complicated. If you follow these 5 Simple Steps for Warehouse Safety, you're well on your way to operating a safer, more efficient, more productive warehouse.
We want to help you find simple safety solutions for your warehouse. We serve 11 locations throughout Georgia and Florida. Contact us to talk to an expert today.
FLORIDA
Jacksonville
Lakeland
Ocala
Orlando
Tampa
Winter Haven
GEORGIA
Albany
Macon
Columbus
Valdosta
Further Reading:
Repair Vs. Replace Your Forklift: What Equipment Managers Need To Know
Top 10 OSHA Violations of 2020
3 Ways to Avoid Increased OSHA Fines