Low-Level Access Lifts vs. Ladders
by Adam Henry, on Apr 22, 2022 2:15:00 PM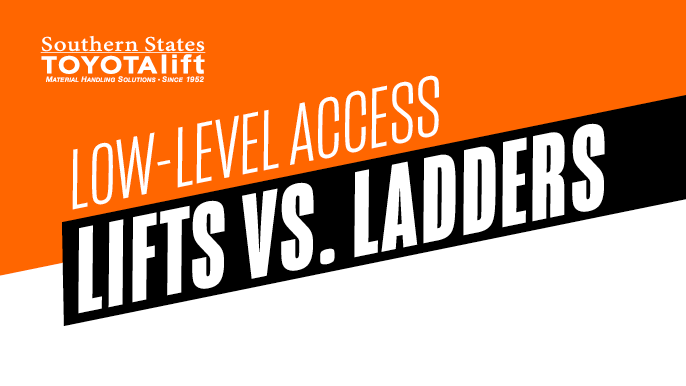 You probably have a love-hate relationship with ladders. Sure, they are quick and easy tools to help you get the job done, but they are also dangerous by design. 20% of all workplace injuries in the US involve ladders, according to the Centers for Disease Control and Prevention. 20%!! of most injuries are due to workers falling off of ladders, and most of these falls are from 10 feet or less. That's why OSHA wants to see more American companies ditch their ladders and evolve toward what's next. You need a ladder replacement option to keep your crew safe while driving profitability. You need a good investment for your company.
Safety is important to you, and you think about equipping your team with the best tools to do their work safely and efficiently. That's why it's time to ditch the ladders and invest in a low-level access lift, such as the JLG Ecolift Series.
Introducing the JLG Ecolift Series
The JLG Ecolift Series is an eco-friendly ladder replacement option. These low-level access lifts are easy to operate and maintain, and because they don't rely on hydraulics, they are quiet to use in spaces where reducing noise level is a must. They are lightweight and perfect for settings with sensitive flooring, such as hospitals, schools, offices buildings, and data centers. Do your workers need to replace light bulbs in your office building regularly? A MEWP is the way to go. Does your team need a safer and more secure way to clean those hard-to-reach windows? A low-level access lift has you covered. Need to hang some drywall? Look no further than this MEWP. The JLG Ecolift Series has two height options - 10 feet, 11 inches, and 13 feet, 3 inches, respectively. A low-level lift helps you safely reach as high as necessary for regular indoor jobs.
See the Ecolift Series in Action
4 Reasons To Invest in a Low-Level Access Lift
1. Multi-Use Applications
The JLG low-level access lifts are perfect for any indoor setting where team members have to work off the ground but need extra safety measures to avoid the dangers of ladders. Facility maintenance, HVAC ductwork, and electrical installation work can benefit from a low-level access lift. Additionally, these single man lifts are perfect for anywhere your team needs to perform finishing work in tight spaces while keeping noise levels to a minimum. The maneuverability of these single man lifts is impressive too. Maintenance crews working in office buildings, data centers, hospitals, schools, and even construction finishing work can benefit from using personnel lifts as a ladder alternative. The JLG Ecolift Series is the right tool for an innovative, safe, eco-friendly job site.
2. Enhanced Safety
Ladders are much more dangerous than most of us realize. With thousands of ladder injuries recorded each year in the US, it's time to move beyond ladders and look to ladder alternatives, such as low-level access lifts, for enhanced safety and usability. The JLG Ecolift Series has an enclosed platform to keep the operator secure during use. This line of aerial work platforms comes equipped with additional safety features, such as multiple lanyard attachment points, which allow the operator to tie off to reduce the risk of falls. The sturdy base and locking wheels give you the confidence to do the job in front of you with both hands while also allowing 360-degree access to your work.
3. Power Free Operation
The Ecolift Series is free from messy hydraulics and expensive batteries. Using a patented, stored power lift system, these single man lifts allow you to elevate to the height you need with just the turn of a crank to get the job done. These low-level access lifts work for you 24/7 while offering quiet and clean operation for sensitive environments, such as schools, hospitals, and data centers. Whether you need to wash windows in a student center, or replace lights in an office building, the JLG Ecolift Series offers an evolved ladder experience without disrupting the surrounding work environment.
4. Fewer Parts = Less Maintenance
With the JLG Ecolift Series, there is no messy hydraulics to maintain or expensive batteries to replace? With fewer parts than market competitors, these single man lifts reduce your overall expenses while keeping your team on the job with regularity. Reducing maintenance downtime means more work can get done in real time when your company needs it most. Less noise and reduced overall maintenance costs will keep your team working and your bottom line growing.
5. It's Time To Ditch Your Ladders
Are you ready to learn more about low-level access lifts, such as the JLG Ecolift Series? We're here to help your business operate more safely, with more productivity, and higher profitability. It's time to evolve past archaic ladders and look to give your crew the best tools to do their work. It's time to consider adding a single man lift to your toolkit. With ladders causing thousands of injuries, and millions of dollars in lost productivity annually, investing in a JLG low- access lift might be your next great business decision.
We'd love to help find a solution that works for you. Contact us to talk to an expert today. We serve 11 locations throughout Georgia and Florida. Contact us online to get the conversation started or visit one of our 11 locations in Florida and Georgia:
FLORIDA
Jacksonville
Lakeland
Ocala
Orlando
Tampa
Winter Park
GEORGIA
Albany
Macon
Midland
Valdosta
Further Reading:
Top 10 OSHA Violations of 2020
3 Ways to Avoid Increased OSHA Fines
6 Ways to Control Workers' Compensation Costs