Top 10 OSHA Violations of 2022
by David Tullis, on May 26, 2023 11:34:54 AM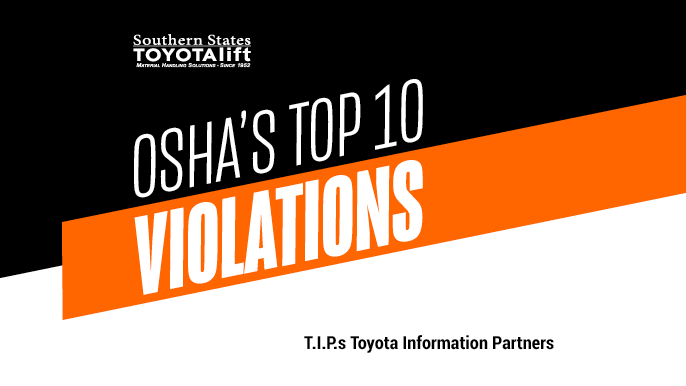 Every spring, OSHA reveals its top ten citations for the previous year. The stats for 2022 were unsettling to say the least.
Forklift safety violations declined in 2021, then increased nearly 40% in 2022. There's no reason companies and workers should put their financial and physical wellbeing at risk. The most common forklift citations are very easy to prevent.
Read on for:
The top ten OSHA citations for 2022
The five most common forklift-related OSHA citations
Simple ways to avoid OSHA fines
OSHA'S TOP 10 VIOLATIONS
NOTE: this article was written in May 2023 based on OSHA's preliminary stats for 2022. If you're reading this article later in the year, you can check the final numbers here.
Forklift violations weren't the only category with increased citations. Hazard Communication jumped from fifth place in 2021 to second place in 2022
The number of citations in the top ten increased about 17% overall. This is not to say more penalties were issued, only that the most common violations were cited more often.
Top 10 OSHA Citations in 2022
Fall Protection - General Requirements (1926.501): 5271 violations
Hazard Communication (1910.1200): 1939 violations
Ladders (1926.1053): 2471 violations
Respiratory Protection (1910.134): 2430 violations
Scaffolding (1926.451): 2285 violations
Lockout/Tagout (1910.147): 2175 violations
Powered Industrial Trucks (1910.178): 1922 violations
Fall Protection - Training Requirements: (1926.503): 1778 violations
PPE and Lifesaving Equipment – Eye and Face Protection (1926.102): 1582 violations
Machine Guarding (1910.212): 1105 violations
If you've been in the industry a long time, you've probably noticed the top ten violations don't change much, they just move around in the ranking. That's why we were so dismayed to see forklifts (classified by OSHA as powered industrial trucks) move from ninth to seventh place. Many of us hoped forklift violations could drop to number ten or fall off the list entirely!
Of the 1922 forklift-related citations issued, 74% were classified as serious. This is an official classification described by OSHA as "one in which there is a substantial probability that death or serious physical harm could result, and the employer knew or should have known of the hazard."
Why are the same categories in OSHA's Top 10 year after year?
According to safety experts interviewed in Safety+Health, companies often cut back on safety training and communication to save money. They assume (and we all know what that stands for) that common sense will be enough. This can be an expensive mistake.
OSHA FINES FOR 2023
OSHA's maximum penalties for serious and other-than-serious violations increased from $14,502 per violation to $15,625 per violation for 2023. The maximum penalty for willful or repeated violations increased to $156,259 per violation. Visit OSHA's website to learn more about penalties and fines.
DOWNLOAD our T.I.P.s (Toyota Information Partners) for OSHA's Top 10 Violations for 2022
Top 5 OSHA Forklift Violations
The most common OSHA forklift safety violations in 2022 were identical to 2021. Unsafe operation was number one, followed by two training-related citations:
Failure to provide refresher training
Missing/inadequate operator certification
As mentioned above, it's very easy to avoid getting an OSHA fine for no forklift training, inadequate training or overlooked refresher training. Southern States Toyotalift (SST) can provide refresher training and issue new forklift certifications using your equipment at your facility. We'll customize the program to your work environment and run classes whenever it's convenient for you and your team, including nights or weekends. Learn more and view pricing for on-site forklift training.
Top 5 OSHA Forklift Violations
Unsafe operation
Driving with an elevated load, driving too fast, driving too close to platform edges and not following loading dock safety procedures are some of the most common reasons for a citation.
Failure to provide refresher training
Every forklift operator must receive refresher training every three years – sooner if they are involved in an accident, near-miss, or when reported for reckless behavior. Forklift operators may also require additional training when they are asked to operate a different class of forklift or if a change in the workplace has created a new hazard.
Missing/inadequate operator certification
All forklift operators must have an OSHA-approved forklift certification for the class of forklift they use.
Failure to remove unsafe trucks from service
Whenever a forklift is found to be defective, in need of repair, or in any way unsafe, the truck must be taken out of service (lockout/tagout) until it is restored to a safe operating condition.
No pre-operation inspection
Daily inspection checklists help keep your associates safe and can uncover minor issues before they become expensive repairs. Download free forklift inspection checklists for electric and IC forklifts, pallet trucks and more. Checklists are available in both English and Spanish.
Safety Is No Accident
No business wants to become a negative statistic or pay an expensive fine. Protect your associates and your bottom line with safety training and by choosing a forklift with superior safety features. Toyota's commitment to safety is one of the main reasons Toyota forklifts are #1 year after year. Ask us about their patented System of Active Stability (SAS) technology and Active Mast Control (AMC).
Contact us online, by phone at (800) 226-2345, or in person at one of our nine locations. We're happy to answer any forklift or warehouse safety questions you may have
FLORIDA
Jacksonville
Ocala
Orlando
Tampa
Winter Park
GEORGIA
Albany
Macon
Midland
Valdosta
Further Reading
3 Ways to Avoid Increased OSHA Fines
4 Reasons to Ditch Your Ladders and Use a Low Level Access Lift
Why Are Forklift Inspections So Important?