What You Need to Know About Full Maintenance Plans for Forklifts
by Moody Simmons, on Oct 2, 2020 9:45:00 AM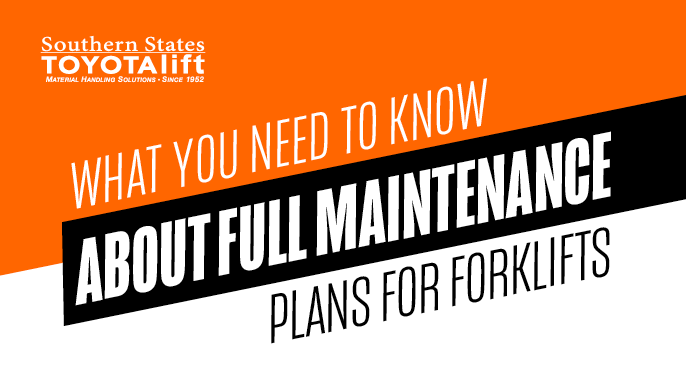 For businesses focused on getting more done with less, outsourcing material handling equipment maintenance can be key to success. Unfortunately, maintenance plans for forklifts and other industrial equipment are often presented in confusing ways. Planned maintenance, full maintenance, and other offerings are not all created equal.
The goal of outsourcing your maintenance is to reduce your operating costs and keep your forklift fleet running more efficiently. Whether you choose to rely on planned maintenance (regularly scheduled preventive maintenance intervals) or full maintenance (parts, labor, planned maintenance, and on-demand repairs), outsourcing your forklift maintenance should help optimize your business workflow. It's important to have a clear understanding of any contracted maintenance before signing up, as many businesses can learn the hard way.
The Benefits of Full Maintenance
Businesses who choose full maintenance typically have a few specific goals in mind:
Standardizing costs of maintenance via flat, monthly billing
Not having to worry about reviewing or approving repairs
Maximizing the uptime of forklifts and other equipment
These are clear benefits of full maintenance when it is completed by a professional provider. The reality is, that some service providers are not focused on creating value and instead operate their contracts on autopilot to rely on regular monthly payments and hidden costs that they pass onto their customers.
Where Other Providers' Full Maintenance Falls Short
Too often, there are traps hidden in other providers' full maintenance plans that obscure additional costs or coverage that you can't count on to keep your business running. A lack of guarantees, rental equipment, and unclear definitions of service level agreements are all warning signs that your full maintenance plan will cost you in the long run. When you're negotiating the terms of a new maintenance contract, all the details should be abundantly clear.
How to Maximize Full Maintenance Benefits
You can maximize the positive impacts of your outsourced full maintenance by asking four simple questions:
How quickly will my repairs be completed?
Is there a warranty on parts and labor?
Is my uptime guaranteed?
How do I optimize my forklift replacement cycles?
If your provider (or your contract) cannot answer these questions easily, take it as a red flag. If you're shopping around for a new provider, pay close attention to their reaction to these questions.
The Southern States TOYOTAlift Total Care Difference
At Southern States TOYOTAlift, we take great pride in maximizing the value we create for our customers. We don't just provide full maintenance, which is why our plan is named Total Care to reflect what we bring for our subscribers. The value we create for our customers is clear and goes beyond the highly effective maintenance of their equipment.
Guaranteed Forklift Uptime
SST's Total Care customers are guaranteed forklift uptime of at least 97%, and we often beat that figure. By keeping your forklifts running on schedule, we make sure that your business can remain productive and profitable. That uptime guarantee creates an instant ROI for SST Total Care.
No-Cost Rentals For Equipment Downtime
In the rare occasion that we cannot keep your forklifts running, SST still has your business covered. If your forklifts will be experiencing extended downtime for significant repairs, we provide no-cost rental equipment to help keep our Total Care customers productive.
Fully Transparent Operations Analytics
SST enables business operations analytics for our Total Care customers to help show the true cost per hour of their forklift operation. This is included with their Total Care subscription, without hidden fees attached. These analytics also factor in the costs of repairs to help create full transparency in their understanding of repair costs. These actionable data points can help highlight problematic pieces of equipment that may be ready for replacement to maximize their fleet uptime and minimize spending.
With our total care offering, Southern States TOYOTAlift becomes a worry-free maintenance solution. We don't just complete repairs, we partner with our customers to offer hassle-free fleet management solutions and support. These insights created by our team free up our customers' time to focus on the profit centers of their business, rather than operational challenges of forklift fleet maintenance. Shifting these priorities to forklift uptime enables greater profitability and ROI while also lowering costs through smart analysis and problem management.
Are you ready to partner with a full maintenance service provider who's dedicated to your business success? Contact our team to learn more about Total Care today.