5 Secrets Other Material Handling Service Providers Don't Want You To Know
by Lance Landeche, on Aug 7, 2020 3:15:00 PM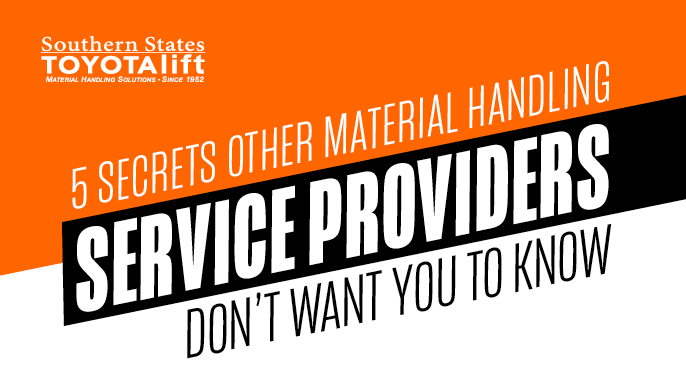 You do your research and care about the lifetime value of your material handling equipment. Downtime is rare. Efficiency is high. Cutting corners is not part of your vocabulary.
Would you believe, some businesses never think of their material handling provider as a partner? Too often, we meet customers who have previously fallen victim to broken promises, hidden fees, and negligent behavior. Unfortunately, some dealerships and service providers rely on dishonesty and underhanded business practices to make their money.
Some forklift dealerships offer service plans without asking about your needs first. They don't make the actual cost of things clear, and they cover up the ways your forklift purchase could be draining your budget. If you're wondering what kind of things they hide, here are the five most common secrets we come across that other service providers don't want you to know:
#1 Their "Full Maintenance" Has Trap Doors for Additional Charges
Certain full maintenance plans include trap door structures that allow providers to charge extra for more significant repairs. Be sure to review your full maintenance plan contract to ensure that your services are working in your favor. When you sign up for a full maintenance plan, check to make sure you're aware of additional fees and costs that can come up.
#2 Cheap Planned Maintenance Actually Costs More
The phrase "you get what you pay for" holds true for material handling equipment and service too. Rapid PM checks for a low rate of $50 may seem appealing on paper, but the reality is far less attractive. This pricing structure leaves gaps and shows their business focuses on volume, rather than quality. Some questions to ask that will help you find the truth include:
How long is their technician actually servicing your equipment?
What are the touch-points for the Planned Maintenance action?
Does the company conduct its own quality assurance checks to ensure you are receiving quality service work?
What are the costs of supplemental parts & repairs?
Have you compared these prices to the competition?
Oftentimes, "cheap service providers" will bait you in with a low PM rate and then charge well beyond market rate for parts and repairs once they arise. Be sure to look for a dealership that completes a comprehensive PM, uses high-quality replacement parts and components, and can show you specifically what is done at every service interval to keep your fleet running safely and effectively.
#3 They DON'T Want to Guarantee Uptime
Some service providers are only interested in short-term profits. They focus on high volumes of work, not the long-term success of their customers. Guaranteeing uptime eats into a lesser provider's ability to maximize profits. Look for something like our Total Care Plan. It guarantees 99% uptime for your equipment because we stand by our high quality of service. Along with that, we provide insights through analytics and thorough preventative maintenance to prevent unplanned downtime.
#4 Cheap Equipment Is Not the Same As Dependable Equipment
Companies selling dirt-cheap forklifts are counting on steep repairs down the line. You will pay for your equipment one way or another. Consider the fact that broken-down forklifts will cost you money in repairs and productivity. Considering your budget is important. If you need to spend less initially on the purchase of a forklift, consider a Toyota certified used forklift. A dealer-certified used Toyota forklift breaks down less than a new cut-rate brand and can come with a Powertrain Warranty that lasts for years.
#5 Repair Costs Are Gobbling Up Your Profits
Do you know your forklift's cost per hour (CPH)? By adding up the purchase price + maintenance/repair + fuel divided by hours of operation, you'll gain an accurate picture of what that forklift truly costs. Extensive downtime and costly repairs cause CPH to balloon and eat into your profits. The right fleet management solution bundled with your SST Total Care Maintenance Plan will help you track this and other essential indicators of your fleet performance.
When choosing a material handling service provider, be sure to shop around and read the fine print. The right provider should provide transparent pricing, guaranteed uptime, and cost savings for your equipment's lifespan.
If you're spending more on forklift expenses than you want, download our ebook How Short Term Savings Leads to Long Term Losses.