Forklift Fleet Managers: Is Avoiding Preventative Maintenance Draining Your Profit?
by Theodore Taylor, on Jul 1, 2022 10:00:00 AM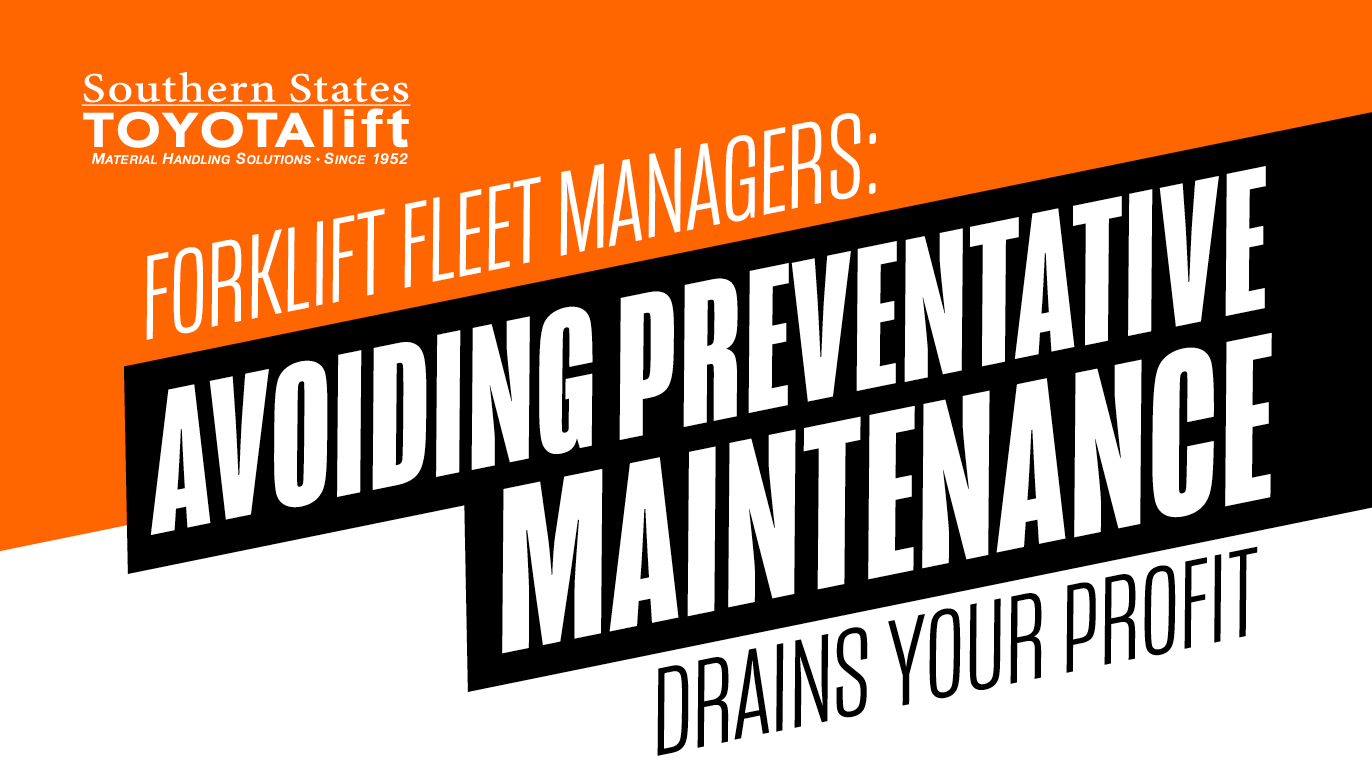 Top Repairs Found By Our Fleet Analytics, And How To Avoid Them
Like most forklift warehouse managers, you're looking for ways to save money and increase profits. Have you ever considered the cost of neglecting your fleet maintenance? It may be draining your bottom line. Forklift brake repair, forklift mast replacement, forklift clutch replacement, and forklift cylinder repair are costly but preventive maintenance items for your fleet. In this article, we'll take a look at some of the consequences of fleet neglect and how preventative maintenance can help protect your bottom line.
The Problems To Avoid
Balance The Use, Balance The Cost: Unbalanced fleet utilization means higher costs for the company and reduced disposal values. This can devastate an organization's bottom line. We encourage you to spread the use across your fleet. This will save on maintenance and replacement costs in the long run.
Premature Tire Wear: Lift trucks are designed to carry loads, not travel empty. This means you should pay attention to how much traction your tires have and how they are used. As you know, because the rear of a lift truck is usually heavier than the front, premature tire wear happens. Forklift tire replacement is costly, so keeping a close eye on tire wear and tear is essential.
To learn more about the cost of ignoring forklift tire wear, check out How Bad Forklift Tires Can Cost You
Dragging Forks: Forklifts are designed to carry loads, but half the life of a forklift is simply moving from a drop-off point to a pickup point. As operators travel from point A to point B without a load, they need to ensure the forks are secure and not dragging. This significantly increases the fork's life and reduces maintenance and replacement costs associated with wear and tear on this piece of equipment.
Proper Battery Maintenance: Electric vehicle batteries are not maintenance-free, and forklift battery replacements are costly. Proper care and attention can reduce the number of service visits and elevate fleet productivity. Maintaining your batteries gives you healthier vehicles that require less repair time because they're not constantly breaking down on you.
To learn more about how to get the most mileage out of your forklift batteries, check out Get The Most Out of Your Forklift: Battery Care 101.
Accessory Repairs: The market is full of accessories that operators love, but mounting accessories incorrectly can have expensive consequences. It is vital to protect yourself, as well as your equipment, by making sure they are mounted correctly and securely on the lift truck. Also, before installation, walk your warehouse floor to look for potential hazards that may damage any expensive accessories.
Curious about forklift safety accessories? Check out 7 Must-Have Forklift Safety Accessories.
Preventive Maintenance Solutions
Steer Axle Pivot Bushings: These common parts WILL wear out over time if they aren't monitored closely by yourself or an experienced mechanic (or both!), costing you thousands of dollars. The failure of these bushings can lead to significant issues with frame integrity for trucks and other important components like steer axle beams and mast rails.
Hydraulic Hoses: Hoses are essential to the smooth operation of your fleet. If they're not adjusted correctly and frequently, you risk hose failure due to rubbing or chaffing. Regularly checking on your hydraulic hoses is a simple way to keep your trucks up and running.
Do you need to brush up on your safety inspections? Check out How To Inspect Forklift Hydraulic Hoses.
Side Shifter & Attachment Mountings: We recommend that you check the side shifter and attachment mounting hardware during regular preventive maintenance to be sure they are properly mounted on your truck. These pieces can torque or break if they're not correctly set up.
Small Leaks, Big Problems: Leaks are not just an inconvenience; they can be costly. The quicker you identify a small leak on the engine or transmission cooler hoses, the less time spent repairing them. This will help avoid major repairs and, more importantly, save money.
Driveshafts: Inspecting and replacing your driveshafts can save you money. A failed driveline is an expensive repair, but it's worse when it happens because of neglectful maintenance practices. Regular inspections can keep repair costs down and production up.
Wheel Bearings: These are an essential part of your trucks. They ensure everything operates as designed, but they need regular maintenance to maintain their performance. Everything is riding on these parts, so check them regularly.
Do you need some help thinking about repairing or replacing your fleet? Check out Repair Vs. Replace Your Forklift: What Equipment Managers Need To Know.
We Can Help you With Preventative Maintenance.
A well-maintained forklift fleet is crucial to maximizing efficiency and minimizing costs. Our team of experts can help you identify any potential forklift repair service that needs to be made and provide a plan for keeping your forklifts in top condition.
If you want to learn more about our full maintenance plans for your forklift fleet, check out What You Need To Know About Our Full Maintenance Plans For Forklifts.
We serve 11 locations throughout Georgia and Florida. Contact us to talk to an expert today.
FLORIDA
Jacksonville
Lakeland
Ocala
Orlando
Tampa
Winter Haven
GEORGIA
Albany
Macon
Columbus
Valdosta
Additional Reading
Is Your Forklift Fleet Robbing You Blind?
Forklift Fleet Management - 3 Success Stories
Download Your Free Fleet Optimization Report