How Bad Forklift Tires Can Cost You $18,000 or More
by David Tullis, on Jul 29, 2019 1:36:11 PM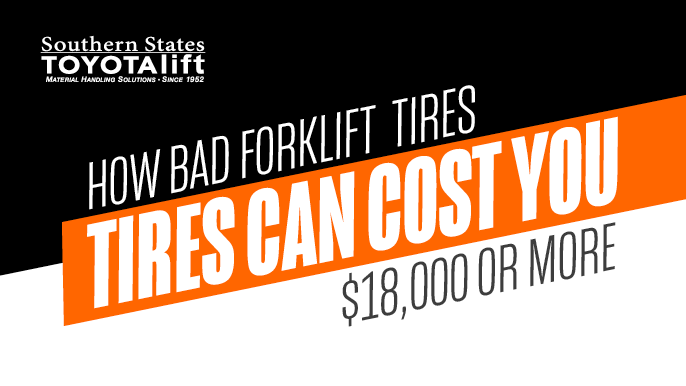 The cost to replace forklift tires before they fail is a fraction of what you'll pay to repair damage caused by worn-out tires. Bad tires put extra strain on your forklift's transmission, which can cause a breakdown and/or shorten the life of the lift truck. Worn out tires also put excessive pressure on the forklift's axle, which can lead to expensive damage. Faulty tires can cause more than $18,000 in repair expenses over time.
Tires are one of the most critical components of a forklift because they act as shock absorbers for the truck and the operator. As the tires wear down, capacity and stability decrease. A rough-riding forklift is uncomfortable for the operator and can cause them to lose control of the machine. Also, with each inch of wear, the forklift drops closer to the driving surface which increases the chance for some part of the truck to collide with an obstruction on the ground.
How to Inspect Forklift Tires
Identifying damaged or worn out forklift tires before they become a problem is the best way to prevent expensive repairs. Here's what operators should look for during their pre-shift inspections:
Check the wear line Most forklift tires have a wear line. When the wear on a forklift's tire reaches that line, the tire should be replaced.
Chunking This one is self-explanatory. If the operator notices pieces of the tire falling off or tearing, it's time to get a new tire.
Flat Spots Flat spots anywhere on the tire are a sign the tire needs to be replaced.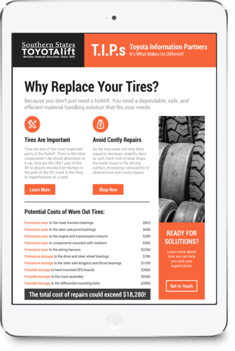 Uneven wear Uneven wear can indicate an undetected issue with your lift. Contact a forklift repair technician for an inspection of the tires and the lift overall.
Damage From Worn Out Tires Can Exceed $18,000
Premature wear to the mast trunnion bearings

$825


Premature wear to the steer axle pivot bushings

$650


Premature wear to the engine and transmission mounts

$280


Premature wear to components mounted with isolators

$365


Premature wear to the wiring harness

$2250


Premature damage to the drive and steer wheel bearings

$780


Premature damage to the steer axle kingpins and thrust bearings

$1330


Possible damage to hard mounted CPU boards

$3500


Possible damage to the mast assembly

$5500


Possible damage to the differential mounting bolts

$2800


The total cost of repairs can exceed $18,280!


Forklift Tire Replacement in Georgia and Florida
You depend on your forklift to be dependable, safe and functioning every day. Worn-out or damaged tires can cause unexpected downtime. Don't let this preventable issue take your business offline.

Our certified technicians can help you and your staff recognize and prevent potential issues. With nine locations in Georgia and Florida and a mobile service fleet, SST is at your service whenever you need us.

Thousands of companies choose SST to help make their operations more productive and more profitable. We can help you too. Contact us online, by phone at (800) 226-2345, or in person at one of our nine locations.

FLORIDA
Jacksonville
Ocala
Orlando
Tampa
Winter Park



GEORGIA
Albany
Macon
Midland
Valdosta

Further Reading
Schedule Forklift Service or Repair
Are Your Forklift Chains OSHA Compliant?
5 Reasons to Rent a Forklift