Are Your Chains OSHA Compliant?
by David Tullis, on Jul 15, 2019 9:00:00 AM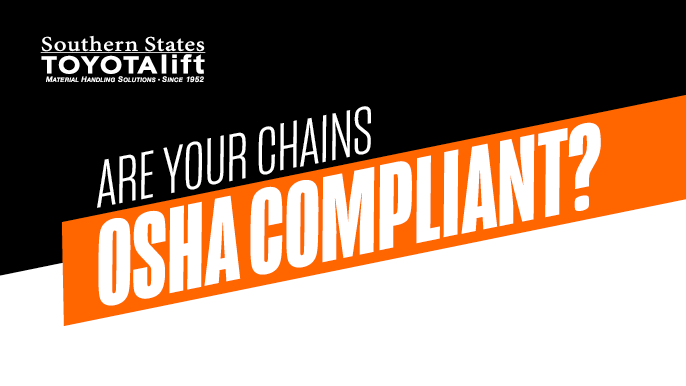 Forks and chains lift thousands of pounds every day, and unchecked wear can lead to dropped loads - resulting in severe damage to property, or even the death of an employee. That's one reason forklift chain inspection is required as part of OSHA's daily pre-operation forklift inspection.

A forklift's chains can last three to five years in an average single-shift operation, but environmental factors such as dust, weather, chemicals or an uneven operating surface can cause chains to degrade faster. Because some damage can be easily missed, it's important to periodically take a closer look to ensure chains are in safe operating order. Here's what to look for:
Forklift Chain Inspection
Chain Elongation Elongation of more than 3 percent indicates a 15 percent reduction in strength and means the chain should be replaced.
Rust & Corrosion Chains showing any rust or corrosion should be replaced. For maximum protection, chains must be completely lubricated at all times.
Plate Cracking The discovery of any crack means the chain should be replaced before the forklift is put back into service.
Protruding or Turned Pins Lack of lubrication creates friction between the plates and the pin, causing the pins to twist and turn their way out of place. The result is chain failure
Misalignment Look for wear patterns on pinheads or outside plates. Continued operation will cause damage to the chain and sheaves, potentially causing the chain to fail.
Chain Anchors & Sheaves Inspect anchors for misalignment, damage or undue wear. Anchors with worn or broken fingers must be replaced.


For more FREE technical information on chain compliance, contact us by phone at 1-800-226-2345, visit us at one of our nine locations, or contact SST online.

FLORIDA
Jacksonville (904) 764-7662
Ocala (352) 840-0030
Orlando (407) 859-3000
Tampa (813) 621-1000
Winter Haven (863) 976-8551



GEORGIA
Albany (229) 338-7277
Macon (478) 788-0520
Midland (706) 660-0067
Valdosta (229) 247-8377