5 Reasons to Rent a Forklift
by Alan King, on May 21, 2019 3:00:00 PM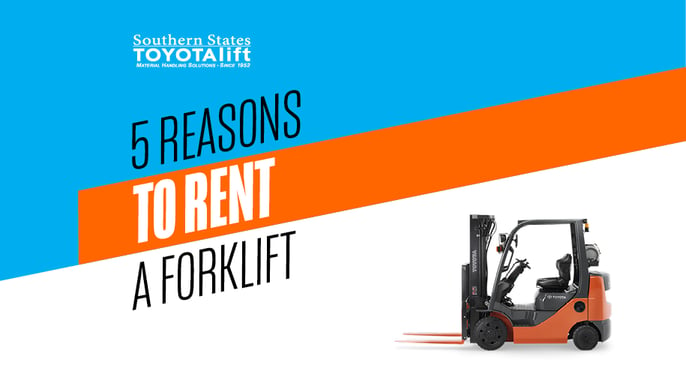 Some fleet managers question the benefits of renting a forklift, but renting can be a cost-effective solution to a sudden increase in business, a temporary need for specialized equipment, or a smart way to evaluate a forklift before committing to buy.
You may be surprised to know, the average forklift rental term is two months. Rather than tying up capital in a long-term purchase, an increasing number of businesses choose to rent. Read on to learn more about the benefits of renting a forklift.
The Benefits of Renting a Forklift
#1 Get the Equipment You Need Fast
When an existing forklift breaks down or needs an extended service, renting a forklift is the best way to keep your operation going. Receive a 20% discount off our regular rental rates when you choose SST to repair your forklift.



#2 Yours When You Need It, Ours When You Don't
Renting gives you the flexibility to avoid paying for equipment you're not using. If you get a short-term contract, or have a seasonal spike in business, renting is the ideal solution. When business is slow, return the forklift and conserve capital.

#3 Predictable Monthly Costs
If you have a fixed budget or just wanted to avoid unexpected maintenance costs, renting can give you peace of mind. When you rent from SST, regular maintenance is included.

#4 You'll always have a new forklift
A reputable forklift rental company will deliver a lift truck with lower hours in good condition. When you rent a Toyota forklift, you get the latest technology for maximum safety and efficiency. SST ensures all our forklifts are up to the latest OSHA standards, so our customers have one less thing to worry about.

#5 Try Before You Buy
If you're thinking about adding a new forklift to your fleet, why not try before you buy? Ask us about our rental purchase plans.
Toyota Forklift Rental in Georgia and Central Florida
SST rents forklifts with capacities from 3,000 up to 36,000 lbs. Our rental fleet includes electric, LP and diesel forklifts in addition to order pickers, end riders and forklift attachments.



With locations throughout Central Georgia and Central Florida, you can get the forklift or material handling equipment you need delivered fast. Safety equipment is always included, and chargers are available for all electric forklift rentals. Also, when you rent with us, routine maintenance is included.

We rent Toyota forklifts by the day, week, or month. If your plans change, we're happy to accommodate.

Let us know how we can help your business be more productive. SST is committed to helping you get the job done, and we're happy to answer any questions you may have.

Learn more about rental, call us at (800) 226-2345. Or, stop by one of our nine locations.

FLORIDA
Jacksonville (904) 764-7662
Ocala (352) 840-0030
Orlando (407) 859-3000
Tampa (813) 621-1000
Winter Haven (863) 976-8551



GEORGIA
Albany (229) 338-7277
Macon (478) 788-0520
Midland (706) 660-0067
Valdosta (229) 247-8377