Raising the Bar: The Importance of Aerial Lift Equipment Service
by Adam Henry, on Sep 30, 2022 8:15:00 AM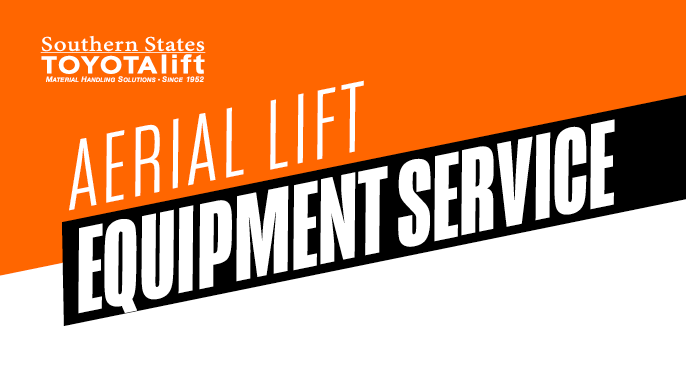 The human body is a pretty incredible machine. It's full of organs, each working as a team to keep us up and running. Yet, sometimes those organs don't always perform to maximum efficiency. When that happens, certified professionals give us a complete inspection and provide the remedy needed to bring us back to working order. With that and some day-to-day care, our bodies can do the jobs they're meant for.
Aerial lift equipment is a lot like the human body in that respect. Its various systems work together to lift us up. But in return, it demands routine maintenance. To ensure aerial lifts stay safe, ANSI standards mandate periods of inspection and repair. Read on to learn what those standards are and how you can stay ahead with a top-quality aerial lift equipment service plan.
Why Do Aerial Lift Inspections Matter

Space matters. On a job site, the work doesn't stop at shoulder height. So, it is little wonder falling poses a significant risk to workers. The National Safety Council lists falls from height as the third largest cause of workplace fatalities. In 2020 alone, 645 workers fell to their deaths. And another 49,250 were injured during a fall. These incidents each cost thousands of dollars in human suffering and lost productivity, with fatalities costing over $1,300,000 each on average.
The leading culprit of these tragedies is the ladder. That's why prudent companies are ditching their ladders for aerial lift equipment. Aerial equipment is safer and more efficient, making it a win-win for anyone looking to improve their warehouse. However, like any equipment, aerial lifts must be kept in good working order. Or else they become just as dangerous as a ladder.
Aerial Lift Inspection Standards
To help prevent falls, ANSI standards require regular inspections of all aerial equipment. ANSI/SIA standards A92.5 and A92.6 section 6.6(2) require all aerial lift equipment to be inspected every 3 months or 150 work hours, whichever comes first.
On top of that, equipment must be inspected annually as mandated by ANSI/SIA standards A92.5 section 6.7 and A92.6. Each inspection cannot occur more than 13 months after the previous annual inspection. And the equipment must be pulled from service until repairs can be made to any component that did not pass inspection.
These standards apply to all types of aerial lift equipment. This includes scissor lifts, boom lifts, and push-around lifts. And only a certified aerial lift equipment mechanic can perform quarterly and annual inspections.
Service Plans Keep Your Team Safe
Maintaining your aerial lift equipment is vital to the safety and efficiency of your warehouse. Yet, employing a dedicated mechanic to service your equipment can be cost-prohibitive. A simpler solution is to invest in a service plan.
Service plans provide routine maintenance to keep your equipment safe and in working order. A manufacturer-trained technician comes to your warehouse to inspect and repair your equipment as needed. This ensures that repairs are to the manufacturer's specifications — a requirement of the ANSI standard. And this consistent service prevents unexpected downtime and the costly drop in productivity that would follow.
Parts of a Top-Quality Service Plan
When it comes to service plans, there is a lot of variation out there. But there are a few key elements to look for in a top-quality plan.
Certified Technicians
Using certified technicians sounds like an obvious point. But there are tiers to quality even here. Look for a service plan provider who uses only manufacturer-trained technicians. By using technicians trained by the manufacturer, you know all service is to actual manufacturer recommendations and, therefore, will pass ANSI-required inspections.
On-Site Service
The technicians need to come to you. You don't want to fork out the expense of transporting your equipment to and from the service center each quarter. And the added downtime of travel eats away at productivity.
Instead, use technicians that come to your warehouse on your schedule. This allows you to plan for and minimize downtime.
Manufacturer Recommended Parts
When aerial equipment is manufactured, the engineers design the parts to stand up to the rigors of regular use for that specific machine. Unfortunately, after-market parts don't always meet that need.
Find a service provider who only uses genuine parts. This ensures your aerial equipment will stay in working order as designed and help prevent unexpected breakdowns.
Wearable Replacement
Some parts of your aerial lift equipment are designed to wear out and be replaced. These are parts like hoses and brake pads. But not all service plans cover the cost of these replacements.
When selecting a service provider, look for a plan that includes replacing wearable parts. This inclusion saves you unexpected fees during service intervals.
Rental Options
Some providers offer complimentary use of rental equipment during routine service. This excellent feature ensures you don't lose a moment of operational time. And it's an excellent plan inclusion for any operation that relies heavily on their aerial lift equipment.
Analytic Reporting
Routine service shouldn't just be about maintaining the status quo. It should be about ensuring you get the most out of your equipment. An analytic report on your equipment lets you know what could improve your fleet's performance. Ask for one from your service provider.
Frequent Service
ANSI standards require inspections quarterly. But that doesn't mean you should wait to get your aerial lift equipment serviced. Frequent service ensures your equipment continues to run at optimal efficiency, avoids unexpected breakdowns, and ensures there are no surprises when inspection time comes.

SST Offers the Best Service Plans in Florida and Georgia
With all that is at stake with your aerial lift equipment, finding a service provider who meets your needs can be daunting. Thankfully, Southern States Toyotalift offers a full range of solutions to meet your needs.
They have over 100 manufacturer-trained technicians able to travel to your facility for routine maintenance or even 24/7 emergency repairs. These technicians all work with a "first call" mentality, meaning they come prepared to complete any work needed. And they complete most jobs within two hours, minimizing the intrusion on your warehouse's routine.
Southern States Toyotalift offers several service plan levels. To find out which is right for you, contact our Solutions Team online or visit one of our locations throughout Florida and Georgia.
Florida
Jacksonville
Lakeland
Ocala
Orlando
Tampa
Winter Haven
Georgia
Albany
Macon
Columbus
Valdosta
Further Reading
Low-Level Access Lifts vs. Ladders
Hydraulic vs. Electric Scissor Lifts: Which One Is Right For You?
Top 10 OSHA Violations of 2021