New 2019 ANSI Standards for Aerial Lifts
by David Tullis, on Dec 13, 2019 9:45:00 AM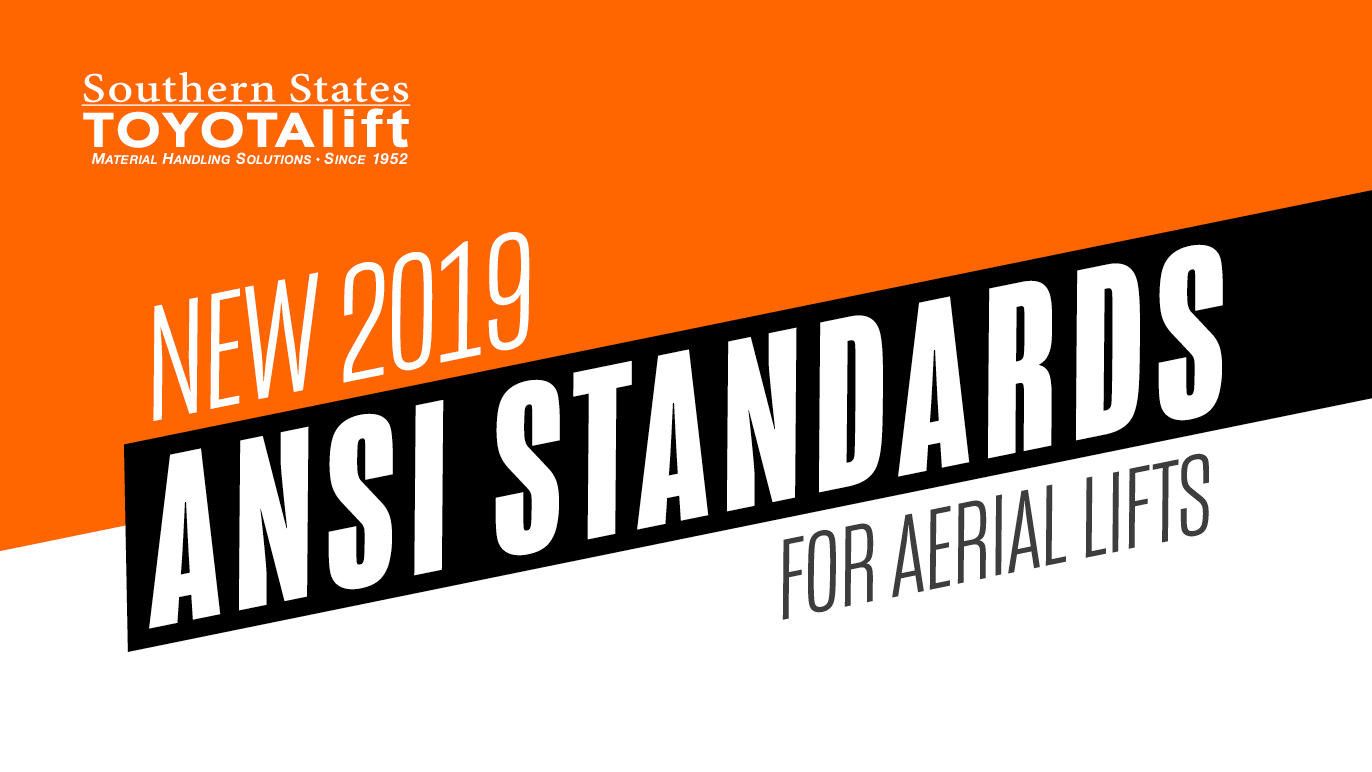 Big updates are about to take effect for aerial lifts and the standard regulations guiding their design, manufacture, and use. Per the American National Standards Institute (ANSI) A92, equipment previously known as aerial lifts (scissor lifts, mast lifts, boom lifts, and more) will now be referred to as Mobile Elevating Work Platforms (MEWPs).
Overall, the new standards set by ANSI A92 are intended to improve equipment safety and bring North American standards up to speed with international trends. These new regulations create a greater responsibility for owners and renters of equipment as well as instituting training requirements for operators, supervisors, and maintenance professionals.
New MEWPs Classifications
Along with renaming Aerial Work Platforms as MEWPs, the new ANSI regulations reclassify them into several different groups. Group A MEWPs feature a work platform that does not extend beyond the edge of the chassis, such as scissor lifts or mast lifts. Group B MEWPs such as boom lifts, feature a work platform whose center can go beyond the equipment's chassis.
Within each group, the new ANSI standards for 2019 also create classification subgroups, such as:
MEWPs that require manual movement in the stowed position.
MEWPs with chassis controls and can be driven while the platform is elevated.
MEWPs that can be controlled from the work platform and driven while in the air.
These new classifications help to bring the North American market in line with terminology standard at the global level.
Changes to equipment design requirements
In addition to the new classification groups for MEWPs, ANSI standards have new requirements for sensors and other design considerations. These include:
Standard Load Limit Sensor
This newly required standard sensor detects load weights on MEWPs. Should the sensor detect a load exceeding safe limits, it will keep the equipment from operating until the load is reduced.
MEWP Tilt Sensor
A standard tilt sensor helps to prevent tip-over events due to operation unsafe slopes. Should a grade exceed acceptable limits, the tilt sensor sounds an alarm and prevents movement of the MEWP chassis and/or work platform to prevent an incident.
Updated MEWPs Gate Standards
Before the updated ANSI standard, MEWPs could use a chain to enclose a work platform's space. Now, locking gates with toe guards are required to mitigate the risk or falls.
Special Requirements For Outdoor MEWPs
If your MEWP is used for outdoor work, ANSI A92 requires it to be outfitted with a wind speed sensor. This sensor will detect when wind speeds exceed safe levels and sound an alarm. Should this sensor be triggered, operators must lower their platform and discontinue work until wind speeds reach safe levels.
Other requirements include an increase in railing heights from 39 inches to 43.5 as well as new requirements for solid or foam-filled tires for rough terrain MEWPs.
MEWP Operation and Safety Training
While important, improvements to the standard equipment designs and safety features are not enough to reduce incident rates. To help improve safety of operations, the new ANSI regulations for MEWPs spell out standard training and safety requirements throughout organizations. These new training requirements include:
Specific training for maintenance personnel on all new features
Equipment-specific training for supervisors
Operators must explain basic operation to any passengers on the work platform so they can lower the MEWP in case the operator is not able to do so.
Businesses must have a dedicated operator for raising and lowering the MEWP from the ground.
Businesses must have both site and equipment-specific rescue plans for retrieving operators stuck at heights.
In addition to training, operators must also familiarize themselves with the equipment by reviewing the operator manual and completing a walkaround inspection of the MEWP.
These new training requirements help standardize best practices within the industry. One of the largest improvements in ANSI A92 is how the new training standards spread responsibility and knowledge of safe operation through multiple levels of a business. This helps ensure that many people can safely operate equipment from different locations.
ANSI A92 Compliance Deadline
The compliance deadline for the ANSI Aerial Work Platform Regulations is approaching quickly - the new regulations go into effect on December 10, 2019 for employers, owners, and operators of MEWps. Training and certification is key to compliance and essential for maintaining a safe work environment. By failing to comply with the standards laid out in ANSI A92, your business may be in violation of OSHA's "General Duty Clause," putting your business at risk of fines up to $129,336.
Help with ANSI A92 Compliance
The ANSI regulations can be difficult to understand and challenging to implement in your business. Southern States Toyotalift is here to help. Whether it's conducting a safety audit of your equipment to ensure things are up to standard or providing Aerial & Fall Protection Training for your team, we're here to help keep your business running and your employees safe.
Further Reading:
Top 10 OSHA Violations of 2018
3 Ways To Avoid Increased OSHA Fines
JLG Aerial Platforms