Top 10 OSHA Violations of 2018
by David Tullis, on Jul 1, 2019 12:30:00 PM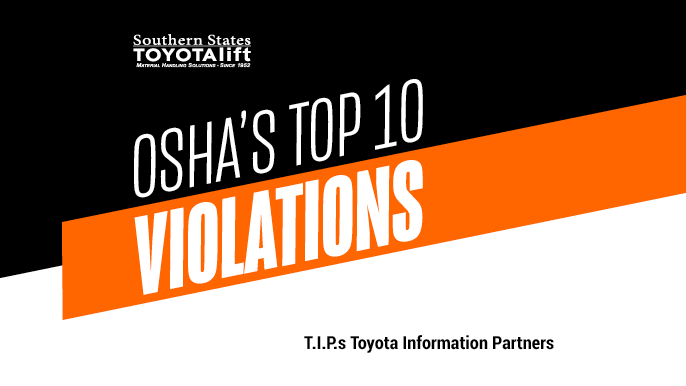 In 2018, OSHA issued 2,294 violations to businesses that violated its regulations for powered industrial trucks - including forklifts. The average fine varied by industry, but ranged from $2500, up to $4500+.
Read on to learn about how to prevent tragic accidents and expensive OSHA fines. This article will cover:
The top 10 OSHA violations of 2018
Maximum fines for OSHA violations in 2019
The most common forklift-related OSHA violations
How the right forklift can protect workers and your business
OSHA'S TOP 10 VIOLATIONS FOR 2018
Here are OSHA's top 10 most-cited violations from 2018. Industrial truck citations, such as allowing unlicensed forklift operators to operate forklifts, came in at #7.


Fall Protection (General Requirements) - 1926.501
Hazard Communication - 1910.1200
Scaffolding - 1926.451
Respiratory Protection - 1910.134
Lockout/Tagout - 1910.147
Ladders - 1926.1053
Powered Industrial Trucks - 1910.178
Fall Protection (Training Requirements) - 1926.503
Machine Guarding - 1910.212
Personal Protective & Life Saving Equipment - 1926.102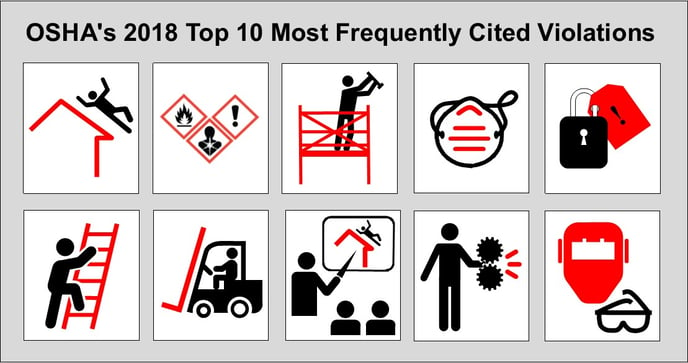 The Top 3 OSHA Violations Related to Forklifts
Refresher training - 1910.178(l)(4)(i).


Refresher training,

including an evaluation of the effectiveness of that training, shall be conducted as required by paragraph (l)(4)(ii) to ensure that the operator has the knowledge and skills needed to operate the powered industrial truck safely.



Verifying operator certification - 1910.178(l)(6)
The employer shall certify that each operator has been trained and evaluated...The certification shall include the name of the operator, the date of the training, the date of the evaluation, and the identity of the person(s) performing the training or evaluation .
Removing unsafe trucks from service - 1910.178(p)(1)
If at any time a powered industrial truck is found to be in need of repair, defective, or in any way unsafe, the truck shall be taken out of service until it has been restored to safe operating condition.
OSHA Fines for 2019
OSHA can assess fines up to $13,260 per violation
+ $13,260 per day beyond the abatement date
...and up to $132,598 for a willful or repeated violation
Forklift Safety is No Accident

One of the reasons Toyota forklifts are ranked #1 year after year is because of the numerous safety features including Toyota's exclusive System of Active Stability (SAS) technology and Toyota Forklifts' Active Mast Control (AMC).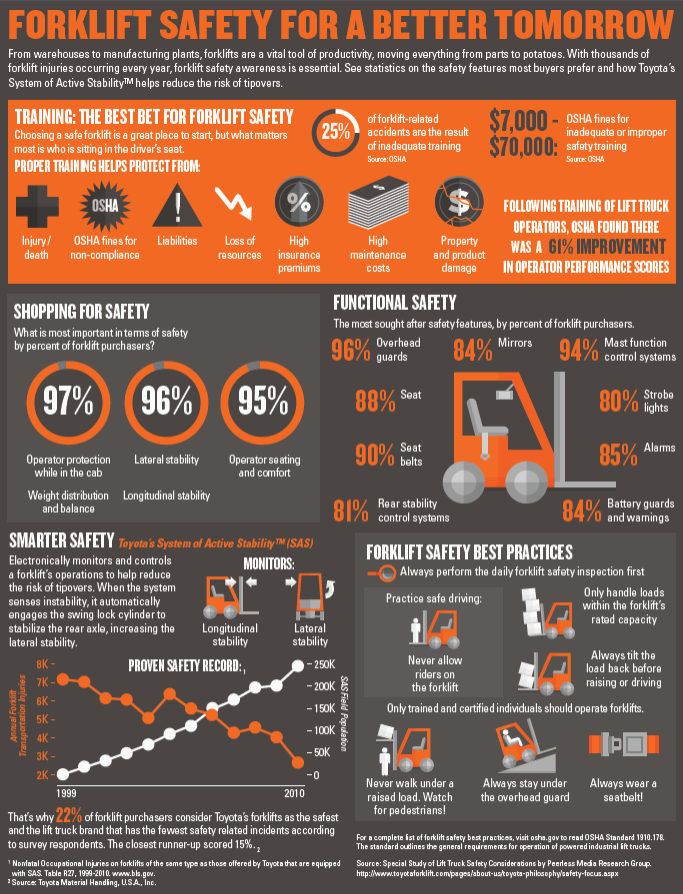 If you're looking to improve safety and avoid OSHA violations, we want to be your trusted partner. At SST we understand you don't just need a forklift, you need a well-run business. We offer forklift certification and refresher training - at your location or ours.

Contact us online, by phone at (800) 226-2345, or in person at one of our nine locations. We're happy to answer any forklift or warehouse safety questions you may have.

FLORIDA
Jacksonville (904) 764-7662
Ocala (352) 840-0030
Orlando (407) 859-3000
Tampa (813) 621-1000
Winter Haven (863) 976-8551



GEORGIA
Albany (229) 338-7277
Macon (478) 788-0520
Midland (706) 660-0067
Valdosta (229) 247-8377

Further Reading
3 Ways to Avoid Increased OSHA Fines
OSHA Regulations for Powered Industrial Trucks (such as forklifts)
History of Top 10 OSHA Violations 2013-2018