Switch to Electric Forklifts: See How Much You'll Save
by Rob Webb, on Mar 28, 2022 8:06:50 PM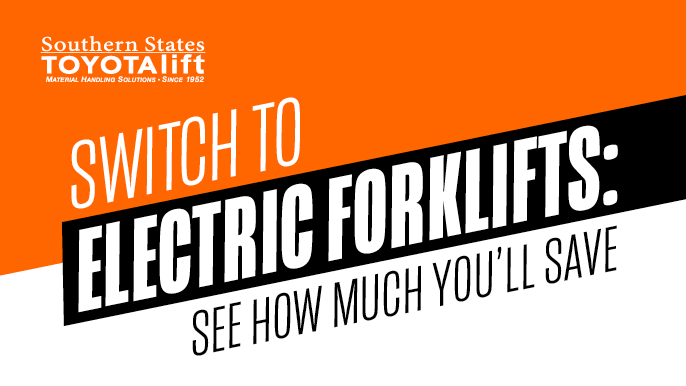 Are you missing out on getting money back for recently purchasing an electric forklift? Or are you considering adding electric vehicles or equipment in the near future? Then you might be eligible for rebates thanks to several local, utility, state, and federal rebates and incentives being offered to encourage businesses to make the switch.
All the Benefits of Going Electric
Aside from the potential rebates covered below, why bother choosing electric forklifts over gas-powered forklifts? One of the number one questions we get asked about electric forklifts is if they can handle the kind of tougher work usually associated with internal combustion forklifts.
While this used to be a valid concern, electric forklifts made today are more than capable of keeping up with the toughest applications. Given that they're being used in close proximity to charging stations, they can even excel when compared to IC forklifts, especially in high-dust applications that might choke out their IC counterparts.
What are the other benefits? They include:
1. Reduced fuel consumption
Rechargeable batteries don't require fuel, just charging stations and a lower amount of time than ever before, due to improved charger technology. That means you're less at the mercy of the constantly-changing cost of fossil fuels, an especially important factor during this unique time.
2. Higher workplace efficiency and cleanliness
Electric equipment produces zero emissions and does not release harmful airborne products such as nitrous oxide, hydrocarbons, or carbon monoxide into the places where your team members work.
3. Lower lifecycle cost
No combustion engine means there's no oil, spark plugs, or transmission fluid to change. Fewer moving parts translates to fewer areas of potential failure or, from another point of view, fewer areas requiring costly ongoing maintenance.
That being said, what potential incentives might you qualify for? It differs according to state, so below we've included both Georgia and Florida, for reference. If you're outside of these two states, contact your local forklift dealership for advice.
Georgia
Georgia Power, as part of the company's "Driving Georgia Forward" initiative, is encouraging their customers to make the switch to electric through several avenues. Most notable of these is their "Make Ready Program," in which they will help eligible businesses deploy electrical charging infrastructure affordably in light of the fact that the initial installation is one of the largest and most common obstacles businesses need help overcoming.
Georgia Power is also offering a number of rebates and incentives to new or existing customers, one of which is, for eligible businesses, electric forklift wiring assistance at up to $200 per charger.
Florida
Duke Energy, through their "Fleet Electrification" program, offers eligible businesses the opportunity to apply for reimbursements to help convert from IC to electric, with the potential to receive up to $8k per electric vehicle. Alongside this, they offer a ton of useful information and guidance to make sure all of your questions are answered.
JEA and their "Electrification Rebate Program, ERB" allows its eligible customers the opportunity to potentially receive rebates for purchasing, leasing, or switching over to electrical vehicles/ equipment, forklifts included (with a potential $700 rebate per forklift). They also have rebates for full EV charging stations, fleet trucks, tractor trailers and more for eligible customers.
Upgrade Your Fleet & Facility
TICF (Toyota Industries Commercial Finance) is a resource to finance the installation of the battery charging infrastructure needed for your new electric forklift fleet. So not only can you look at flexible leases for electric forklifts, but you can also get help upgrading your facility.
Need Help Finding More Information or Choosing the Right Electric Forklift?
Right now, there's a push for electric adoption. These incentives help. But, they won't last forever. If you need help finding out more about electric forklifts or about rebates and incentives in Florida & Georgia, Southern States Toyotalift is here to help. Contact us online, by phone at (866) 529-6953, or in person at one of our eleven locations. We're happy to help you decide if an electric model is the right fit for your business.
FLORIDA
Jacksonville
Lakeland
Ocala
Orlando
Tampa
Winter Haven
GEORGIA
Albany
Macon
Columbus
Valdosta
Further Reading:
3 Common Misconceptions About Electric Forklifts
Are Lithium-Ion Forklift Batteries Right For Your Business?
3 Reasons Moving to Electric Will Re-Energize Your Business