Helping Farmers Get More Done
by Vicki Gamble, on Feb 6, 2023 2:16:47 PM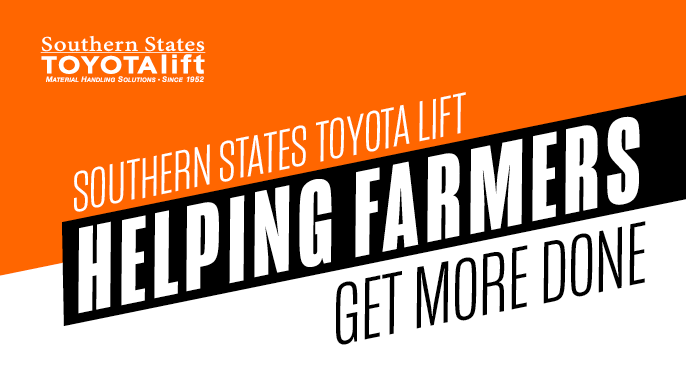 The annual Southeast Regional Fruit and Vegetable Conference brings together growers and suppliers from Georgia, Florida and neighboring states.
For those of us at Southern States Toyotalift (SST), the show is something we look forward to every year. It's an opportunity to say hello to some of our favorite customers and support the hard working folks in the agriculture industry.
If you weren't able to come see us in Savannah, here's a quick recap:

Honored to Support Farmers in Rural Georgia and Florida
At SST, we take pride in supporting farmers, growers and poultry producers throughout Georgia and Florida. We know their livelihood depends on good customer service from us, and our nation depends on what they produce!
Unfortunately, we spoke with several farmers who were very frustrated with the lack of service from other dealers. Their service needs were "put off" for months and even ignored because they are smaller customers located in remote areas.
In our view, this is unacceptable. At SST, we will work hard to earn and keep your business – even if your operation is in a remote or rural area.
If you visited our booth at the Southeast Regional Fruit and Vegetable Conference, please know we are very thankful for the opportunity to speak with you and know our relationship will continue to "grow."
Our Booth at the SE Fruit and Vegetable Conference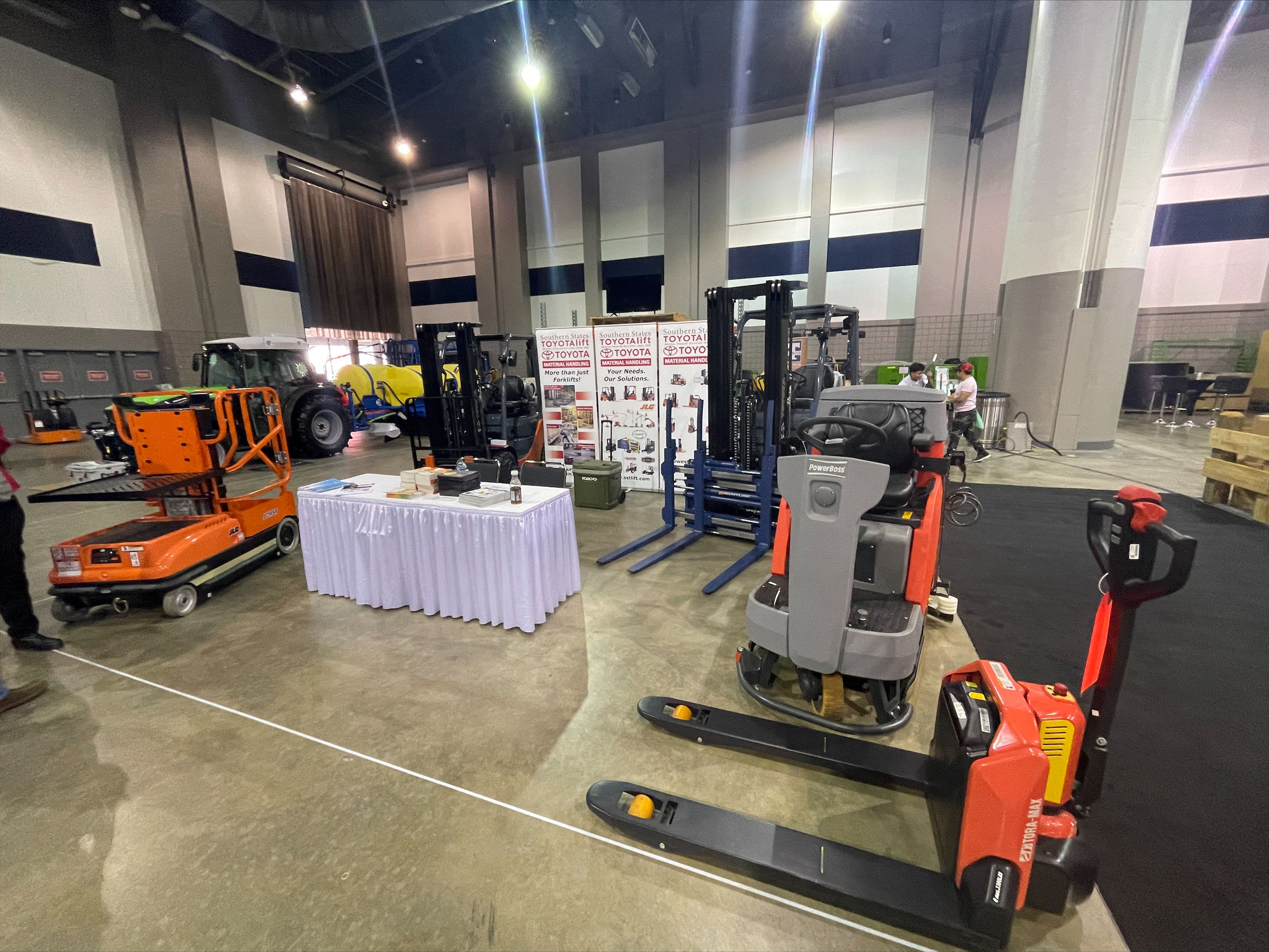 We had several pieces of equipment at the SST booth, but the Tora-Max Compact Electric Walkie Pallet Jack was the most popular.
Tora-Max Compact Electric Walkie Pallet Jack
Customers liked how the pallet jack fits easily in the back of delivery transports and can turn in a very small space. Not to mention, a powered pallet jack eliminates the back-breaking struggle of using a manual pallet jack all day!
The Tora-Max powered pallet jack has a 3,300 lb. lifting capacity and comes with an onboard battery charger. Watch the video below to learn more about this low-cost, high-value piece of equipment.

Powerboss SCRUBMASTER B120 R
Did you know: 90% of the cost to keep floors clean is manual labor?
An employee with a mop and bucket can clean 4,000-5,000 square feet in one hour.
Or, the same employee could clean 13,000 square feet per hour using a small floor scrubber.
That's why the Scrubmaster B120R is a cost-effective way for food distribution and processing centers to ensure compliance with USDA cleanliness standards. Mops just smear grime and bacteria around your facility. With every dip of the mop, the "cleaning" solution becomes increasingly contaminated (that's why hospitals use cleaning machines, not mops).
We recommend the Scrubmaster B120R because it has a small turning radius, 315 AH long runtime batteries and you can even add the option of an onboard spray hose for hard-to-reach areas. When equipped with dual cylindrical brushes, the B120 R can sweep and scrub in a single pass.
Download the B120R product brochure
Rightline Multi-Pallet Handler Attachment
Want to do more with the equipment you have? This attachment is one of the best investments you can make.
When you add a multi-pallet handler (also known as a single double) to your forklift, you can basically load a truck in half the time with half the forklifts. Why? Because one lift truck can carry twice as many pallets at a time.
JLG Driveable Stock Picker
We also had a JLG 10MSP driveable stock picker in the booth. These pickers are common in large greenhouses where workers need to go vertical. This sturdy, reliable stock picker helps team members get the job done safely and with little effort.
Toyota Pneumatic Forklifts
One of my favorite moments during the show was when farmer Rusty Kinnard saw the Toyota forklifts we had and said, "I have three of them and we can't wear them out!" No one could have said it any better.
We brought two Toyota pneumatic forklifts to the show, the 3500 lb. capacity 8FGU18 and a 5000 lb. capacity 8FGU25. Both units were propane forklifts, but electric-powered models are also available.
These two forklifts are popular with farmers because they're very versatile for crop gathering and distribution. You can use them alongside open fields and inside pack houses. More importantly, even if the forklift only gets used certain times of year, you know it will start up and perform when you turn the key – because its a Toyota.
The video above gives an overview of Toyota's Core IC forklifts. However, gear heads might be more interested in this video about the engineering design behind Toyota's 4Y forklift engine, which is both powerful and extremely reliable.
Ready to Get More Done?
After speaking to many farmers over two days, we all agree farmers' personal values and work ethics match ours. We believe in hard work, practicality and thankfulness to God. It is absolutely wonderful to have all these virtues in common with the people responsible for feeding our nation.
If you're not getting the service you deserve from your equipment dealer, we'd appreciate the opportunity to earn your business. It's our goal to provide farmers with solutions that are high quality and improve productivity.
In addition to the equipment listed above, we also sell:
Rough terrain and all-terrain forklifts
Heavy duty forklifts
Articulated forklifts designed to operate in narrow spaces
Used forklifts of all shapes and sizes
Forklift attachments including bin dumpers and rotators
Conveyor belt systems for agriculture
Contact us online, by phone at (800) 226-2345 or in person at one of our locations throughout Georgia and Florida
GEORGIA: Albany, Macon, Midland, Valdosta
FLORIDA: Jacksonville South, Jacksonville North, Ocala, Orlando, Lakeland, Tampa, Winter Haven
Further Reading
Customer Spotlight: Astin Farms
5 Forklift Attachments That Improve Efficiency
3 Signs It's Time to Invest in Commercial Cleaning Equipment
5 Secrets Other Material Handling Service Providers Don't Want You To Know