5 Specialized Forklift Attachments for Improved Warehouse Efficiency
by David Tullis, on Sep 16, 2019 8:16:05 AM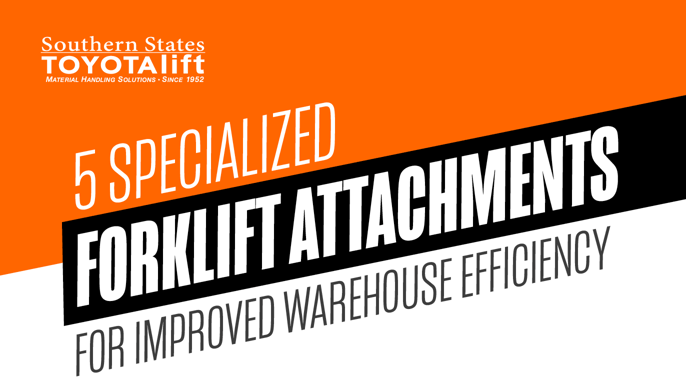 One of the biggest challenges in material handling operations is the continual pursuit of improving efficiencies. Selecting the right equipment, giving operators safety training, and properly maintaining equipment are all drivers of efficiency. But these will only take your operation so far.
Specialized challenges sometimes require a more custom approach. In certain settings and use cases, the right attachment can make all the difference to your business' throughput, operator comfort, and overall efficiency. These common attachments can help transform your warehouse.
Forklift Side Shifters
One of the more common attachments, forklift side shifters allow operators to move the forks to either side. These can reduce cycle time and limit the need to reposition the forklift, allowing operators to make adjustments for pallet entry and save valuable time.
Fork Positioners
While similar to a side shifter, fork positioners allow operators to adjust their forklift's forks for a variety of pallet sizes and configurations. The flexibility of adjusting these hydraulically, rather than manually, saves operator time, reduces the risks involved with frequent entry and exit of the forklifts, and can reduce the time spent maneuvering the forklift for pallet entry. Beyond the time savings, implementing fork positioners also helps reduce the risk of operator injury and fatigue due to the bending and exertion needed to manually reposition forks.
Fork Laser Guides
Using a fork laser guide can aid operators in aligning the height of the forks with a pallet to pick up. These helpful attachments can reduce damage to product, pallets, racks, and forks due to poor alignment.
Wire Guidance Systems
For very narrow-aisle applications, implementing a wire guidance system can have a significant pay-off. This attachment requires proper planning and adjustment to your warehouse itself, as a wire must be placed in the floor and attachments must be added to the bottom of your equipment. For those implementing a system, wire guidance can increase forklift speed as well as reduce damage to forklifts and racks as operators can rely on its guidance through aisles.
Back Up Blue Lights
These attachments project a blue light a set distance behind the forklift to warn pedestrians and operators of approaching heavy equipment from a blind distance. Implementing these unobtrusive solutions across your warehouse fleet can reduce the risk of collisions and injuries by alerting pedestrians and other operators of potential danger through blind spots.
Evaluate your operation to see how specialized equipment attachments can transform your warehouse's efficiency. Want to go a step further? Download our free guide to warehouse planning and optimization to combine your equipment strategy with a plan to improve your warehouse's configuration.
Further Reading
Top 10 OSHA Violations of 2018
How to Get Your Forklift Operator Certification
3 Ways To Avoid Increased OSHA Fines