How to Get Your Forklift Operator Certification
by David Tullis, on Aug 19, 2019 1:21:51 PM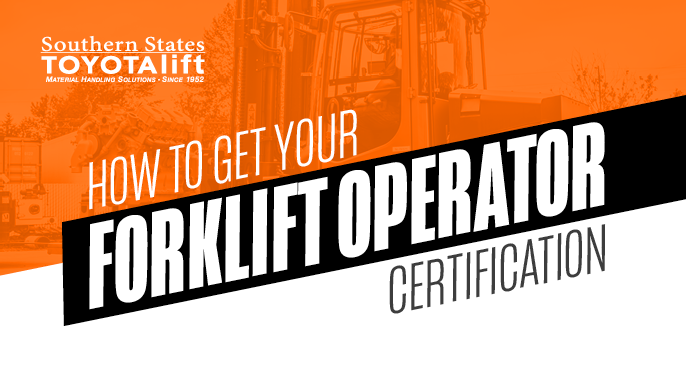 Forklift operators in any workplace are required by OSHA to be certified before operating equipment. It is ultimately the responsibility of the employer to provide training programs, but additional training from an OSHA certified trainer can help keep your operators on top of their game. If your company hasn't updated your training standards recently, here are the main things to remember:
OSHA Forklift Certification Training Requirements
OSHA requires two portions of training for forklift certification, classroom and in-person:
Classroom Forklift Training Requirement
Classroom training is designed to impart essential knowledge of safe operation and best practices for daily forklift operations. Topics can range from principles of physics that inform safe operation to daily inspections and other application specific information.
In-Person Requirement for Forklift Training
The in-person requirement for forklift certification is designed to demonstrate knowledge of practical applications and mastery of operation. Due to the requirement of being trained on the equipment that will be used and in the application(s) specific to the workplace, the in-person training can include several pieces of equipment in different areas for testing.
Equipment Specific Forklift Training
Workers who will be operating forklifts and other material handling equipment must be trained and certified on both the equipment type and application. While one employee may spend the majority of their time on a Toyota 3-Wheel electric for warehousing, their knowledge of this product would not mean they are qualified to use a stand-up rider in a dock to stock application. If their job expectations shift, they should be re-certified on the new equipment and how it is used in your workplace.
When Does Your Operator Certification Expire?
Forklift operators must be re-certified once every three years. Retraining and certification is also necessary if an operator were to be involved in a workplace incident with their material handling equipment.
Can Your Forklift Certification Transfer to a New Employer?
Earning a forklift certification is not like earning a drivers' license - you must be trained and certified by each workplace on the specifics of their working area, function, and equipment present. While having a past certification may help in securing new employment, all new forklift operator employees must be trained and certified by the new employer.
Enroll in Forklift Certification Training
Ensuring OSHA compliance is essential for your company's liability and for the safety and productivity of your employees. Contact us to see how we can help keep your operators trained to do their jobs the right way every time. Book Forklift Training here.
Further Reading
Forklift Training Certification Courses in Florida and Georgia
Top 10 OSHA Violations of 2018
3 Ways To Avoid Increased OSHA Fines