7 Reasons To Use a Powerboss Walk Behind Floor Scrubber
by Adam Henry, on Sep 2, 2022 11:11:00 AM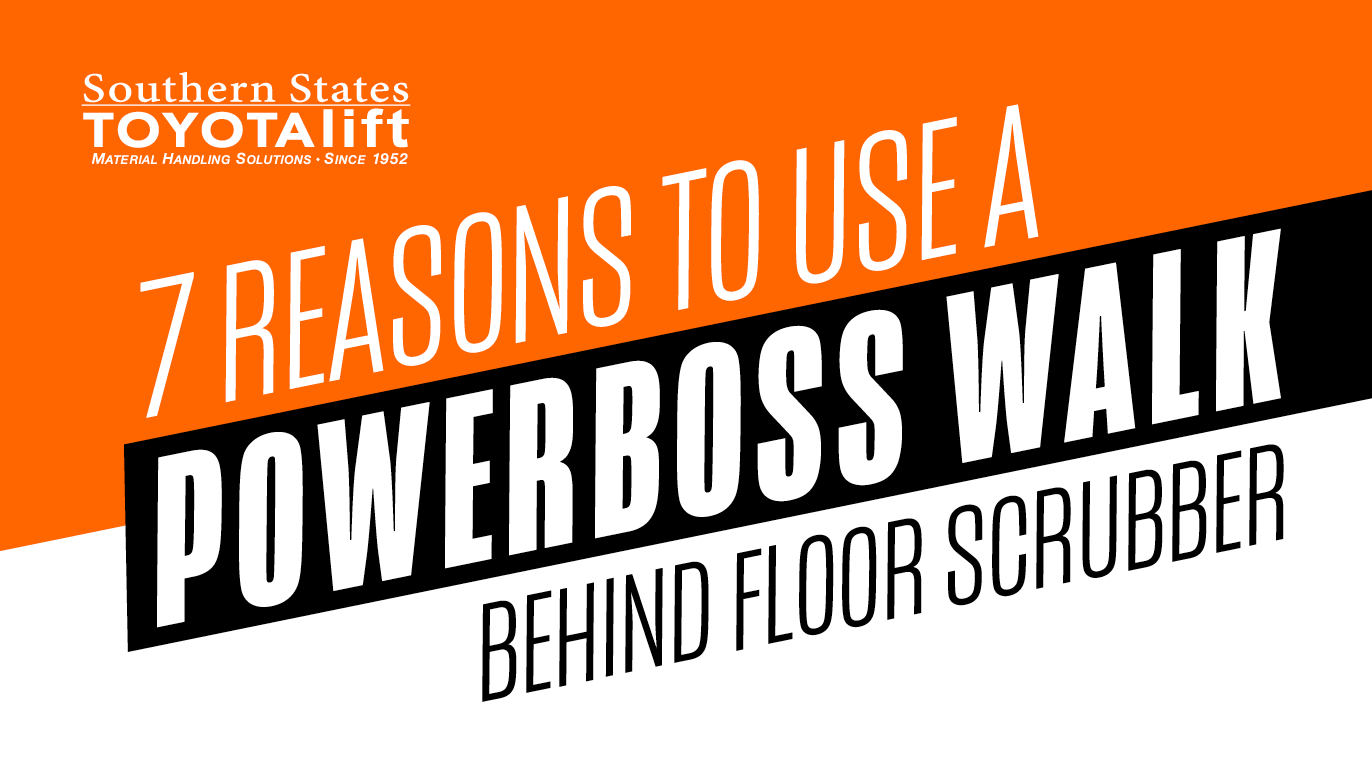 If you have ever experienced the incredible pain of stepping bare-footed on a lego, you know the value of a clean floor. Keeping your warehouse floors clean and dry is especially important. Untidy warehouse floors are far more dangerous than a simple sore foot.

Yet, cleaning the warehouse is often a time-consuming and tedious task. But, Powerboss walk behind floor scrubbers can make that task much more manageable. Read on to find out why Powerboss should be your top choice in walk behind floor scrubbers.
1. Save Water

Powerboss walk behind floor scrubbers all come equipped with Aqua-Stop Technology. A rubber strip surrounds the scrub brushes, preventing water and cleaning solution loss by 20%. Saving water also means the floor scrubber's tank needs to be filled less frequently, which cuts downtime.
2. Cleaner Floors
The reduction in water loss also increases cleaning efficiency. By keeping the water sequestered to the brush heads, the cleaning solution spends more time scrubbing the floor instead of spilling out the sides.

The rear squeegee picks up any water that does escape the brush heads. It's shaped for maximum coverage and tracks with the floor scrubber as the machine turns. This superior water retention leaves behind a cleaner, dryer, and safer floor.

Additionally, the sleek profile of Powerboss walk behind floor scrubbers improves visibility. This allows operators to see better where the brushes are cleaning. The brushes come in several varieties, including disc brushes which are excellent for cleaning under fixtures such as shelves. And these walk behind floor scrubbers can include off-isle wands to clean nooks and crannies.
3. Save Money
Preventing water loss prevents the loss of cleaning solutions. And more effective cleaning means a reduction in the time it takes to clean. This reduces the number of paid hours spent on cleaning. Together these features cut your cleaning costs.
4. Ergonomic Design
Any piece of equipment is only as effective as its operator. Because of that, all Powerboss walk behind floor scrubber designs emphasize operator comfort. Ergonomic hand bails and controls make handling easy, even over long shifts. And the sleek designs leave ample room for the operator to walk behind at a natural, comfortable gait.
5. Easy To Use
Powerboss walk behind floor scrubbers require no special training. Their controls are easy to use and intuitive. Each model also comes with a traction drive so that the scrubber propels itself. Working speeds average at a comfortable 3 mph, consistent with the average walking speed of an adult. However, you can adjust the speed with the turn of a dial to match the operator's natural walking speed.
6. Superior Durability
Powerboss walk behind floor scrubbers are built tough for industrial settings. Their safety orange exterior is powder-coated and epoxy painted. Each features a steel frame to resist corrosion and a heavy-duty polyethylene tank. And their tires are made of a chemical-resistant material designed for superior traction on wet surfaces.
7. Easy Maintenance
Maintenance is a snap with Powerboss. Their walk behind floor scrubbers don't require tools to install brushes or change squeegee blades. And the hygienic recovery tank is easy to clean.

Each model comes with a convenient onboard charger. This allows the walk behind floor scrubber to charge anywhere. And the control console features a battery gauge and service indicator light to prevent unexpected downtime.

Servicing floor scrubbers is just as easy as daily maintenance. Southern States Toyotalift has a team of over 100 factory-trained technicians to provide on-site service. Better yet, Powerboss comes with the longest warranty in the industry, covering 5 years on parts and 3 years on labor.
Bonus Reason: The Autonomous Option

One extra reason to love Powerboss floor scrubbers is they have an autonomous option. Their Scrubmaster AMR makes floor scrubbing as easy as set it and forget it. The Brain IOS allows an operator to set the Scrubmaster at a predetermined start point on the warehouse floor. Then, they select the desired cleaning path from the onboard touchscreen. And the Scrubmaster does the rest.

Its programming allows it to operate intelligently even in complex environments. For example, it will sense and stop for pedestrians and maneuver around obstacles. And when it's done, it sends a text to the operator to let them know.
Learn More
These are just a few of the many reasons to fall in love with Powerboss walk behind floor scrubbers. But there are many more. To learn more about Powerboss walk behind floor scrubbers, contact our Solutions Team online or visit one of our locations throughout Florida and Georgia.
Florida
Jacksonville
Lakeland
Ocala
Orlando
Tampa
Winter Haven
Georgia
Albany
Macon
Columbus
Valdosta

Further Reading
3 Signs It's Time to Invest in Commercial Cleaning Equipment
4 Ways Automating Will Benefit Your Warehouse
5 Secrets Other Material Handling Service Providers Don't Want You To Know