Why You Should Choose OEM Parts For Your Toyota Forklifts
by Rob Budd, on Mar 14, 2022 7:57:07 PM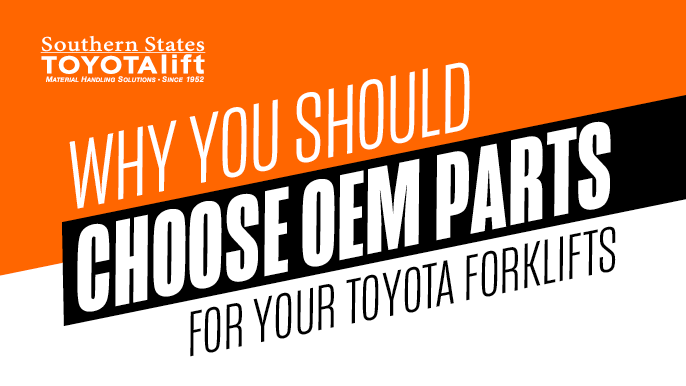 For warehouse equipment maintenance managers, keeping the right replacement parts and components in stock is crucial. But have you considered how your spare parts could be affecting the performance of your forklifts? Parts from your Original Equipment Manufacturer (OEM) have many benefits for your forklifts that make them worth choosing for your business.
There is a reason you purchased a Toyota, so why change it? Keep reading if you want to keep your Toyota a Toyota.
Effectiveness of OEM Parts
While will-fit and third-party parts may look the same as the OEM's components, they don't perform at the same levels. Your OEM manufactures its parts with specific materials, dimensions, and processes to fit the equipment as designed. Will-fit parts can't deliver the same high performance because they weren't manufactured or designed specifically for your forklift units.
Why does this matter? Using OEM parts can help your forklifts operate optimally, reduce wear and tear on other components, and can last longer than their will-fit counterparts. Toyota forklifts are specifically engineered to deliver fuel-efficient operation with the support of OEM parts. Increased performance and lower maintenance costs over time are two huge reasons you should choose parts from your forklift OEM.
Forklift Warranties and OEM Parts
Beyond the increased performance, using OEM parts helps protect your forklifts' warranties. Maintaining full coverage of warranties for your new forklifts is essential - paying full price for a replacement with lapsed coverage due to saving a few dollars on will-fit parts isn't a good feeling for anyone. Choosing OEM parts helps protect against emergency breakdowns and surprise charges due to penny-wise budget decisions so you can keep your forklifts performing at their top levels.

The Value of OEM Parts
OEM parts may cost more upfront when compared to will-fit options, but they deliver much greater value over the course of their life. Increased forklift performance, decreased maintenance needs due to will-fit incompatibility, and new equipment warranty maintenance are huge value adds. Along with these advantages, you also gain access to the OEMs' supply chain and their after-sales support teams. Having a steady supply of your needed parts and experts to consult with can be essential for keeping your forklifts working harder longer.
If you need Toyota certified replacement parts and components, Southern States Toyotalift is here to help. SST supplies OEM parts for Toyota and has access to an extensive network of dealer inventories. We're proud of our 94 percent fill rate and our ability to get you what you need to keep your forklifts moving.
Our team of material handling experts is here to help you track down those hard-to-find parts. You can contact us online or stop by one of our 11 locations throughout Georgia and Florida:
FLORIDA
Jacksonville
Lakeland
Ocala
Orlando
Tampa
Winter Park
GEORGIA
Albany
Macon
Midland
Valdosta
Further Reading:
Are Lithium-Ion Forklift Batteries Right For Your Business?
How To Inspect Forklift Hydraulic Hoses
NEW - Order Toyota Forklift Parts Online