3 Money-Saving Reasons to Follow Your Forklift's Service Schedule
by Moody Simmons, on Oct 1, 2021 2:29:00 PM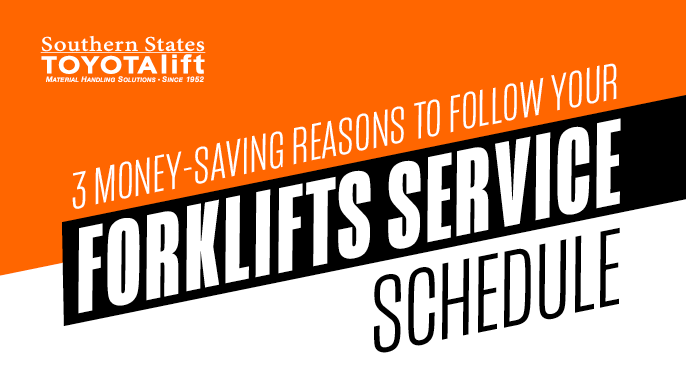 Ever wonder, "do I really need to follow the forklift manufacturer's service schedule?"
It's a reasonable question. If the forklift doesn't have any issues, taking it offline for maintenance may seem like an unnecessary inconvenience.
The short answer to this question is yes; you should always get the manufacturer-recommended service. But the reasons why may surprise you.

3 Reasons Recommended Maintenance Matters
Let's count them down...
#3 Well-maintained forklifts have a higher resale value
Imagine you're buying a used forklift. One of your biggest worries is buying a forklift with hidden problems, right?
While there isn't a CARFAX for forklifts, the forklift's service history is the next best thing. A forklift that's received every recommended service is a lot more valuable than one that hasn't been well-maintained. If the service was performed by a factory-trained technician, factory updates would be up-to-date, and that's even better.
#2 Forklift maintenance is required by OSHA
You already know OSHA requires daily inspections, but operators can't catch every problem lurking under the hood, even with a thorough pre-shift inspection checklist.
OSHA considers poor maintenance a serious hazard, and the minimum fine is $9,639. Telling the inspector, "forklift was working fine up until the incident" doesn't get you off the hook.
#1 Maintenance minimizes downtime and surprise expenses
Here's one example of how an otherwise well-run business can waste money on a preventable problem.
Inspecting and blowing out the brake system is something a technician should do every 250 hours/two months (regardless of the forklift's make or model). Dust and debris get trapped inside the forklift's brake system, which can create ridges on the brake shoes.
Fortunately, replacing the brake shoes and wheel seals is an inexpensive and easy fix. But, if the glazing or ridges are never detected, the ridges will eventually transfer to the brake drums. Now you have to buy $1600+ brake drums and pay someone to replace them.
There are many more examples like the one above. The bottom line: forklift repair is always more expensive than proactive maintenance.
So, back to our original question: Is it important to follow the manufacturer's service schedule? Yes.
Forklift repairs cost much more than just the parts and labor. When a forklift breaks down, the ancillary expenses add up. These may include:
Rental equipment
Overtime hours
Expedited shipping fees
Experts estimate unplanned downtime costs $6,000 - $22,000 per hour depending on the industry and application. If you (or someone you work with) believes skipping maintenance saves money, the research report Short Term Savings, Long Term Losses is a must-read.
In-House Mechanics vs. Forklift Technicians
Some operations perform basic forklift maintenance in-house. There are some service intervals, however, that should be handled by a factory-trained forklift technician.
For example, there are 120 things that need to be performed during a Toyota forklift's 2,000-hour service. These checks keep the lift in top condition — and within warranty.
Here's a short list of what needs to be done during the Toyota 2000-hour forklift service:
All fluids and filters changed
Radiator flushed; new coolant added
Clean and check the fuel system
Brake, mast, steer axle inspection
Engine compression test
Complete engine tune-up
Replace spark plug wires, distributor cap, rotor and spark plugs
Essential safety checks
The 2,000-hour service can take an entire day to complete, but it's essential to ensure the long-term health of your equipment. Before you think about skipping this service, keep in mind:
When you schedule service, you choose when the forklift is offline
Unexpected repairs can and will happen at the worst time
Supply chain shortages can turn a simple repair into a lengthy ordeal
Stop Wasting Hard-Earned Profits on Preventable Repairs
You already deal with a lot of uncertainty. A forklift service contract from Southern States Toyotalift (SST) will ensure your equipment is always ready when you need it.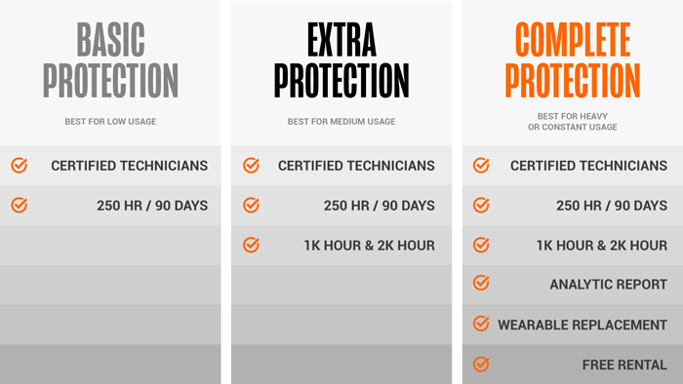 Our forklift maintenance plans cover all the manufacturer-recommended service and parts for a flat monthly rate. We even guarantee uptime. For more information, contact us online, by phone (800) 226-2345, or visit one of our nine locations.
FLORIDA
Jacksonville
Ocala
Orlando
Tampa
Winter Haven

GEORGIA
Albany
Macon
Columbus
Valdosta
Further Reading
Is Your Forklift Fleet Robbing You Blind?
Which Forklift Service Plan is Right for Me?
What You Need to Know About Full Maintenance Plans for Forklifts