Which Forklift Service Plan is Right for Me?
by Lance Landeche, on Jul 10, 2023 2:54:00 PM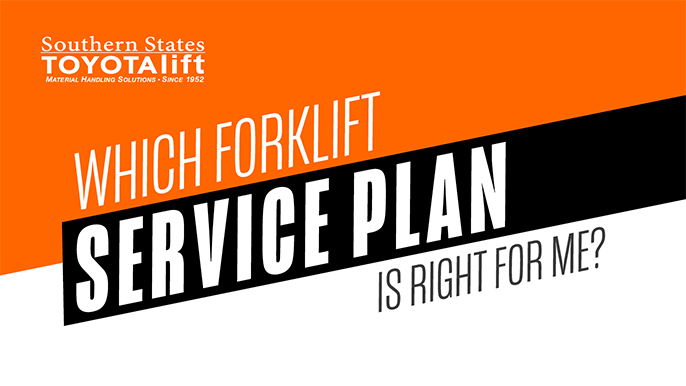 Managing a fleet of forklifts and operators is a challenging task. The added challenges of maintaining the fleet can be a large drain on time, funds, and manpower for your business. Many companies find that partnering with an outside maintenance provider can offer great value for their operations by reducing those responsibilities and offering expert service.
However, most service providers offer both planned maintenance and full maintenance service plans, which can sometimes be difficult to know which option is best for your situation. That's why in this post we define various service plans and cover the key differences:
What Is a Planned Maintenance Service Plan?
A Planned Maintenance (or PM) plan means that your maintenance partner will service your forklifts at every planned maintenance interval. The costs of replacement parts and other large fixes are not included in your monthly fee.
What Is a Full Maintenance Service plan?
A Full Maintenance (FM) plan covers all needed maintenance and parts (barring any contract-specific exclusions) for a flat monthly rate.
Planned Maintenance Service Benefits
Planned Maintenance offers great preventative value for maintaining the function and safety of your forklift fleet. Depending on the service interval recommended by your forklift OEM, your equipment will need to be checked every 200-250 hours. Benefits of planned forklift maintenance include:
Identifying failing parts and replacing them before they cause bigger issues
Reducing downtime due to parts failures
Avoiding liability risks by replacing failing parts before they break
Reducing accident rates thanks to timely replacements
Maintain proper forklift performance thanks to standard maintenance tasks
Most planned maintenance services include an inspection, lubrication for mast chains and other key parts, oil and filter changes, and minor adjustments. Your bill can increase depending on additional repairs required. However, your bill can also be lower than the standard payment rate of a full-service maintenance plan.
Full Maintenance Service Benefits
Full Maintenance service plans cover all parts and fixes, including the standard tasks included in Planned Maintenance. This premium service creates a lot of value and peace of mind for business owners, especially by minimizing downtime risks - some plans even offer replacement or loaner forklifts for certain cases. Other benefits created by full forklift maintenance plans include:
A flat monthly rate that makes budgeting and planning easier than the variable charges of planned maintenance
One monthly invoice, rather than one for every piece of equipment covered by a PM plan
Improved performance and up-time thanks to optimized interval scheduling and maintenance
A rightsized fleet, since you won't need extra equipment on hand to account for excessive downtime
Overall, a full maintenance plan offers peace of mind for business owners by simplifying and streamlining their outsourced maintenance plan. (It is important to note that regardless of which service plan your company uses, operators must still complete daily walk-around inspections.) Ultimately, only you can know which service lineup is right for your business.
Whether you select full maintenance or planned maintenance, you can trust the expert technicians from Southern States Toyotalift to keep your equipment running better for longer. Contact us today to learn more about our forklift fleet service offerings.
Further Reading:
- 4 Questions to Ask to Avoid "Full Maintenance"
"Frustration
- What You Need to Know About Full Maintenance Plans for Forklifts
- Get Forklift Issues Off Your Plate