Is It Okay To Buy Used Pallet Racking?
by Brian Reaves, on Dec 3, 2021 3:30:00 PM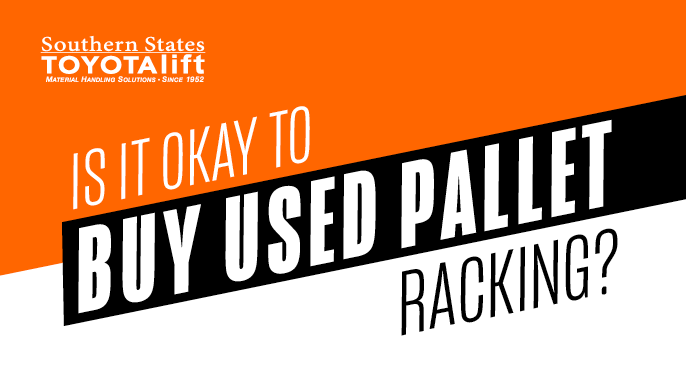 Supply chain shortages have a broad reach across many industries. The international steel shortage has led to challenges for warehouses around the world. If your warehouse needs increased racking materials, solutions can be hard to come by. While used pallet racking may seem like the right solution to get by, it carries several risks. Keep reading to learn more about what you need to know.
Risks Of Buying Used Pallet Racking
We already know that mixing racking materials from different manufacturers can be risky. But used racking, even from the same manufacturer, can represent a unique set of risks. While it may seem essential to find any workable solution for your business's warehouse expansion, it's not worth taking on unnecessary risks. So keep an eye out for these issues:
It's Not Clear What You're Buying
When it comes to used pallet racking, not all options are created equal. While some used options are well-cared for and bring strong labeling and documentation, others may lack these necessities entirely. If it's not clear what you're buying and if there's no documentation available, it's a huge red flag. Walk away from offers like these.
Potential Damage to Load Beams
When you're buying used materials, what you don't know is bad enough. What you can't see is a bigger issue. Not all damage to warehouse racking structure is visible. Structural issues or other damage to load beams may not be visible and could lead to a collapse or other failure down the line. If used racking you're considering lacks a clear history, it's best not to move forward with the purchase.
Liability Concerns
Finally, used pallet racking can be a liability nightmare for your business. If the new racking configuration is not compliant with the Rack Manufacturer Institute (RMI) standards, you have little liability protection from potential OSHA fines. You don't want to take on the liability of an upright's structural failure, especially if there were no engineers, specialists, or the original manufacturer involved in its setup.
How To Buy Used Pallet Racking Safely
Buying used pallet racking can be okay if you're working with the right people. Warehouse solutions specialists have the needed expertise to identify issues in pallet racking that most people cannot. You can depend on Southern States Toyotalift to give you the guidance you need when purchasing used or new pallet racking. Our warehouse systems solutions team has years of valuable experience and training to help you expand, update, and replace pallet racking in your warehouse. Contact us online or in one of our locations:
FLORIDA
Jacksonville
Lakeland
Ocala
Orlando
Tampa
Winter Haven
GEORGIA
Albany
Macon
Columbus
Valdosta
Further Reading:
Need More Warehouse Space? Don't Move, Do This First
7 Must-Have Forklift Safety Accessories
3 Reasons Moving to Electric Will Re-Energize Your Business