The Best Forklifts for Long Loads
by Adam Henry, on Jul 21, 2023 10:57:00 AM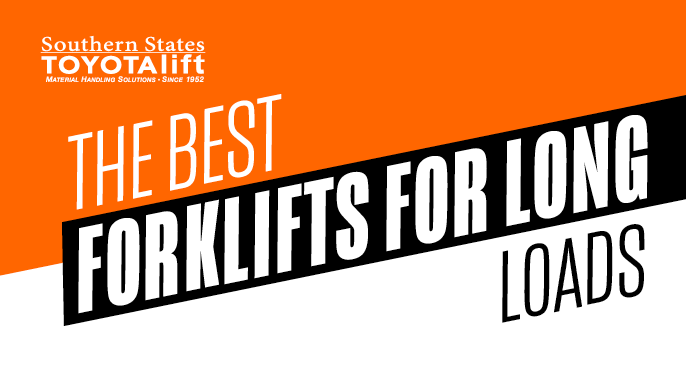 Logistics might be best summed up as the art of getting material from point A to point B as efficiently as possible. With standardized pallets, this can be a relatively simple process.
However, long loads throw a curveball into most warehouse logistics. Their size makes handling awkward without special considerations and equipment. That's where multi-directional forklifts make a huge difference. Read on to learn how these forklifts can revolutionize how your team transports long loads.
What To Consider When Transporting Long Loads
While many forklift operators are accustomed to moving palletized material, transporting long loads is a whole different beast. If your facility will be moving long loads, there are 3 areas you need to consider.
Storage Density
Ultimately, transporting long loads is all about available space. The pressure to optimize storage density reduces aisle space to the smallest necessary width. Often, warehouse aisles are too narrow to easily transport awkward loads like piping. This leaves you with two options: sacrifice storage density by widening your aisles, or utilize omnidirectional forklifts.
Expected Load
What material you will be moving with your forklift makes a difference. Flexible materials, such as steel and other extruded metals, can deform during transport without additional support. To prevent damage, you'll want to consider forklift accessories that provide wider support than standard forks.
Pedestrian Safety
Pedestrian safety is always a concern when working around forklifts, but long loads require extra vigilance. The load is much wider than the forklift, meaning it can impact pedestrians in environments where palletized loads would not.
Pay special attention to the ends of any long load when working where pedestrians might be present. If transporting with a traditional forklift, be aware of the distance between the load and pedestrian walkways. It's easy for the ends of a long load to drift into a designated pedestrian walkway if the operator is not paying attention.
If your long loads will be transported laterally with a 4-way forklift, ensure operators approach intersections with extreme care. The load will enter the intersection before the truck and may be missed by approaching pedestrians. Audible buzzers and blue pedestrian safety lights can help reduce this risk but do not replace operator vigilance.
Multi-Directional Forklifts
Multi-directional forklifts (also known as omnidirectional or 4-way) are a valuable tool for transporting long loads quickly and efficiently. These forklifts allow the driver to move forward, backward, and laterally. With this, an operator can approach a long load at the middle, lift, and then move laterally. This flexibility offers several benefits:
Increased storage density. Lateral movement means your operators can transport long materials along the side of the forklift, thus reducing the load's profile. This means you need less space for your warehouse aisles than you would with a traditional forklift.
Increased productivity. Multi-directional forklifts can reposition more quickly than traditional forklifts. This reduces the time spent picking and placing each load, increasing worker productivity.
Improved visibility. Because long loads are carried along the side of the forklift when moving laterally, they don't impede forward visibility. This enhances safety as the operator can more easily spot hazards or pedestrians.
While all omnidirectional forklifts provide these benefits, not every 4-way truck suits every need. If you think a multi-directional forklift would benefit your facility, there are two lines that cover most applications.
Toyota Multi-Directional Reach Truck
For warehouse applications, the Toyota Multi-Directional Reach Truck is hard to beat. This lithium-ion forklift has a maximum capacity of 4,500 lbs and a maximum lift height of 268 inches. It can handle grades of up to 7% fully loaded. This model excels at palletless load handling, long load handling, and specialty racking, such as cantilever racks. It comes standard with a 7-inch display. It can also be upgraded with a carriage-mounted camera, compartment sensing system, and multifunction control handle to improve operator safety and efficiency.
COMBiLift Multi-Directional Forklifts
For outdoor and heavy-duty applications, COMBiLift's C-series is a powerful option. This heavily customizable series has capacities ranging from 4,000 to 55,000 lbs and lift heights of 160 to 470 inches. Models come in diesel, LPG, and electric options. Additionally, various cab options allow the C-series to operate reliably in all weather conditions. Finally, the truck's counterbalance is integrated into the chassis. This reduces the forklift's width and allows it to operate even in narrow aisles. These trucks are a game changer for anyone working with industrial or building materials.
Optimize Your Industry
Multi-directional forklifts offer many benefits to facilities that work with long loads. However, their versatility and exceptional mobility make them an asset to any industry that works with bulky, awkward, or non-palletized material. Our expert Solutions Team can help you determine if a multi-directional forklift is right for your facility. To learn more or to get a quote on your next multi-directional forklift, Contact us online or visit one of our locations throughout Georgia and Florida.
Florida
Jacksonville
Lakeland
Ocala
Orlando
Tampa
Winter Haven
Georgia
Albany
Macon
Columbus
Valdosta
Further Reading
The Best Forklift for Handling Wide Loads: Combilift Straddle Carrier, Omnidirectional Forklift, or Slip Sheet Truck Loader
Electric vs. LP Forklifts: Which Should You Buy?
Forklift Safety Lights – What Does OSHA Require?