8 Reasons to Rent from a Forklift Dealer
by Alan King, on Jun 10, 2019 4:41:34 PM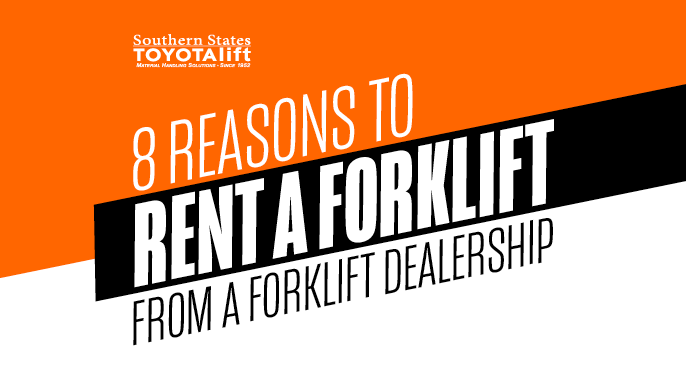 Renting a forklift is a bit like renting a car, but with a few key differences. No one will try to hard sell you on an upgrade, extra insurance, or GPS - just to name a few.
There are also a lot more options to consider when renting a forklift. Unless you have a lot of passengers or luggage, the type of car doesn't matter too much. Forklifts, on the other hand, are designed for specific needs and applications:
Indoor vs. outdoor
Gas, diesel or electric
Narrow-aisles
Large capacity
...and so on
Helping customers choose the right material handling equipment is our area of expertise. Unlike some rental yards, we won't rent you a piece of equipment that isn't right for your application because it's all we have on hand.

In addition to being a forklift dealer, Southern States Toyotalift (SST) is a full-service material handling provider. We also offer forklift operator training and rent more than just forklifts. Here are a few more reasons to choose the equipment experts at SST the next time you need to rent a forklift, boom lift or other material handling equipment.
8 Reasons to Rent from a Forklift Dealer
Get the Right Equipment - our equipment experts will ensure you get the right piece of equipment for your material handling needs.
The Largest Selection - we rent electric, diesel and LP forklifts with capacities from 3,000 to 36,000 lbs. We also rent forklift attachments.
Flexible Options - rent by the day, week or month. If your plans change, we're happy to accommodate.
Rent-to-Own - a forklift is a significant investment, try before you buy.
Support from Factory-Trained Technicians - maintenance is included with your rental.
Save Money - we offer discounts on rentals of one month or longer and 20 percent off regular rental rates when your equipment is being repaired by SST.
Operator Training - if you don't have a staff member certified on the unit you're renting, we provide forklift operator training.
Fast Delivery - we rent forklifts and other material handling equipment from nine locations in Georgia and Central Florida.
Toyota Forklift Rental in Georgia and Central Florida
Get the equipment you need from a business partner you can count on. Our rental experts can draw upon a huge inventory from our nine locations, which means we'll match you up with the equipment you need, not whatever we happen to have on the lot.

Southern States Toyotalift is committed to helping you get the job done. If your plans change, we're happy to accommodate. If you need additional equipment or operator training, we make that easy too.

If you're looking for a trusted business partner who is honest, dependable and reliable, please consider SST for your next forklift rental. We value your business as much as you do.

Connect with us online, by phone at (800) 226-2345, or in person at one of our nine locations.

FLORIDA
Jacksonville (904) 764-7662
Ocala (352) 840-0030
Orlando (407) 859-3000
Tampa (813) 642-3524
Winter Haven (863) 976-8551



GEORGIA
Albany (229) 338-7277
Macon (478) 788-0520
Midland (706) 660-0067
Valdosta (229) 247-8377

Further Reading
6 Questions to Ask Before Renting a Forklift
Pros and Cons of Renting a Forklift