6 Questions to Ask When Renting a Forklift
by Alan King, on Jun 3, 2019 12:00:00 PM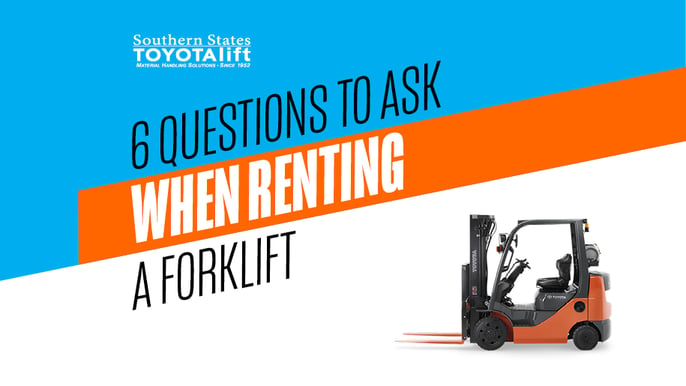 Whether you need to rent a forklift for a short-term job, or because an existing forklift is being repaired, there are a few key questions to ask to ensure you get a good deal on your forklift rental rate and avoid surprises. Today, we'll cover questions to ask yourself before contacting a forklift rental company, and questions to ask your rental partner.
Renting a Forklift - What You Need to Know
#1 How much weight do I need to lift?
Knowing the weight of your max loads is important to know when choosing a forklift to rent. An average forklift has a 5,000lb capacity, but if you add an attachment, that capacity gets reduced. Avoid renting the wrong forklift by knowing exactly how much you need to lift.
#2 How high do I need to lift?
Raising a load higher than a forklift is designed to lift can cause it to tip over, causing serious damage and possible injury or death to the operator. Get an accurate measurement of how high your rental forklift will lift its loads.
#3 Where will the forklift be used?
Forklifts designed to be used indoors on a smooth surface use different tires than forklifts that work outside on rough or uneven surfaces. If your facility has narrow aisles, you can rent a forklift designed with a tight turning radius. Be sure to describe exactly where the unit will be used to ensure you get the right forklift for your location and application.
#4 How long do I need the forklift rental?
Most forklift rental rates are based on a single-shift, 40-hour work week operation. If you run multiple shifts, or plan to use the forklift seven days a week, be sure to communicate this to the forklift rental company to avoid overtime use charges.
At SST, we rent Toyota forklifts by the day, week, or month. If your plans change, just let us know. We're happy to work with you.
#5 Do I have a trained forklift operator?
It is an OSHA requirement that anyone who operates a forklift is certified and properly trained. If you don't have a staff member certified on the unit you're renting, we can provide forklift operator training.
#6 Do I need to verify if my insurance covers rentals?
Your rental partner should provide insurance on the equipment itself. However, if there is an injury or property damage resulting from an incident with the rented forklift, it's a good idea to know whether your insurance company will cover your facility, the operator and/or any affected employees.
Forklift rental prices can vary by rental company. Cheaper rental rates often don't include delivery, maintenance or fuel. In addition to the questions above, ask the forklift rental company:

Is delivery included?
Is maintenance included?
What are your overtime rates?
Is there a fuel surcharge?
SST rents Toyota Forklifts and other industrial equipment from Central Florida to Central Georgia. With nine locations, we deliver the equipment you need fast. Worry-free maintenance and insurance are included in your rental rate, and if your plans change, we're happy to accommodate.

For a limited time, we're offering a discount on forklift rentals. Go here to learn more.

We rent forklifts with capacities from 3,000 to 36,000 lbs including: electric, LP and diesel forklifts. We also rent forklift attachments, order pickers, end riders and aerial equipment.

Unsure whether to lease or rent a forklift? We can help with that too.

Our goal is to be your one-stop material handling partner. For more information about renting a Toyota forklift, learn more here, or reach us by phone at (800) 226-2345,.

You can also come see us in person at one of our nine locations.

FLORIDA
Jacksonville (904) 764-7662
Ocala (352) 840-0030
Orlando (407) 859-3000
Tampa (813) 642-3524
Winter Haven (863) 976-8551



GEORGIA
Albany (229) 338-7277
Macon (478) 788-0520
Midland (706) 660-0067
Valdosta (229) 247-8377