Top 5 Reasons to Lease a Forklift and How to Get a Great Lease Rate
by Olga MacLellan, on Feb 20, 2019 1:20:42 PM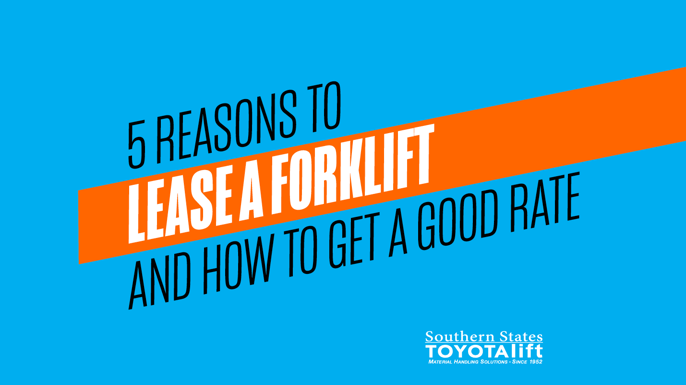 For many years, it made sense for companies to own their equipment outright. But in today's rapidly-changing marketplace, the material handling equipment you needed five or ten years ago, might not suit your business needs today.
So it's not surprising that 80 percent of companies now lease some or all of their equipment. In addition to ensuring your business always has new equipment with the latest safety and technology, leasing gives you the flexibility to upgrade or downgrade at the end of your lease term based upon the changing needs of your business.
Learn why an increasing number of material handling operations prefer the cost savings and flexibility of a forklift lease over being locked in to the same piece of equipment for years and years. This article will also cover forklift lease rates, FAQs, and SST's limited-time forklift lease deal.
Why a Lease Can Cost Less Than Buying a New Forklift
It may seem counter-intuitive, but leasing a forklift can cost less than buying one outright. Here are a few reasons why:
With a lease, you pay little-to-no cash upfront.
Lease payments are usually lower than loan payments. Use the money you save on new inventory, or things that can grow your business rather spending it on an asset that will depreciate.
Trying to sell a forklift that is five or ten years old can be challenging and time-consuming. With a lease, you either return the lift truck to the lender, or buy it for a reduced rate.
As business needs change, you aren't saddled with equipment that may have the wrong capacity or no longer suits your facility.
A lease can also be a smart financial choice by helping your business avoid unpredictable repair expenses. Many of our clients choose a forklift lease with maintenance which means our technicians ensure your lift truck receives all the manufacturer's recommended maintenance. A forklift lease with a service contract can increase residual value at the end of the lease term and limits any additional charges.

Always consult an accountant or financial advisor regarding the benefits of leasing (or not leasing) equipment.
How to Get a Great Forklift Lease Rate and Other FAQs
How do I choose the right forklift lease agreement? Answering the questions below can help you choose the best forklift lease agreement for your business.
Do you want the option to buy the equipment at the end of the lease?
How many hours do you plan to use the equipment?
Do you need any special terms such a renewable contract? Seasonal businesses may request to skip payments.
Would a service contract be beneficial?
How do I get the best forklift lease rate for my business?
Generally speaking, forklift lease contracts are based upon utilization, the number of expected hours the equipment will be used. A lease for 1200 hours will cost much less than one for 3600 hours.

Lower annual utilization can be structured with a longer term to further reduce the rate. In other words, the payments on a 12-month lease will be considerably more than payments on a 72-month lease.
Check out our limited-time forklift lease deal.
Lease a new Toyota and get four months free on a 40-month contract
(on applicable terms, expires March 31st, 2019)
Can I buy the forklift after the lease ends?
Some contracts allow the lessee to buy their leased equipment at the end of the term. The price depends on what type of forklift lease agreement you choose (dollar buyout, capital lease, or fair market value). If you're interested in buying your leased forklift, or want the option to decide at the end of the term, mention this to the lender before signing your agreement.
Check Out These Toyota Forklift Lease Specials
Now until June 30, 2021 Toyota offers as low as 0% interest on electric warehouse products. Available on Toyota Stand-Up Rider Forklifts, Order Pickers, Reach Trucks, Electric Pallet Jacks and Stackers. Click to learn more.

For questions about forklift leases or buying a Toyota forklift in Florida or Georgia, contact us online. You can also reach us by phone at (800) 226-2345, or in person at one of our nine locations.

FLORIDA
Jacksonville (904) 764-7662
Ocala (352) 840-0030
Orlando (407) 859-3000
Tampa (813) 642-3524
Winter Haven (863) 967-8551

GEORGIA
Albany (229) 338-7277
Macon (478) 788-0520
Midland (706) 660-0067
Valdosta (229) 247-8377


Further Reading
Guide to Leasing a Forklift
Toyota Forklift Lease Options
Flexible Financing from Toyota