5 Ways to Prepare Your Warehouse for Storm Season
by James Averitt, on Sep 5, 2023 3:01:24 PM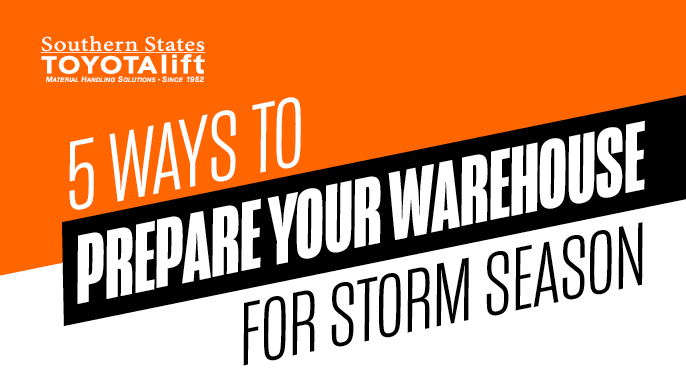 Storm season can be a devastating time of year for the unprepared. FEMA data indicates 40% of small businesses never reopen after a natural disaster. Of those that do, 25% will close again within a year. Furthermore, 75% of all companies without a plan to recover will fail within 3 years of being struck by a significant hurricane.
That's why developing hurricane procedures for your business is so important. Yet, most companies either under-prepare or don't think past how to handle the evacuation. However, a hurricane preparedness plan is only half the battle. Without a continuity plan to keep your business going during the worst, only 25% of companies survive. Read on to learn how to prepare your warehouse for hurricane season.
1. Plan for the Probable
Base your plan on the probable outcome of a severe hurricane.
Assume that your building was potentially damaged in the storm, and you will not have access to it for at least 3 days while it is assessed for safety.
Additionally, plan that 50% of your inventory is no longer sellable and that all utilities to the building will be interrupted for at least 4 days.
Finally, base your plan on the building assessment showing that your warehouse can be made safe again with repairs. However, those repairs will take time as many other buildings in your region need similar work.
These details are from the planning scenario provided by Ready.gov's hurricane toolkit. It provides a valuable basis for your preparedness plans because it assumes a heavy level of destruction but also provides that you'll have a path forward to rebuild. This middle-of-the-road approach will help you in your process by keeping you from planning for too little disaster or catastrophic failure.
2. Develop a Hurricane Preparedness Plan
Based on the scenario above, develop an emergency plan to address how you will respond to the hurricane. This plan should cover 5 core aspects of your business likely affected by hurricane damage:
Staff
As you know, the safety of your team is your first priority. Ensure that your emergency plan accounts for when and how you'll alert and evacuate your employees during a hurricane. Create a chain of command and know who will be responsible for each aspect of your plan. Conduct training and drills to ensure every member of your staff knows the plan and their part in it.
Structure
Evaluate your building for its ability to withstand the expected force of a hurricane. This assessment includes walls, roofs, doors, windows, and fencing. If possible, reinforce areas that will not survive expected winds and precipitation. Additionally, identify the best shelter area within your building to be used if evacuation is impossible.
Inventory
Assess your current inventory storage plan. You can mitigate the potential losses by storing goods above the expected flood elevation. Due to the high premium on space in many warehouses, storing all your inventory this high may not be possible. At a minimum, prioritize your most vital products, as their protection will help keep your business running in the aftermath.
Equipment
Develop a plan for where essential equipment, like forklifts, will be stored or how it will be protected during a hurricane. Even if your equipment is insured, don't plan to depend on your policy. While a payout may cover replacing necessary equipment, losses throughout your region may deplete the supply of available replacements.
Grounds
What surrounds your building can be just as dangerous during a storm as the hurricane itself. Take steps to clear away as much loose material as possible from the exterior of your facility. Ensure anything that cannot be removed is adequately secured.
3. Prepare To Act Fast
Modern weather tracking allows meteorologists to follow a storm's movements and make predictions about its course and intensity. However, despite this technology, hurricanes retain a level of unpredictability. The call to evacuate your facility could be made quickly and unexpectedly if the path or intensity of a known storm shifts suddenly.
In order to handle an urgent call to evacuate, it is important to prepare your warehouse in advance. This includes ensuring that your staff are well-trained on their roles and responsibilities during an evacuation, and that all necessary equipment is readily available.
For example, this means the area where you will secure your forklifts is open and ready to receive your trucks. Critical inventory can be quickly relocated to storage above expected flood levels. Also, vital information and documents are stored on the cloud or laptops that can be easily packed up and removed by responsible staff. The more you prepare in advance, the faster and safer your evacuation will be.
4. Create a Continuity Plan
As mentioned, 75% of businesses without a continuity plan will fail within 3 years of a natural disaster. This is because many plan for what to do during a hurricane, but fewer create a plan to recover their losses afterward.
To develop your continuity plan, return to the above scenario and play out the aftermath. Consider how you'll support your staff, clients, and community during this period of downtime. Develop a communication plan to instill confidence in your clients that your warehouse will reopen as soon as repairs are complete. Identify ways you can continue some aspects of the business to generate revenue during this period of downtime. Finally, determine your expected losses and plan to recuperate them.
5. Review Your Insurance
There will be losses after a severe storm. Protect what you can but ensure you have the support of quality business insurance to help fill the gaps. Not all insurance policies are created equal. So review yours to ensure it covers things like flood damage, clean-up services, and asset replacement. A complete coverage insurance plan might cost more in monthly premiums. However, the payout after a disaster can provide vital liquid capital. This monetary support might mean the difference between success and failure in the aftermath of a major storm.
Your Partner in Warehouse Safety
Hurricanes are an unfortunate part of this time of year, but safety remains a year-round job. Southern States Toyotalift is here to help your warehouse operate as safely as possible, no matter your industry. Whatever your safety challenges, our expert team has the solutions you need to keep your facility running smoothly. To learn more about our safety solutions, contact us online or visit one of our locations throughout Georgia and Florida.
Florida
Jacksonville
Lakeland
Ocala
Orlando
Tampa
Winter Haven
Georgia
Albany
Macon
Columbus
Valdosta
Further Reading
5 Simple Steps to Improve Warehouse Safety
Top Tips for National Safety Month
6 Different Types of OSHA Fines – What Warehouses in Florida & Georgia Need To Know