6 Different Types of OSHA Fines - What Warehouses in Florida & Georgia Need To Know
by David Tullis, on Nov 1, 2021 5:15:00 PM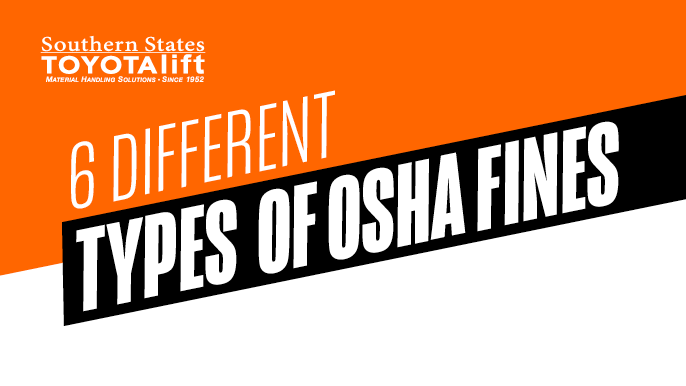 Warehouse equipment managers know that forklift downtime can do enormous harm to your business. But did you know that improper maintenance can cost you even more? If OSHA inspects your forklift fleet, under-maintained forklifts can cost you significantly thanks to fines.
OSHA Forklift Maintenance Requirements
OSHA requires that any forklift not in a safe operating condition should be removed from service. They also have a strict requirement that defects must be immediately reported and corrected. These broad rules are designed to keep operators as safe as possible by maintaining equipment.
If your business is not OSHA-compliant, hefty fines and penalties could be heading your way. OSHA can assess a $13,653 penalty per violation, and the same amount for each day the problem is not corrected. If your business is found to be willfully or repeatedly ignoring regulations, it can cost up to $136,532 per violation. The total fines and citations assessed by OSHA depend on the severity of the violation.
6 Different Types of OSHA Violations And Their Consequences
If violations are found, OSHA can issue a penalty or a simple citation, which carries no fine. OSHA categorizes violations into six types depending on the severity of the violation. They are:
#1 Serious Violations
OSHA designates a serious violation as one when a business owner or manager knows about and does not resolve a hazard that could injure or kill a worker. Fines can be up to $13,653 for this type of violation for each day it is not fixed.

#2 Other-Than Serious Violations
An "other-than-serious" violation does not result in injury or death but does put an employee's health and safety at risk. While this carries the same maximum penalty as the "serious violations" category, OSHA can reduce the penalty by 95% at their discretion or issue a simple citation instead. These are divided into subcategories of lesser minimal-only, which carry only a warning and no financial penalty, and greater minimal-only severity, which can include fines from $1,000 to $13,653.
#3 Willful or Repeated Violations
If your company repeats the same violation within three years, companies can face penalties up to $136,532. This is the most serious category of OSHA violation, used when employers know of a risk to their employees and have not corrected the issue. This type of violation means your business is in danger of being closed down due to negligence.
#4 Posting Requirements
If you receive a citation of violation notice from OSHA, you must post it near where the incident occurred. It must be visible to all employees until either:
The violation is corrected
Or for three days, whichever comes first.
#5 Failure to Abate
Should you receive an OSHA violation, your notice includes a date by which the violation must be fixed. If you do not meet this deadline, your company can be assessed the maximum penalty per day until the issue is solved.

#6 De Minimis Violations
A de minimis violation is used for when things aren't technically compliant but are still reasonably safe. For example, if your ladder's space between rungs is not 12 inches, it does not technically comply with OSHA guidelines. You may receive a verbal warning of the issue, and a note will be made in your company's safety file, but these do not typically have penalties included.
While knowing what penalties you could face for forklift noncompliance is important, it's better to avoid OSHA problems altogether. Here's how you can make sure your forklift maintenance is in line with OSHA guidelines.
How To Avoid OSHA Forklift Maintenance Fines
What's the best way to keep compliant with OSHA's guidelines? Implementing a thorough daily walk-around and operation inspection for your workers is critical. Your workers should use a daily forklift checklist to make sure they check all essential components and operations. Your daily checklists should also be logged in case of an audit so that you can show compliance.
It is also essential to have a trusted equipment maintenance partner to support your planned and emergency maintenance needs. Spending extra money on maintenance can feel like an expense, but it is truly an investment in your company. Ensure that you are connecting with a maintenance provider you can trust to give your fleet the service and quality it needs. If you need forklift maintenance and repairs, Southern States Toyotalift is here to help.
FLORIDA
Jacksonville
Ocala
Orlando
Tampa
Winter Haven
GEORGIA
Albany
Macon
Columbus
Valdosta
Further Reading:
7 Must-Have Forklift Safety Accessories
Top 10 OSHA Violations of 2020
What to Expect During an OSHA Inspection