Mobile Forklift Repair: Get Your Forklift Fixed Fast
by Moody Simmons, on Jul 15, 2022 4:09:00 PM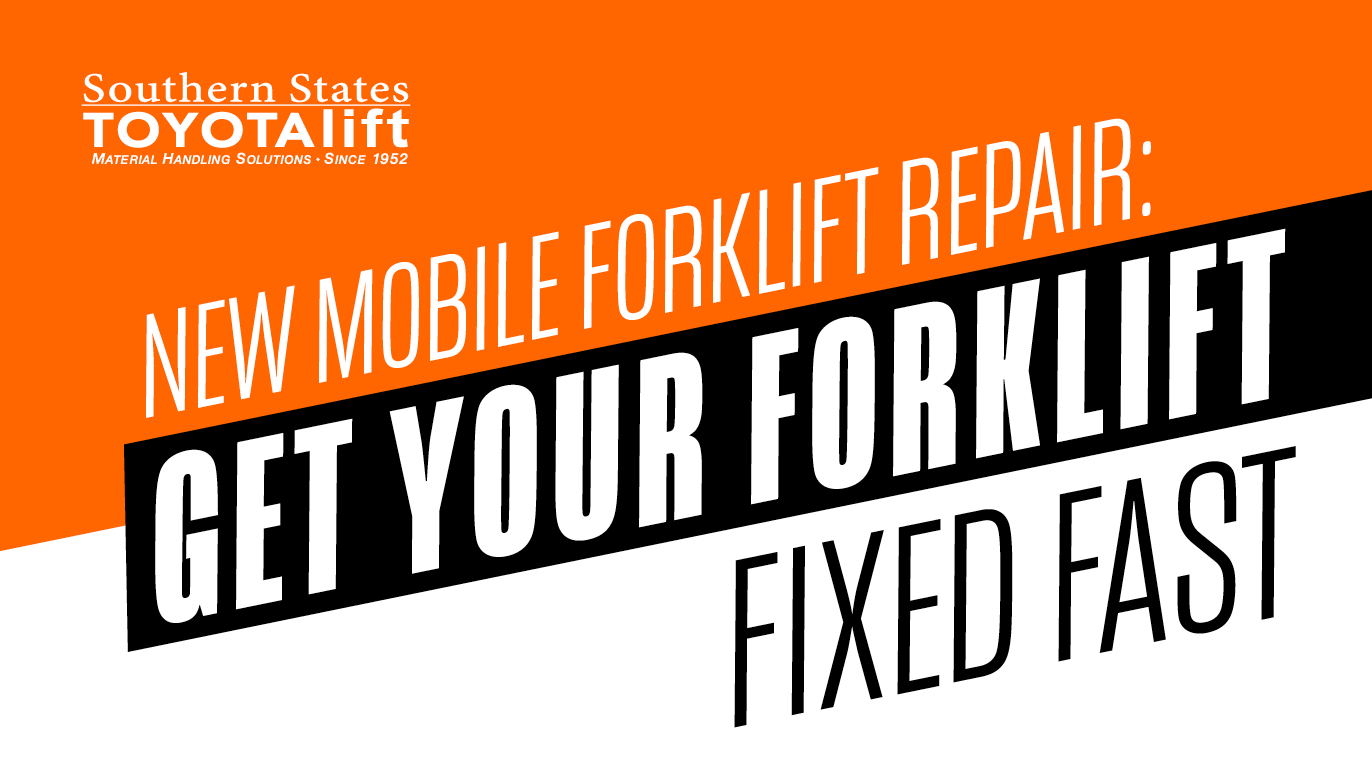 Bad luck. The warehouse has a mountain of products to move and no time to do it. Then your forklift breaks down in the middle of the most crucial time. Every minute it isn't moving costs you thousands of dollars and threatens your already tight deadlines. You need it fixed now.

Luckily, there's an easy solution. A mobile forklift repair service comes to you and fixes your breakdown on site. They get your forklift running so that you can get back on schedule. But with all the providers out there, how do you find the best service for you? Read on for the answer and to learn how to avoid emergency repairs in the first place.
The Best in Mobile Forklift Repair
Some providers are just better than others. Unfortunately, the good are often mixed in with the bad. And the great are buried deeper still. But you can sort through all the options if you know what to look for.
A quality forklift repair service should offer the following:
Exceptional technicians. A quality forklift service provider boasts experienced technicians. For example, Southern States Toyotalift uses only factory-trained, certified technicians.
Mobile service. You don't want to haul your forklift to the technician. You want the technician to come to you. And you want them there on a schedule that works for you. Look for a service that comes to you.
Rapid response. When your forklift breaks down, you need it fixed now. Look for a forklift repair service with 24/7 service and a fast response time.
First call attitude. The forklift repair technician is there to work. They come prepared with all the equipment needed to diagnose issues. And they have the parts on hand to address routine maintenance and standard repairs on-site. They should get most repairs done in a single call.
Efficiency minded. During repair, that forklift can't support your warehouse operations. An excellent forklift repair technician is aware of that. And they work efficiently to get the job done quickly. Southern States Toyotalift completes many calls within 2 hours.
Genuine parts. You work your forklifts hard. And you expect them to stand up to the strain. That means they need the parts designed for them - not after-market copies. Look for a provider that uses only genuine parts.
Forklift rental. Forklift repair services, like SST, offer the use of a rental forklift while yours is being repaired. This keeps your warehouse running at maximum efficiency, even during forklift repairs.
Available maintenance plans. Of course, the best way to avoid emergency forklift repair is not to have a breakdown in the first place. Investing in a protection plan for your forklift fleet pays for itself. Look for a forklift repair provider that offers plan options.
Forklift Maintenance Beats Breakdowns
Breakdowns are often the result of irregular service. But, routine service keeps even aging equipment as spry as the day it rolled off the factory floor. It's an investment in your equipment that pays back dividends when you consider the benefits.
Decrease Breakdowns
This one is obvious. If you keep your forklifts in good repair, they break down less often. This means you spend less money on emergency repairs. And you lose less money from delays, overtime, and dissatisfied customers.
Save Money
A service technician will cost you money today. But what you pay in an annual service agreement is nothing compared to what you'll spend on repairing or replacing a broken forklift. And that's not counting the loss from warehouse delays.
Protect Your Team
There are 94,750 reported forklift-related injuries each year. Those totaled up to $135 million in costs to the companies involved. Poorly maintained, aging equipment skyrockets the likelihood of an accident in your warehouse. Regular service not only protects your profits, but it also protects your employees.
When All Else Fails
Even with routine forklift maintenance, breakdowns still happen. But, when they do, it's comforting to know you have an excellent mobile forklift repair team to depend on.

Southern States Toyotalift technicians are on-call 24/7. So, no matter when your forklift goes down, a qualified technician is available. Over 100 certified mobile technicians provide a 4-hour response time. They arrive on-site with a fully-stocked service van. And they are capable of diagnosing and repairing failures on the first call. As a result, SST mobile technicians get to work fast. And that means your warehouse gets back to work even quicker.

To learn more about our mobile forklift repair services, contact our Solutions Team online or visit one of our locations throughout Florida and Georgia.
FLORIDA
Jacksonville
Lakeland
Ocala
Orlando
Tampa
Winter Haven
GEORGIA
Albany
Macon
Columbus
Valdosta
Further Reading
Forklift Fleet Managers: Is Avoiding Preventative Maintenance Draining Your Profit?
How To Stop Overspending On Forklift Repairs and Maximize Profits
Repair Vs. Replace Your Forklift: What Equipment Managers Need to Know