How To Stop Overspending On Forklift Repairs and Maximize Profits
by Lance Landeche, on Jul 2, 2021 1:57:00 PM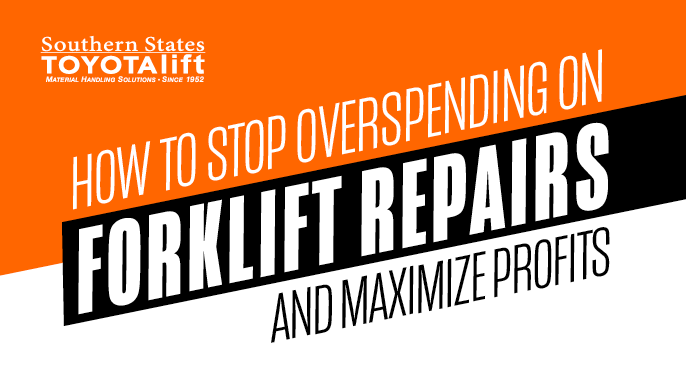 For busy material handling operations, forklift repairs and downtime are top concerns. How can you make sure your equipment is working in top condition without spending too much? The balance may seem hard to strike, but it doesn't have to be. The solution is changing your strategy from repairs to maintenance.
What's the difference between forklift repairs and forklift maintenance?
Essentially, forklift repairs fix something that is broken while maintenance keeps things working as needed and avoids downtime. Repairs are reactive and are completed to get forklifts back up and running after they are down; maintenance is proactive and helps avoid downtime altogether by fixing issues before they become problems. Proper maintenance also reduces total operating costs, such as the cost per hour (CPH) of operating a particular forklift.
Typically, businesses that use material handling equipment partner with a forklift maintenance provider to repair and maintain their forklifts. This may be in addition to their in-house technicians for more routine maintenance tasks, or that provider may be their sole maintenance resource. The solution depends on what works best for your business model.
Why should I consider a forklift maintenance plan?
Outsourcing your forklift maintenance with a forklift maintenance plan is a big decision. Thankfully, providers like Southern States Toyotalift have different plans available to meet different business needs. You should consider purchasing a forklift maintenance agreement if:
Forklift downtime is affecting your business performance
Your fleet has more issues than your current technicians can keep up with
You want to accurately project your monthly maintenance spend with predictable rates
You want to keep your equipment safer for operators and other employees
You want to extend the effective economic life of your forklifts
You want to protect the trade-in value of your material handling equipment
Forklift maintenance plans feature inspections and maintenance every 250 hours of active use or every 90 days to ensure performance is consistent. Keeping your equipment running and working properly will reduce your operating costs and maintain business performance. Beyond the immediate benefits, regularly scheduled maintenance will maintain your forklift's value as a business asset that you can trade-in towards new equipment later.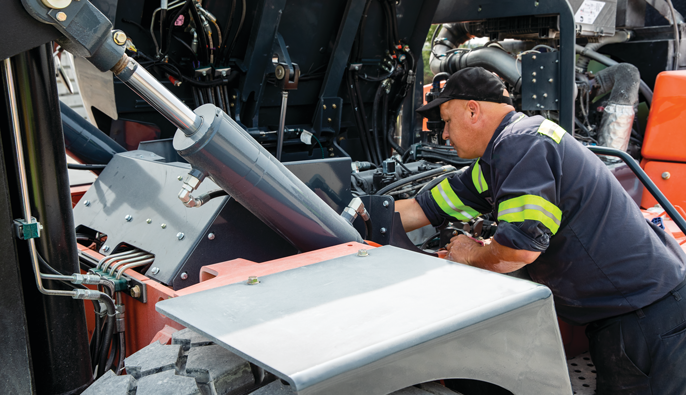 How does forklift maintenance impact my bottom line?
Forklift maintenance plans may look like a large financial commitment up front, but they're an investment. By committing a consistent amount of time and money to your fleet's maintenance, your business is protected from:
Lost productivity that harms your profit margins due to forklift downtimes
Potential harm or injuries to employees due to equipment failures
Unpredictable costs associated with major forklift repairs
Lost equipment value due to damage from avoidable failure
Keeping your forklifts working well and consistently is essential for maintaining your business's profitability. Working with a forklift service provider is an investment in your fleet that protects your equipment's value and efficiency over time.
What is the Southern States Toyotalift complete protection plan?
For operations running two or more shifts daily or putting equipment under heavy strain, additional maintenance support is needed. SST's Complete Protection Plan is the ideal solution for demanding settings. Our fully-certified Toyota technicians deliver regularly scheduled maintenance every 250 hours or 90 days, as well as more intensive maintenance at 1,000- and 2,000-hour intervals to keep your equipment in top condition.
They also replace all wearable components of the forklift to maintain its performance and your operators' comfort. Combined with our fleet analytics solution to track your equipment's economic life and performance over time, this solution will maximize your uptime and keep your equipment and products moving. Should you run into a downed forklift, we will provide you with a free rental while we are getting it back up and running.
If you're interested in discussing how forklift maintenance can figure into your financial planning, Southern States Toyotalift is here to help. To learn more, contact a material handling expert online, by phone (800-226-2345), or in person at one of our nine locations.
FLORIDA
Jacksonville
Ocala
Orlando
Tampa
Winter Park

GEORGIA
Albany
Macon
Midland
Valdosta
Further reading:
What You Need to Know About Full Maintenance Plans for Forklifts
4 Questions to Ask to Get the Full Value of Full Maintenance
Forklift Technicians Compete for Quality Service