How To Audit Your Forklift Service
by Moody Simmons, on Feb 17, 2023 3:06:43 PM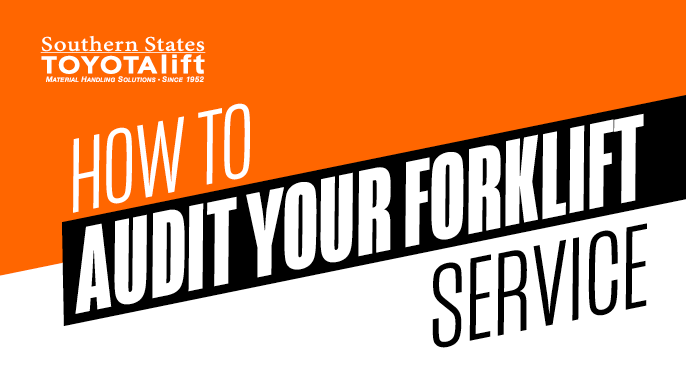 Forklift maintenance is like taking care of your teeth. You hire an expert and trust that if you see them regularly, you'll be alright. Of course, you might get the occasional cavity, but you'll have the big stuff fixed before it becomes expensive. So you follow the dentist's advice and carry on with your day. But what if they weren't taking the best care of your teeth? Without checking their work, you might not realize it until it's too late.
Similarly, forklift planned maintenance is no place for blind trust. There are plenty of services that claim bargain basement service prices and deliver low-end service. So how do you know if your forklift service provider is giving your fleet the best service possible? Simple. You audit their work. Read on to learn what to look for from a quality forklift planned maintenance visit and how you can be sure you're always getting the best service possible.
Use The Manufacturer's Recommendations as a Guide

The first place to start is by familiarizing yourself with the manufacturer's planned maintenance recommendations. Your forklift manufacturer is vested in their forklifts holding up the longest. Their brand reputation depends on it. So their recommendations are a great place to begin when familiarizing yourself with what maintenance should be conducted and how often.
Next, compare the manufacturer's recommendations to OSHA standards. In many cases, the manufacturer's recommendations will exceed OSHA requirements. In those cases, stick with the manufacturer's guidance, as it is always better to be more conservative with your planned practices. In the rare circumstance that the manufacturer's recommendation does not meet the OSHA requirements, adjust your plan to meet or exceed OSHA standards.
Check These To Make Sure You're Getting the Best PM
A quality forklift mechanic will check every aspect of your forklift for signs of wear or impending failure. You don't need to follow along with every step of the process—though SST technicians are more than happy to show you their work. But it's essential to know the planned maintenance process to ensure you get the best service from your technician.
The Interior Check
The first phase of any forklift inspection is the interior check. Before the technician examines the forklift's operation, they pop the hood and inspect the internal components. The type of forklift you have will determine what is inspected at this point in the process. Depending on your forklift, you want to check the following:
Engine oil levels
Coolant levels
Radiator cleanliness
Air filter
Hoses
Belts
Hydraulic brake fluid
Battery water levels
Battery terminals and internal plates
Wiring
The Exterior Check
Now that you've confirmed all the internal components have been properly serviced, it's time to inspect the forklift's external condition. For this, you'll examine the outside of the forklift. Look for wear and corrosion of the body and cracks or faults in the tires. Ensure that any dirt has been cleaned off the exterior of the forklift so that you can properly check for corrosion on the forklift body. Next, examine the forks and the mast chains for fractures, deformations, and rust. Finally, check the light to ensure they are all working correctly.
The Operational Check
The final phase of your forklift service audit is the operational check. This is when you climb inside the cab and take your newly serviced forklift for a spin. In this phase of the audit, you are checking the following:
Safety. Check the seatbelt, horn, and backup alarm to ensure all are in good working order.
Steering. Verify that the steering is smooth and responsive.
Driving. Ensure the forklift accelerates and decelerates as designed.
Lifting. Double-check that the mast moves without jerking in both lifting and lowering.
If your forklift is still looking good after all 3 checks of the audit, then odds are you have received a quality planned maintenance call from your technician. However, if something isn't working as it should, have your forklift mechanic re-address the problem before returning your truck to service.
SST Does Planned Maintenance Right
At Southern States Toyotalift, we want you to audit our work. Our technicians take pride in offering intensive, comprehensive planned maintenance each and every time. The thoroughness of our planned maintenance protocol is second to none, which is why we can guarantee up-time on the equipment we service. In addition, our forklift mechanics are happy to show off the quality work they put into your service calls and provide peace of mind that you are getting the absolute best forklift service.
To learn more about our forklift service and forklift repair, download our comprehensive planned maintenance checklist. Or contact our solutions team online or by visiting one of our locations throughout Georgia and Florida.
Florida
Jacksonville
Lakeland
Ocala
Orlando
Tampa
Winter Haven
Georgia
Albany
Macon
Columbus
Valdosta
Further Reading
Forklift Technicians Compete for Quality Service
We Can Fix That: A Short List of Everything We Service and Repair
Mobile Forklift Repair: Get Your Forklift Fixed Fast