We Can Fix That: A Short List of Everything We Service and Repair
by Moody Simmons, on Aug 29, 2022 7:00:00 AM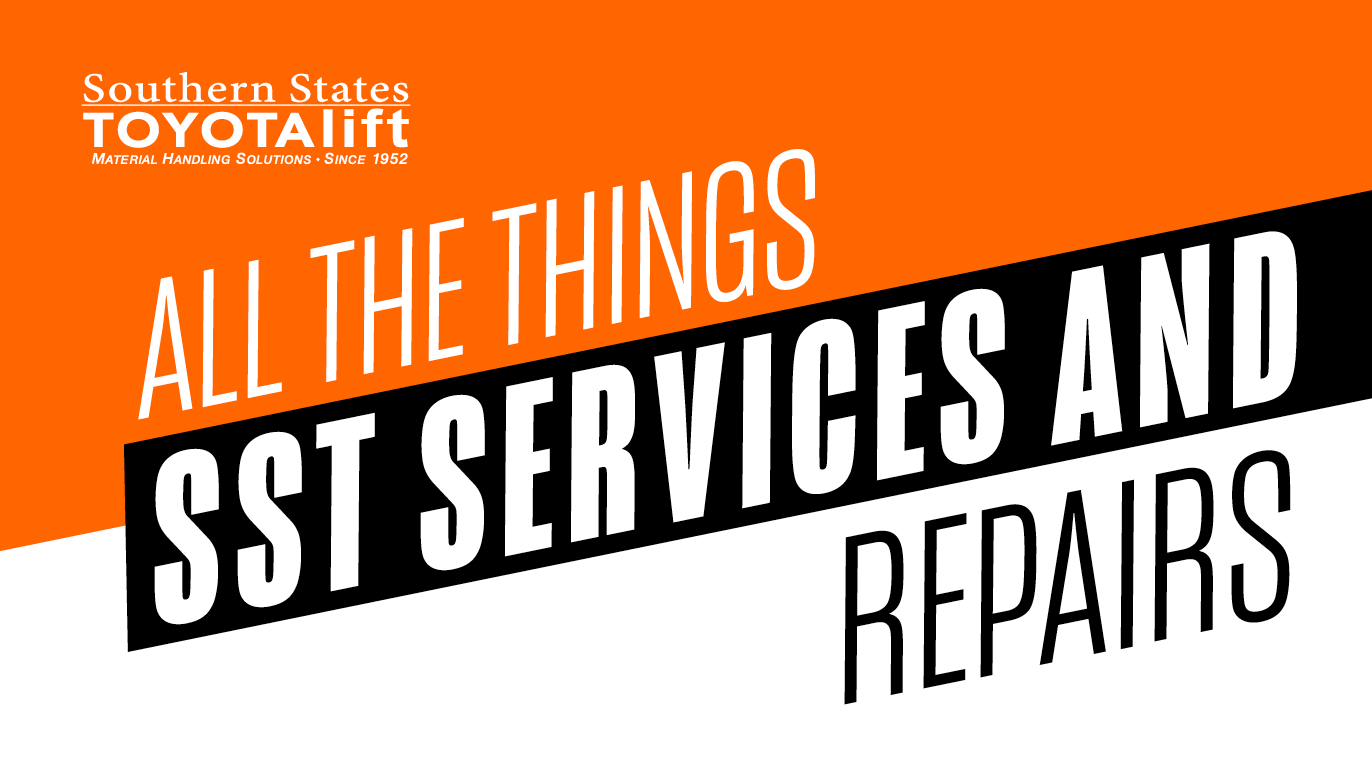 Did you know Southern States Toyotalift technicians receive training to fix more than just forklifts? While it's no secret our technicians excel in forklift repairs, they are also highly-trained experts who can service and repair your entire material handling fleet. We offer forklift battery service, utility vehicle repair, aerial/scissor lift repair, pallet jack repair, and more.

If anything in your warehouse needs servicing and attention, we've got you covered. Here's a short list of the variety of vehicles and equipment we service and repair.
Everything We Service And Repair
Battery Repair
Anywhere you find electric lift trucks, you'll find the need to have their batteries maintained, repaired, and replaced. But don't get caught off guard! We can help you create a service schedule to replace your batteries before they wear out. We can add a single port watering system and water level monitor to get the most out of your investment. Don't forget about your charger, it will need repairs and some service throughout its life as well.

Diesel Forklift Repair
If you have a forklift that runs on diesel, we can fix it. This includes all IC forklifts, boom lifts, railcar movers, sweepers, and scrubbers.

Forklift Tire Replacement
Pneumatic tires, generally speaking, wear out faster than solid tires. They can also be punctured, which can cause the tires to deflate. Polyurethane tires, a type of press-on solid tire, generally last twice as long as cushion tires. Tire life is influenced by floor and job site conditions, operator driving habits, and tire type. We'll create a plan to replace your tires before they wear out.

Electric Forklift Repair
We also provide electric forklift maintenance and repair. We repair all varieties of E-trucks, including electric motor rider forklifts, electric reach trucks, electric order pickers, electric pallet jacks, electric stackers, and electric tow tractors.

Heavy Equipment
We service all kinds of heavy-duty forklift trucks. If you need your High-Capacity pneumatic or cushion forklifts or container handlers repaired, we can help.
Yard Spotters
We can work on your yard spotters, including yard trucks and terminal tractors with manual and hydrostatic transmission.

Warehouse Automation Equipment
We install and repair all types of automated warehouse equipment, including conveyors, vertical and horizontal carousels, vertical lift modules, vertical buffer modules, robotic sorters, automated shrink wrap machines, automated storage and retrieval equipment, automated guided vehicles (AGV) /autonomous mobile robot (AMR) plus many more.

Loading Docks and Roll Up Doors
We install and service loading docks equipment, dock levelers and dock boards, dock locks, dock plates, roll-up doors (automatic and manual), seals for cold storage docks, dock bumpers, dock lights and signals, dock shelters, truck restraints, wheel guides, and wheel chocks.
Rack Installation & Repair
We install and repair all types and sizes of racks, including pallet racks, beams, wire decks, row end guards, row spacers, column protectors, pallet supports, and frames.

Telematics Installation
Installation and servicing of fleet-wide telematics systems. Fleet tracking helps you see true equipment usage so you can plan for routine services, increase productivity and safety, identify and track damages for operator training, stay compliant by tracking OSHA-required pre-shift inspections, and protection for the equipment as it monitors the engine for low oil pressure or overheating.

Floor Cleaning Equipment
We can provide service and repairs if you use any equipment to clean your floors. This includes walk-behind and ride-on commercial floor cleaning equipment, including scrubbers, sweepers, sweeper-scrubbers, and more.

Utility Vehicles
We can repair Industrial Utility Vehicles. For our amusement parts, resorts and campus customers. We service burden carriers, haulers, stock chasers, personnel carriers, and tow tractors.

Aerial Equipment
We repair all varieties of aerial equipment, including articulating boom lifts, telescopic boom lifts, cherry pickers, electric scissor lifts, rough terrain scissor lifts, and telescopic forklifts.
We're Your Mobile Forklift Repair Team
SST repairs various material handling equipment, and we strive to get things fixed the first time. Our technicians receive extensive, ongoing training, and SST is a full-service provider for all your servicing needs.

Even with routine forklift maintenance, breakdowns can still happen. But, when they do, it's comforting to know you have an excellent mobile forklift repair team to depend on in your hour of need. We'll help you avoid downtime and get your crew up and running in no time.

Southern States Toyotalift technicians are on-call 24/7. We employ over 200 certified mobile technicians and aim to provide a 4-hour response time. Our technicians arrive on-site with a well-stocked service van, capable of diagnosing and repairing failures on the first call. As a result, SST mobile technicians get to work fast, which means your business returns to work quickly.

To learn more about our mobile forklift repair services, contact our Solutions Team online or visit one of our locations throughout Florida and Georgia.
Florida
Jacksonville
Lakeland
Ocala
Orlando
Tampa
Winter Haven
Georgia
Albany
Macon
Columbus
Valdosta

Further Reading
Mobile Forklift Repair: Get Your Forklift Fixed Fast
Repair Vs. Replace Your Forklift: What Equipment Managers Need To Know
Avoiding These 3 Common Forklift Service Mistakes Can Save You Big