Top 10 OSHA Violations of 2019
by David Tullis, on May 15, 2020 11:00:00 AM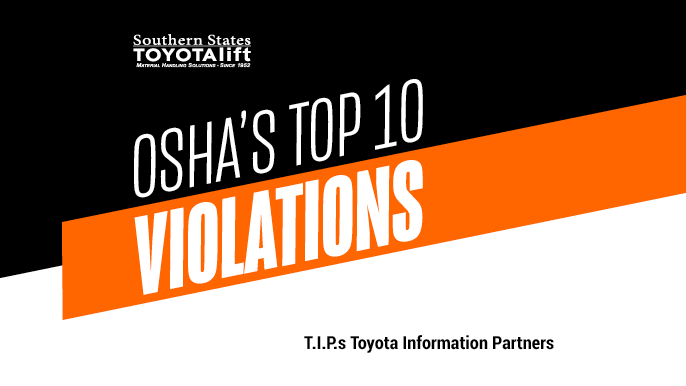 Year after year, forklift-related violations show up in OSHA's Top 10 most common citations. Skipping daily inspections and failing to provide refresher training are just a few of the infractions that come with a $9,600+ fine. Read on to learn about:
The top 10 OSHA violations of 2019
Minimum and maximum OSHA fines in 2020
The 5 most common forklift-related OSHA violations
OSHA'S TOP 10 VIOLATIONS FOR 2019
Below are OSHA's top 10 most-cited violations from 2019. Please note, OSHA classifies forklifts as "powered industrial trucks."
Fall Protection - General Requirements (1926.501)
Hazard Communication (1910.1200)
Scaffolding - General Requirements (1926.451)
Control of Hazardous Energy - Lockout/Tagout (1910.147)
Respiratory Protection (1910.134)
Ladders (1926.1053)
Powered Industrial Trucks (1910.178)
Fall Protection – Training Requirements (1926.503)
Machine Guarding– General Requirement (1910.212)
Personal Protective and Lifesaving Equipment – Eye and Face Protection (1926.102)
Forklift/powered industrial truck citations remained at #7, the same ranking as 2017 and 2018; however, the total number of citations dropped slightly. In 2019, there were 2347 citations, down from 2281 the year before. That's good news, but we'd all like to see forklift violations drop out of OSHA's top 10. As the statistics below illustrate, forklift operator refresher training is an important first step.
DOWNLOAD our T.I.P.s (Toyota Information Partners)
for OSHA's Top 10 Violations for 2019
The Top 5 Forklift-Related OSHA Violations
Unsafe operation - 619 violations:
Driving with an elevated load, driving too fast, driving too close to platform edges and not following loading dock safety procedures are some of the most common reasons for a citation.
Failure to provide refresher training - 355 violations:
Every forklift operator must receive refresher training every three years - sooner if they are involved in an accident, near-miss, or when reported for reckless behavior. Forklift operators may also require additional training when they are asked to operate a different class of forklift, or if a change in the workplace has created a new hazard.
Missing/inadequate operator certification - 237 violations:
All forklift operators must have an OSHA-approved forklift certification for the class of forklift they utilize.
Failure to remove unsafe trucks from service - 199 violations:
Whenever a forklift is found to be defective, in need of repair, or in any way unsafe, the truck must be taken out of service until it is restored to a safe operating condition.
No pre-operation inspection - 158 violations:
Use these forklift daily inspection checklists to ensure the safety of your operators and detect minor issues before they become expensive repairs.
In the video below, Kirk Alderman our Safety Director, speaks to the value and importance of completing a pre-shift inspection.

OSHA Fines for 2020
For 2020, OSHA's minimum fine increased from $9,472 to $9,639 and the maximum penalty increased from $13,260 to $13,494. Failure to Abate fines are $13,494 per day, and for repeated violations, the penalty ceiling is now $134,937.
EHS Today notes, "In a few years, the maximum penalty amount for a single 'willful' or 'repeat' violation may be close to $150,000, depending on the rate of inflation over time."
Safety Is No Accident
No business wants to become a negative statistic. We can help you maintain your commitment to safety (and avoid expensive fines).

Need to schedule forklift operator refresher training? Let us know what time works best for you and your team. We can conduct training at your location using your equipment, whenever it's convenient for you.
Lay the foundation for a safer workplace by choosing a forklift with superior safety features. Toyota's commitment to safety is unmatched, and one of the main reasons Toyota forklifts are #1 year after year. Ask us about their patented System of Active Stability (SAS) technology and Active Mast Control (AMC).
Contact us online, by phone at (800) 226-2345, or in person at one of our nine locations. We're happy to answer any forklift or warehouse safety questions you may have
FLORIDA
Jacksonville
Ocala
Orlando
Tampa
Winter Park
GEORGIA
Albany
Macon
Midland
Valdosta
Further Reading
3 Ways to Avoid Increased OSHA Fines
5 Ways to Improve Warehouse Safety
Why Are Forklift Inspections So Important?