New Toyota High-Tech Forklift Safety Accessories
by David Tullis, on Jun 13, 2022 6:20:57 PM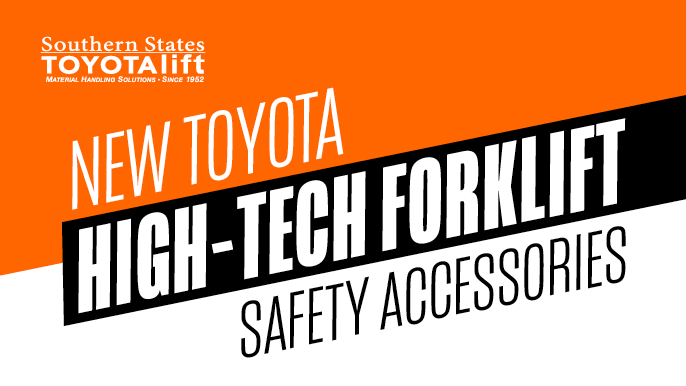 This month we're highlighting some of the most advanced safety technology available for your warehouse crew. The Toyota Smart Environment Sensor (SEnS) is Toyota's all-new advanced forklift safety system. The SEnS system can assist lift truck drivers in identifying pedestrians or objects behind their forklift using proximity sensors, pedestrian lights, and a rearview camera. Let's explore how this innovative technology works on the warehouse floor.
New High-Tech Safety Accessories
Toyota is an industry leader in safety for forklift operators in warehouse environments. Toyota's new SEnS system meets OSHA standards for forklift camera systems and forklift warning lights. This new safety system boosts walkie stacker safety, stand-up forklift safety, and lift truck safety. Investing in this new forklift anti-collision system helps reduce forklift operator and warehouse pedestrian injuries and deaths. New tech like the SEnS safety system, combined with mandatory operator training from OSHA, can keep your crew safe while helping you avoid costly OSHA fines for forklift violations.
Safety is Your Priority
As a safety-conscious warehouse manager, you want the safest equipment for your crew, to help them avoid serious injuries involving machinery such as forklifts. Toyota Material Handling offers some of the most innovative safety accessories to keep your team safe and your warehouse operating efficiently and profitably.
Your forklift operators work in a busy warehouse setting all day long. They're constantly navigating potentially hazardous warehouse terrain including tight turns, narrow aisles, and distracted pedestrians. In fact, according to OSHA, there are over 32,000 serious accidents involving forklifts each year, and nearly 100 fatalities. New tech like the Toyota SEnS is one of the most advanced forklift pedestrian safety systems available for your warehouse crew.
The SEnS system uses high-tech sensors to detect objects and pedestrians. It can even prevent the truck from moving backward if it senses the potential for a collision. This advanced technology keeps everyone safe and avoids costly OSHA fines.
How the New SEnS System Works
SEnS allows operators to program up to three different detection zones with audible and visual alarms for each zone.
SEnS can detect objects and pedestrians up to 32 feet away.
The frequency in which the warning lights blink and a buzzer sounds increases as the pedestrian or object enters a zone closer to the forklift's rear.
Detection zones are programmable to meet various customer applications.
These Toyota Forklifts are currently compatible with SEnS. We can add the SEnS system to new Toyota models or retrofit your current Toyota forklifts with an add-on kit.
Safety Solutions That Work For You
We want to help you find simple safety solutions for your warehouse. Ask us for a warehouse facilities audit or sign up for forklift training. We serve 11 locations throughout Georgia and Florida. Contact us to talk to an expert today.

FLORIDA
Jacksonville
Lakeland
Ocala
Orlando
Tampa
Winter Haven

GEORGIA

Albany
Macon
Columbus
Valdosta

Further Reading:


Top 10 OSHA Violations of 2021




6 Different Types of OSHA Fines - What Warehouses in Florida & Georgia Need To Know
7 Must-Have Forklift Safety Accessories