Is It Better To Repair Or Replace Pallet Racking?
by Brian Reaves, on Jan 7, 2022 2:14:00 PM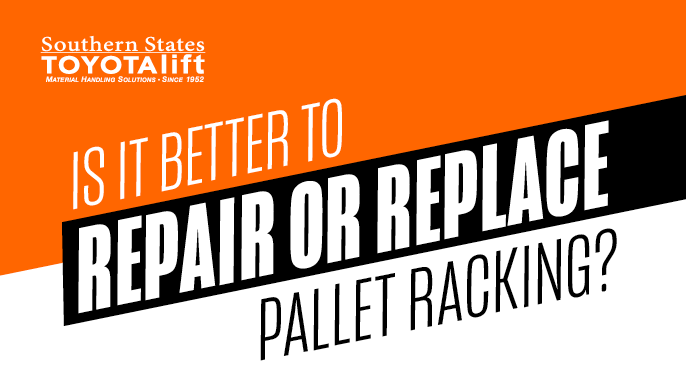 For warehouses in Florida and Georgia, your pallet racking is as important for your business as your forklifts. Constant wear and tear can lead to racking damage that can be easy to overlook. However, you have to identify issues early and determine whether to repair or replace your racking to keep products moving and your people safe. Southern States Toyotalift is committed to keeping your business productive with the knowledge you need to keep things working well. This third post in our series on pallet racking will give you the information you need to keep your warehouse racking in top condition.
What are warning signs of warehouse racking damage?
While pallet racking is designed for heavy-duty warehouse demand, that doesn't mean damage cannot or will not happen. Common causes of racking damage include:
Racks overloaded with too much weight
Forklift attachments not designed to work with your pallet rack
Damage from forklifts due to operator errors
Collisions with warehouse racking
Incorrect racking component combinations or configurations
The best way to reduce damage to your warehouse racking is with effective training for your operators and proper forklift maintenance plans. If you're seeing repeated signs of damage on your racks, you may need to audit your operators' performance throughout your warehouse.
Signs of racking damage are not widely known. If you aren't sure what to look for, components of your warehouse may already be damaged. Watch out for these signs of trouble in your warehouse:
Tilting or misaligned beams
Racks overloaded with products
Visible damage such as bending or cracking to uprights and beams
Climate-related damage such as rust or corrosion
If you see any of these issues, it's a sure sign that your warehouse needs to be inspected. If you've used mix and match racking materials or have purchased used racking, you may have increased risks of damage. It's time to identify what's causing the damage to your racking, and it's time to decide whether to repair or replace your racking systems.
When Should I Repair My Warehouse Racking?
Whether you should repair or replace your warehouse racking depends on the extent of the damage and how much needs to be repaired. Repairs, when possible, may make the most sense for your business. The benefits of repairing your pallet racking can include:
Maintaining the current flow of business
Avoiding expensive shipping costs for new uprights
Flexibility of repair kits for different heights
Easier to complete for mid-row racks
In general, if the damage is lower to the ground or shorter in length, repairs may be functional and cost-effective. SST's warehouse solutions team is able to provide professional repairs to keep your current racking strong and safe for your warehouse. We're also able to help you determine what configuration and maintenance is needed to keep your racking systems in top condition for years to come.
When Should I Replace My Warehouse Racking?
In general, it makes sense to err on the side of caution when it comes to warehouse racking. These signs of damage make the most sense for a total replacement:
Damage points at many heights and sections
Large amounts of damage to the front or the back of the rack
If repairs are needed higher on the rack
Southern States Toyotalift does not do repairs on uprights above four feet of height due to the physics strain on the beams at that height. We also strongly recommended replacing the entire frame if an upright is damaged above the first beam for safety and certainty. While used racking is available, you have to know what to look for, or you have to be partnered with top-quality partner to help identify the right materials. You should also avoid mixing and matching racking materials from different manufacturers in general.
If you need support for your pallet racking maintenance, repairs, and installations, work with SST. Our warehouse systems team has the expertise and knowledge you need to make your warehouse safer and more efficient. Contact us online or in one of our locations:
FLORIDA
Jacksonville
Lakeland
Ocala
Orlando
Tampa
Winter Haven
GEORGIA
Albany
Macon
Columbus
Valdosta