3 Tough Applications That Electric Forklifts Dominate
by Rob Webb, on Sep 20, 2021 5:00:00 PM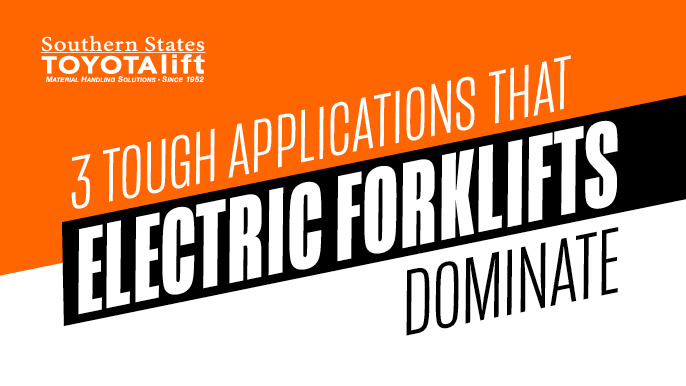 Electric forklifts have come a long way over the years. But are they tough enough to handle your application? Maybe for light use applications that don't need the strength of an internal combustion (IC) unit, right?
Well, maybe not.
There are a lot of myths surrounding electric forklifts. They're much more capable than you might think. They can keep up in the toughest of environments like mines, freezers, and more.
Internal combustion forklifts aren't "the tough ones" in the forklift industry anymore. In fact, there are use cases where IC units are the ones lagging behind electric, not the other way around.
Want to learn more? Let's take a look.
Tough Application #1: Dirty, Dusty Environments
It's no secret that IC forklifts struggle in dirty, dusty environments. Even if the dirt and dust of the toughest applications don't stop your IC unit running, there are problems. Thanks to the accumulation of dust particles, the engine wears out faster in these tough environments. The dust gets in the bearings, pistons, cylinders, and valves of the engine over time. This wears down the engine faster than otherwise.
This isn't a problem for electric forklifts. Because there are fewer moving parts in the electric drive and lift components, the electric lifts have fewer spots for dirt to build up. This means electric units can last longer in these dirty, dusty environments than IC units can.
In dirty, dusty environments, electric forklifts have the toughness to keep up when IC units choke on the dust.
Tough Application #2: Corrosive Environments
Forklifts deal with damage and corrosion over time in tough environments. This is due to factors like humidity, industrial waste gas, dust, and other environmental factors. Corrosion in forklift engines can cause serious damage to the forklift's life expectancy.
The friction of internal parts in IC units, mixed with their exhaust, can accelerate the corrosion process. This is especially true in extreme temperatures.
All forklifts deal with the same environmental factors, but electric models don't have the added factor of exhaust. Also, electric forklifts have fewer moving parts, which means less internal friction.
This means there is less concern for corrosion in electric forklifts than IC.
Tough Application #3: Cold Environments
Some applications require forklift usage in cold environments like a freezer. These environments introduce many issues for operation that electric forklifts can get around. In even the coldest environments, electric forklifts built with the proper cold environment components, and properly maintained with the correct oils and lubricants, will provide long life.
In cold environments, internal combustion forklifts can struggle with starting and stopping frequently. Their efficiency can also lag in extreme temperatures. Electric forklifts, though, start and run as well in cold environments as they do in warm environments, as long as they are spec'd and maintained properly.
Lastly, in cold environments like a freezer, electric forklifts have the advantage in that they have no emissions or fumes. This makes for a cleaner alternative to internal combustion units.
Electric forklifts are as tough as internal combustion units are. In even the toughest applications, electric forklifts can keep up and perform up to the standard. Making a transition from an internal combustion fleet to an electric fleet is no small task, but in these tough environments, the electric models can handle the job at hand.
To get the full specifications of an electric forklift versus an IC model, Southern States Toyotalift is here to help. Contact us online, by phone at (866) 529-6953, or in-person at one of our nine locations. We're happy to help you decide if an electric model is the right fit for your business.
FLORIDA
Jacksonville
Ocala
Orlando
Tampa
Winter Haven
GEORGIA
Albany
Macon
Columbus
Valdosta

Further Reading:
Different Types of Electric Forklifts And What They're Used For
Are Lithium-Ion Forklift Batteries Right For Your Business?
3 Common Misconceptions About Electric Forklifts